TOYFAIR 1979 ADVANCE PROMOTIONAL SAMPLE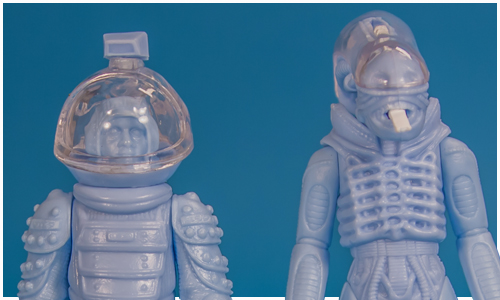 2013 SDCC Exclusive ReAction Figure Two Pack
In 1979 action figures went from being simple children's toys to works of art. The designers working at Kenner and MEGO primarily pushed the envelope in both aesthetics and tooling to craft some of the coolest action figures we had, to that point, ever seen. Once that bar was raised there was no turning back! Save for a few years in the early '90s where things kind of went sideways, the evolution of design still moves forward building on the foundation laid in 1979.

Despite all the amazing figures produced in '79, there was one very significant line developed that was ultimately cancelled. Kenner's Alien action figure collection was scrapped due to concerns over producing children's toys based on an R rated feature film. While this happens on a regular basis these days, it was too big of a risk in 1979, so only one Alien toy saw release before the line was cancelled. Had it pushed forward, Kenner would have released five single carded 3 3/4-inch action figures based on the main characters of the film. When images of the prototypes began surfacing, the adult collecting community went crazy! How could Kenner not release these?

Fast forward to 2012, Super7 announced that they had secured the license to produce collectibles based on the Alien franchise and they started compiling endless months worth of research to produce the lost line. Each figure is as perfect of a match to the original prototype, and to take it further, the production figures are intended to match the production qualities of the era they were designed in.

In an act of marketing brilliance, Super7 created the very cool Toyfair 1979 Advance Promotional Sample two pack set as a way to launch the line. This tongue-in-cheak set packages 'unpainted salesman samples' of the Kane (in Nostromo Space Suit) and Big Chap Alien in a white mailer along with a folded form introducing the line to a 1979 audience. This two pack gives collectors an early look at how amazing this toy line is, and we hope that other toymakers are taking notes!

Product Information
Manufacturer:
Super7
Source:
Alien
Collection:
ReAction Figure
Year:
2013
Original Retail:
$40
Included in the box:
'unpainted' Big Chap Alien ReAction Figure in baggy
'unpainted' Kane (in Nostromo Space Suit) ReAction Figure in baggy
Introduction Paperwork
Photography & Text by D. Martin Myatt

Page built by Adam Lamping