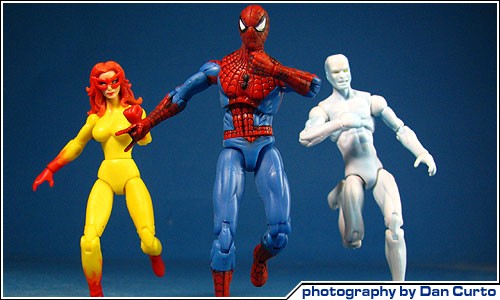 Spider-Man and His Amazing Friends
(Firestar, Spider-Man, Iceman)
Comments: As students at Empire University, Bobby Drake, Angelica Jones, and Peter Parker barely knew each other. On the fateful day they met in their identities as Super Heroes, however, they became fast friends, and powerful teammates. Together they protect New York City — and the world — from the most powerful villains on the planet.
Source: Spider-Man and His Amazing Friends

Year: 2009
(Toys "R" Us Exclusive)

Assortment: Multipacks

Retail: $22.99

Assortment Number: 93360/93359

UPC Number:
6 53569 43379 8

Accessories:

None


Note:
This figure of Firestar sports 21 points of articulation!

Note:
This figure of Spider-Man sports 23 points of articulation!

Note:
This figure of Iceman sports 22 points of articulation!

Photography by Dan Curto