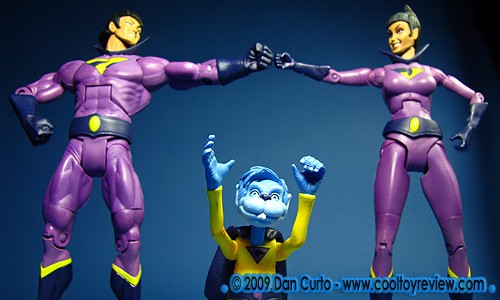 Wonder Twins
Zan: By touching knuckles with his sister and utttering the magic phrase "Wonder Twin Powers, Activate," Zan is able to transform into any water-based shape possible. Whether it's liquid, vapor, or even a solid ice structure, he always calls upon the proper "form of water" for the situation. Limited only by his imagination, his constructs go beyond simple bridges and shelters, If there is ever the need for a functioning jet made of ice — Zan is the man!
Jayna: Combined with the powers of her twin brother, Jayna is able to turn into virtually any beast on Earth or beyond — from a mythological griffin to an extinct dinosaur or even a creature from a distant planet. Jayna often assumes the "form of an eagle" to deliver urgent news or to cover great distances quickly. And if a ring-tailed lemur is the key to keeping evil at bay, Jayna is your mammal!
Gleek: As an added bonus, available Only as an exclusive gift with purchase at SDCC: the Wonder Twins' mischievous monkey, Gleek! Only available at the show, Gleek will not be with the set online afterwards.
Source: Super Friends

Year: 2009

Assortment: Exclusive Figures

Retail: $40.00

Assortment Number: N8526

UPC Number:
0 27084 70802 8

Accessories:

Eagle
Bucket of Water
Gleek (Only available at SDCC)


Note:
This Wonder Twins set features a special sound chip inside the gatefold box, recreating sample dialogue from the show.

Photography by Dan Curto



Watch the packaging in action!