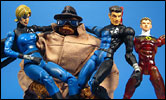 Source: Marvel Comics -
Fantastic Four (Heroes Reborn)

Year: 2004

Assortment: Boxed Sets

Accessories:

Poster Book
4 Display Stands
Sunglasses
Fedora
Trenchcoat
Left Hand
Right Hand
Left Hand (Hammer)
Right Hand (Big)


Note:
The figures in this set are based on various appearances. Reed and Sue are from the "Heroes Reborn" storyline from Fantastic Four Vol. 2 #1, while Johnny and Ben are from the Fantastic Four Vol. 1 #256.