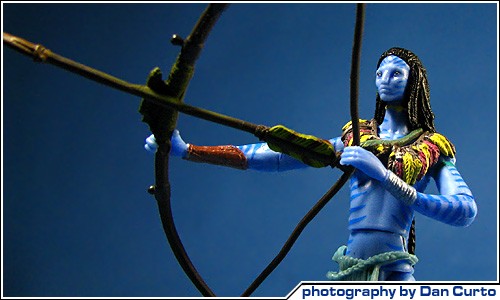 Neytiri
Comments: On a deadly but mineral-rich distant moon called Pandora, ex-Marine Jake Sully is torn between duty and honor when he finds himself caught between the heavily armed forces of Earth's most powerful star-faring consortium and an exotic, noble alien race whose very existence is threatened by the human invaders.

Comments: This graceful, fierce and intelligent member of the Omaticaya clan is rightfully wary of humans. Still, Neytiri has become an unlikely ambassador to the earthly colonists on Pandora.
Profession: Daughter of Omaticaya clan leaders Eytukan and Mo'at. Clan leader in-waiting.
Skills: Mastery of most Na'vi weapons, including various bows, spears, bolas and knives. Banshee and direhorse rider. Hunter. Proficiency in English.


Source:
James Cameron's Avatar

Level 1

Year: 2009

Assortment: Basic Figures

Retail: $8.99

Assortment Number: R2307

UPC Number:
0 27084 80736 3

Accessories:

Bow & Arrow
webcam i-TAG Stand


Note:
This figure of Neytiri is based on the alien character played by Zoë Saldana.

Photography by Dan Curto