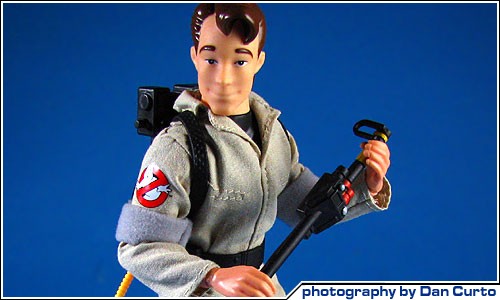 Peter Venkman (The Real Ghostbusters)
Comments: This all-new line of Retro-Action The Real Ghostbusters figures first arrives at San Diego Comic-Con! There is also an exclusive variant version of Peter Venkman as a spooky spirit when his outfit was possessed in episode 11 "Citizen Ghost" (variant version has all green clear skin). Best of all, Peter Venkman talks! Just press the button on his chest to hear four lines of his dialog from the episode.

"Sorry gentlemen, but my public calls."
"Hey, don't make fun. This is how I got through college."
"Doctor Venkman prescribes a nice long nap in the containment unit."
"Strange. Weird. Eccentric. Sick. That about covers it."
Source: THe Real Ghostbusters

Year: 2010

Assortment: Retro-Action Figures

Retail: $20.00

Assortment Number: R6272

UPC Number:
0 27084 83625 7

Accessories:

Proton Pack (Attached)
Neutrino Wand (Attached)
Jumpsuit
Elbow Pads
Boots


Note:
This figure of Peter Venkman is based on the likeness of the character in the animated series.

Photography by Dan Curto