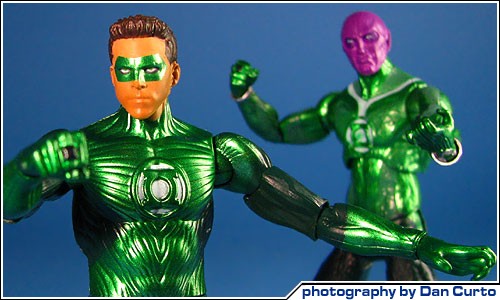 Hal Jordan & Abin Sur
Comments: With authentic detail, deluxe articulation and supreme quality, the Movie Masters line offers fans the premium collecting experience. True-to-scale, these figures are expertly crafted to ensure the highest standards for your collection.

Crash-landing on Earth after escaping the terrible entity, Parallax, Green Lantern Abin Sur knew he must find a successor to carry on his mission. Using his power ring to find a human who displayed fearlessness and great willpower, Abin Sur met Hal Jordan and passed along his knowledge before he died.
Source: Green Lantern

Collection: 1

Year: 2011
(Toys "R" US Exclusive)

Assortment: Movie Masters

Assortment Number: T9157

UPC Number:
0 27084 94112 8

Accessories:

2 Display Stands


Note:
These figures are based on the GREEN LANTERN feature film.

Photography by Dan Curto