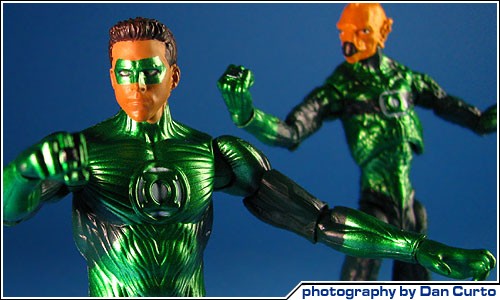 Hal Jordan & Tomar-Re
Comments: With authentic detail, deluxe articulation and supreme quality, the Movie Masters line offers fans the premium collecting experience. True-to-scale, these figures are expertly crafted to ensure the highest standards for your collection.

When Hal Jordan's Power Ring takes him to Oa for the first time, Green Lantern Tomar-Re is the first to befriend Hal and answer the numerous questions he poses about his new role. Tomar-Re's thorough knowledge of the sacred Book of Oa makes him the perfect choice for a mentor to the rookie Lantern.
Source: Green Lantern

Collection: 1

Year: 2011
(Toys "R" Us Exclusive)

Assortment: Movie Masters

Assortment Number: T9158

UPC Number:
0 27084 94113 5

Accessories:

2 Display Stands


Note:
These figures are based on the GREEN LANTERN feature film.

Photography by Dan Curto