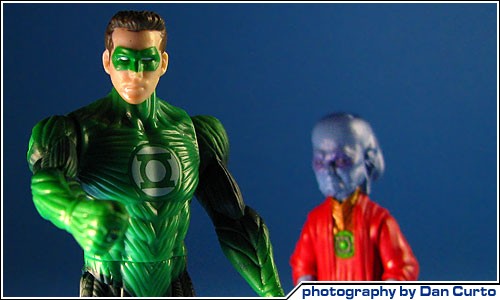 Hal Jordan & Baris (Guardian of the Universe)
Comments: From inside their Citadel on planet Oa, the Guardians of the Universe monitor every sector of the cosmos, sending Green Lanterns into action to rescue worlds, preserve the peace and ensure that universal justice always prevails.

While every Guardian possesses tremendous intelligence, Baris might be amoing the most gifted for her cognitive abilities. A deep thinker, Baris can be extremely difficult to engage in conversation. Her piercing eyes might convey arrogance, but in reality, she is simply contemplating how to ensure the Corp's survival.

When test pilot Hal Jordan encounters the dying Green Lantern, Abin Sur, at a remote crash site, everything changes. Seeking someone with the willpower to wield his powerful ring, Abin Sur chooses the earthling to become his successor, making Hal Jordan the first human ever inducted into the Green Lantern Corps.
Source: Green Lantern

Year: 2011
(Walmart Exclusive)

Number: 1 of 6

Assortment: Guardians of the Universe

Assortment Number: T7870/T7869

UPC Number:
0 27084 93328 4

Accessories:

Power Battery


Note:
This figure is based on the GREEN LANTERN feature film.

Photography by Dan Curto