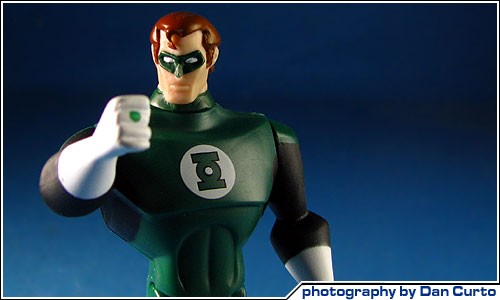 Green Lantern Hal Jordan
Comments: Mattel originally created Green Lantern Hal Jordan in 2004 as a holiday gift figure that was unavailable to the collecting community. Limited to only 100 figures, this rare figure was created under a deal that the character could never again be made in the line, thus preserving the rarity of the gift.

In 2009, Mattel released a special Green Lantern Origins 3-pack that included a Hal Jordan in flight suit, Abin Sur in Hal's original costume, and Sinestro in the classic costume.

The figure showcased in this gallery is a combination of the Sinestro body from the 3-pack, along with a head that was cast from the original limited edition figure and repainted to match.
Source: Justice League Unlimited

Year of Original Figure: 2004

Year of 3-Pack: 2009

Assortment: Exclsuive Figures

Accessories:

None


Note:
This figure of Green Lantern Hal Jordan is a recreation of the 2004 exclusive holiday figure that uses the body of the Green Lantern figure from 2009, along with a cast of the original Hal Jordan head.

Photography by Dan Curto