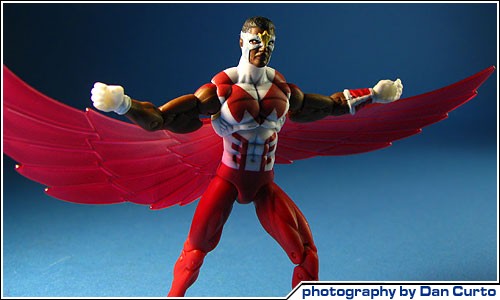 Falcon (& Redwing)
Comments: Falcon was not born a hero. His rise to friend and ally of Captain America took hard work and a little luck. Ironically, it was the evil Red Skull who introduced the two men and imparted Falcon with the extrasensory ability to communicate with birds. Falcon can fly like a bird of prey by harnessing the power of advanced wing suits. His grace, skill and precision in the sky is unmatched by any human.
Source: Marvel Comics:
Captain America, Falcon, Avengers, Heroes For Hire

Collection: 14
(Series 3, Wave 3)

Year: 2011

Number: 013

Assortment: Basic Figures

Retail: $7.99

Assortment Number: 31660/78230

UPC Number:
6 53569 59894 7

Accessories:

Pair of Wings
Redwing
Display Stand


Points of Interest:

This version of Falcon represents the current costume for the character. The wings are translucent, representing hard light constructs.