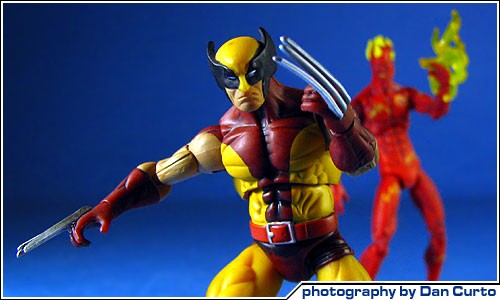 Wolverine & Human Torch
(Marvel Super-Heroes: Secret Wars)
Comments: Celebrating the 25th anniversary of the greatest crossover event of all time. The battle begins in earnest as a massed force of villains attack the gathered heroes. Though the initial strike is devastating, Wolverine is more than happy to finally have a fight. He dives claws first into the vicious melee against his enemies. Meanwhile, the Human Torch soars through the sky, concentrating his flame blasts on the powerful weapons of his opponents, melting them into slag and rendering them defenseless against the clawed X-Man!
Source: Marvel Comics:
Marvel Super Heroes: Secret Wars

Collection: 1

Year: 2009

Number: 2

Assortment: Comic Packs

Retail: $14.99

Assortment Number: 92704/92702

UPC Number:
6 53569 42737 7

Accessories:

Flame Effect
Marvel Super-Heroes: Secret Wars #2 reprint comic book


Note:
This figure of Wolverine sports 20 points of articulation!

Note:
This figure of Human Torch sports 20 points of articulation!

Photography by Dan Curto