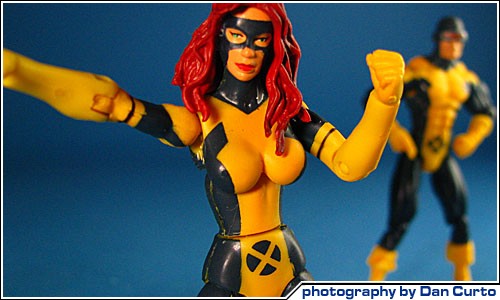 Marvel Girl & Cyclops
(X-Men: First Class)
Comments: As the leaders of the first class of X-Men, Marvel Girl and Cyclops have a rare responsibility. Not only must they protect themselves from the bizarre challenges that face any Super Hero; they must ensure that the name X-Men comes to mean something truly great. As they learn and battle alongside one another, they grow to be more than teammates — they become true friends.
Source: Marvel Comics:
X-Men: First Class

Year: 2011

Number: None

Assortment: Comic Packs

Retail: $17.99

Assortment Number: 34337/34253

UPC Number:
6 53569 63029 6

Accessories:

X-Men: First Class #1 Reprint Comic


Points of Interest:

Marvel Girl is a repaint of the figure from 2010's Cyclops & Dark Phoenix Comic Pack.


Cyclops is a repaint of the figure from 2010's Cyclops & Dark Phoenix Comic Pack.

Photography by Dan Curto