Hasbro: What's Next For Super Hero Squad?
Check out 3 new 2-packs, and 2 more boxed 4-packs in the SUPER HERO SQUAD line-up!




Cable & Captain America
From the pages of Civil War, it's the soldier from the far-flung future and the living symbol of liberty!





Deadpool & Punisher
The merc-with-a-mouth meets the new costumed vigilante!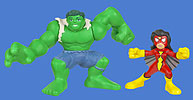 Spider-Woman & Hulk
Jessica Drew and Bruce Banner? HUH?? That's an odd pairing...





Avengers Assemble!
Featuring Iron Spidey, a shiny Cap, and all-new figures of Vision and Ms. Marvel!





X-Men Unite: Juggernaut Attacks!
A repainted Juggernaut faces off against modified versions of Gambit, Nightcrawler, and Wolverine!

UPDATE: 1 more added to the list...although if you saw our report on the SHS poster, you already knew about this set.





Dock Ock & Spider-Man (Black Costume)
It's revenge of the nerds, but in costumes!