Hasbro: What's Next For Super Hero Squad?
For your viewing pleasure, we've got detailed photos on a new pair of Super Hero Squad boxed sets.

Spider-Man Saves The Day!
Spider-Man has battled his entire life to keep his loved ones safe, but sometimes even his best isn't enough. Two of his most dangerous enemies have kidnapped Mary Jane! They've got her captive in a position too precarious for the wall crawler to take any chances.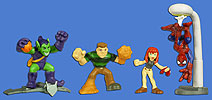 Help Spidey save the day and come to the aid of his smart and sassy girlfriend, Mary Jane! Fun four-pack of chunky, stylized characters includes:

Spider-Man

Mary Jane Watson

Green Goblin

Sandman


Winter Soldier Saga
Cap's old partner Bucky is back, but he's been brainwashed by the bad guys, and become the dangerous Winter Soldier! Captain America and Falcon rush to find him, hoping to stop him before he gets into real trouble. Unfortunately, Crossbones is waiting for them, and he can't wait to tear into the two Super Heroes.






Team up with this fun, four-pack and create lots of exciting adventures! Chunky, stylized characters include:

Captain America

Falcon

Winter Soldier

Crossbones