Review & Q&A: G.I. Joe Vs. Cobra - The Essential Guide

As most longtime G.I. JOE fans would likely agree, this is both a very exciting and frustrating time to be a fan. While the upcoming Stephen Sommers movie from Paramount has many of us scratching our heads in dazed bafflement, there have been many other things to yell ?Yo, Joe!? over. The recent Resolute cartoon was very well-received, the 25th Anniversary toy line was a veritable success, the talented folks at Sideshow Collectibles have started producing the greatest 1:6 scale JOE action figures we?ve yet seen, and IDW Publishing has seemingly revamped the brand in the comic book space with a slew of great new G.I. JOE comics.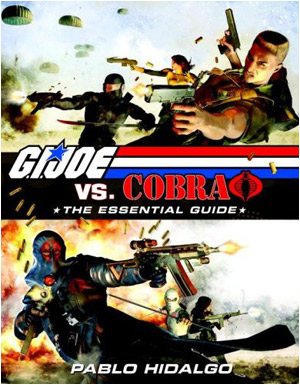 Enter Del Rey/Ballantine books and author Pablo Hidalgo, who bring us G.I.JOE vs. COBRA: The Essential Guide. Officially released this week (July 7) this book promises to be a sure-fire hit for JOE fans and enthusiasts.

G.I.JOE vs. COBRA: The Essential Guide is not a book about the toys themselves, but instead a dossier on the characters and story arcs from heyday of the A Real American Hero? era, which ran from 1982 until 2008. Running a crisp yet robust 180 pages, this may very well eventually service as the official ?bible? of JOE canon. Hidalgo covers everything from individual characters to vehicles to specific missions with the aplomb of a true fan of this franchise. And if Pablo?s name rings familiar, that is because he?s been around fandom for a while, mostly as one of Lucasfilm?s many Star Wars ambassadors. He has co-authored several books related to everyone?s favorite galaxy far, far away? and his first true solo effort does not disappoint.

The book is 100% focused on A Real American Hero? and all of the content is based on either the original figure file cards, the Larry Hama Marvel comic series, the famed 80?s cartoon, or the later Devil's Due comics.

The artwork throughout is a mixture of old-school file cards, Marvel comics art, and Devil's Due art. Notably, there is absolutely nothing about the live action movie in here (thank Goodness), and there is a small preview section at the end for the new IDW comics series. Indeed this promises to be an essential guide and is a must-own for those who cherish the JOE known from 1982 ? 2008.

On the eve of the book?s release, Pablo was kind enough to answer a few questions for us?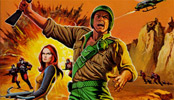 CoolToyReview (CTR): Explain how this book came to be.

Pablo Hildago (PH): Like so many things these days, it all started with Star Wars! Because of my involvement with Lucasfilm, and in turn, the company's involvement with Random House / Del Rey, I've long had a good rapport with the editors there. So, even though I didn't have a direct business relationship with them, I was invited to a dinner Del Rey was hosting during Star Wars Celebration IV in Los Angeles. I'm sat near editors Erich Schoeneweiss and Keith Clayton from Del Rey, along with artists Tommy Lee Edwards and Chris Trevas.

We were talking shop -- Star Wars business -- but somehow, the conversation turned to G.I. JOE, and we were all reminiscing fondly about our love for JOE, especially the classic Marvel comics series. And though I wasn't specifically pitching this book, I did state that I could see no reason why JOE (or Transformers for that matter) couldn't enjoy as rich a publishing program as Star Wars has.

That suggestion stuck, and a few months later, Erich approached me about doing an Essential Guide to G.I. JOE. I guess I was able to impress upon him that I knew my JOE lore and would be able to turn this around quickly. In the interim between that dinner and the start of the JOE book, I had worked with Erich on The Complete Star Wars Encyclopedia, so we already had faced a massive project under a tight deadline together.



CTR: Did you have any contact with Larry Hama at all in the development of this project?

PH: Very early on, as the book was coming together in the outline phase, there were some basic questions I had forwarded to Larry via Del Rey. It was filling in some informational gaps -- like, what was General "Iron Butt" Austin's first name? For the most part, though, this book is not about inventing new information but rather collecting, distilling and presenting what's come before, so Larry's prime influence was, of course, establishing so much of this history in the first place.



CTR: Other than existing product, comics, cartoons, etc... were you provided with any additional reference materials from Hasbro? If so, what were they?

PH: Most of the research came from existing product, and since I'm a fan, I had all this stuff in my collection to begin with. Hasbro did provide some internal documents concerning the current direction of the brand and the characters they wanted to ensure got spotlighted. You'll note that even tough this book is about the "Classic G.I.JOE" period of 1982-2008, characters like Breaker, Snow Job and Heavy Duty get some extra attention. I wouldn't characterize their roles during the original run as central, but because they're going to be featured heavily in future stories, they get some extra love in the guide.



CTR: I for one am thankful that the upcoming movie by Stephen Sommers isn't even mentioned in this book. Personally, I think that film taints the very brand of G.I. JOE. Did you have to fight against putting any of it in here, or was Hasbro open to keeping the book entirely focused on "true" A Real American Hero? canon?

PH: I wouldn't read that much into the lack of movie content, especially given how many Rise of Cobra movie tie-in books will be hitting shelves soon. The decision not to include the movie came very early on when we figured out what format the book would take. The sort of dossier-like presentation of character back-stories allowed for multiple anecdotes to define a character -- so these could come from the comics or the cartoon. But because the movie is essentially a reboot where some character backgrounds are redefined, there was no elegant way to get those stories into an entry without "breaking" the design. That's when we figured the book would be G.I.JOE: 1982 - 2008. The only space we give to new JOE storytelling is by giving IDW's new ongoing series a preview at the end. If this book had been bigger, or we cracked a different way of presentation, I'm sure the movie content would have gotten in there.


CTR: I also notice that there is no G.I. JOE Resolute content. Was that a conscious decision as well?

PH: Yes, the same parameters that kept the movie info from finding a way into the book also kept Resolute out. Resolute was basically a type of reboot that fell outside of the 1982-2008 scope we originally plotted.





CTR: Okay, on to some "fan" questions...

?Who was your first JOE/Cobra figure?

PH: My first JOE, strangely, was Short-Fuze. I mean, who's first JOE is Short Fuze?! For COBRA it was Cobra Commander. With only those two figures to start, I can't imagine the stories I came up with were all that compelling.

?Favorite JOE figure?

PH: I always liked how intricate the first Tunnel Rat figure was, even though I almost instantly lost his little flashlights.

?Favorite JOE vehicle?

PH: The Wolverine. Those missiles really give that vehicle teeth. The Sky Hawk is also a great design.

?Favorite COBRA figure?

PH: The 1986 Viper is classic. I love that design and color scheme. I don't even mind that it makes no sense for him to have goggles on top of his helmet. They look so great up there.

?Favorite COBRA vehicle?

PH: The original HISS tank is so iconic. I also remember as a kid, my HISS tank doubled as a "V" starship by removing its treads and pretending the upper chassis could fly.

?Larry Hama?s Marvel Comics or the Sunbow/DIC Cartoons?

PH: Hama, easily. I preferred bullets over lasers. But, that said, I could still appreciate the cartoon for what it was. And the two are essential complements to one another: for example, when reading a JOE comic, it's always Michael Bell's voice coming out of Duke's mouth, or Chris Latta as Cobra Commander.

?Are you collecting the new line of high-end 1:6 scale action figures from Sideshow Collectibles?

PH: Yes, indeed! I couldn't resist them. Also, the Combat Heroes and Mighty Muggs [from Hasbro] are fantastic.