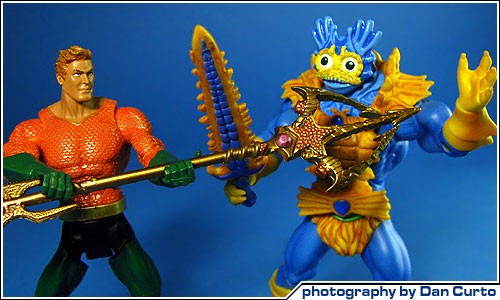 Aquaman (King of the Seven Seas)
VS. Mer-Man (Ocean Warlord)
Aquaman: Found abandoned, Prince Orin of Atlantis was raised in the ways of the surface world and renamed by lighthouse keeper Arthur Curry. But in the water was where young Arthur truly thrived. In adulthood, he took the name Aquaman and used his aquatic abilities to patrol the seven seas. The aquatic avenger's renown soon earned him a place among the newly assembled Justice League of America.
Mer-Man: Ruler of the undersea realms of Eternia, Mer-Man was forced to serve in the armies of Skeletor after his kingdom was destroyed in a battle with rival ocean clans. His allegiance with Skeletor brings him to the surface world more often then he would like. Lurking deep beneath the Sea of Rakash, Mer-Man awaits the evil call to arms of Skeletor!
Source: DC Comics:
Aquaman, Justice League of America, Masters of the Universe

Year: 2010

Assortment: 2-Packs

Assortment Number: T8023

UPC Number:
0 27084 93475 5

Accessories:

Trident
Sword
Armor
Mini-Poster


Photography by Dan Curto