Posted by: Nick on
October 10, 2023 at 07:48 PM CST
After three years, delays, and a time change, Toy Fair is back! This was our biggest adventure yet and a new record for coverage for us. Check out what was on display this year.

NECA
Starting off Toy Fair 2023 with a look at the NECA book. Some questions will be answered as some more will emerge. Check out the reveals and the knowledge drops!
See the NECA booth here.

Super7
Continuing Toy Fair coverage with the amazing display at Super7. Tons of first looks and prototypes here.
See the Super7 Booth here.

Iron Studios Booth
Iron Studios showed off some prototypes of new statues in Marvel and more. Check out first appearances along with some great statues on display.
See the Iron Studios Booth here.

threezero
threezero had a ton on display from Transformers, Power Rangers, and anime. Check out some first appearances and prototypes in our look.
See the threezero Booth here.

Jada Toys Booth
Jada Toys showed off some new product lines including Mega Man and more to the Street Fighter line.
See the Jada Toys Booth here.

MyArcade
Some exciting Mini Arcade cabinets in the horizon. See what My Arcade is offering in 2024 as well as a look at the breadth of their product line.
See the MyArcade Booth here.

The Noble Collection
Really excited to see the amazing products from the Noble Collection. If you are not familiar with this UK-based company, then definitely check out what they offer in our walkthrough.
See The Noble Collection Booth here.

Trick or Treat Studios
A hidden gem of masks, figures, and more. Check out Trick or Treat Studios for some truly interesting and grotesque items that will address your horror fandom.
See the Trick or Treat Studios Booth here.

Kotobukiya
Kotobukiya had a much more expansive catalog on display at Toy Fair. If you wanted more after our Comic Con coverage, here is your chance to see what's on display.
See the Kotobukiya Booth here.

New Zealand Mint
For those of you not familiar with New Zealand Mint, take this an an opportunity to check out some really collectible and really well designed products. These may be costly but are quite the investment as the limited minting and superb artistry fetch a high price in the secondary market.
See the New Zealand Mint Booth here.
Square Enix
We don't always get a chance to cover the unique products from Square Enix, so we were happy to stop by and see some amazing characters from our favorite franchises.
See the Square Enix Booth here.

Playmates
A little bonus from our time at Toy Fair, an interview with the senior executive on the Turtle line. Our audio ended up terrible so I had to dub over but I captured the whole conversation along with a couple of reveals at the end.
See the Playmates Interview here.

Pure Arts
Pure Arts spares no expenses when it comes to detail and amazing features. See some of there amazing offerings in our booth walkthrough.
See the Pure Arts Booth here.

FigPin
Believe it or not, this is actually our first time covering FigPin. They have a wonderful assortment of collectible, high-end pins covering comics, television, movies, and more.
See the FigPin Booth here.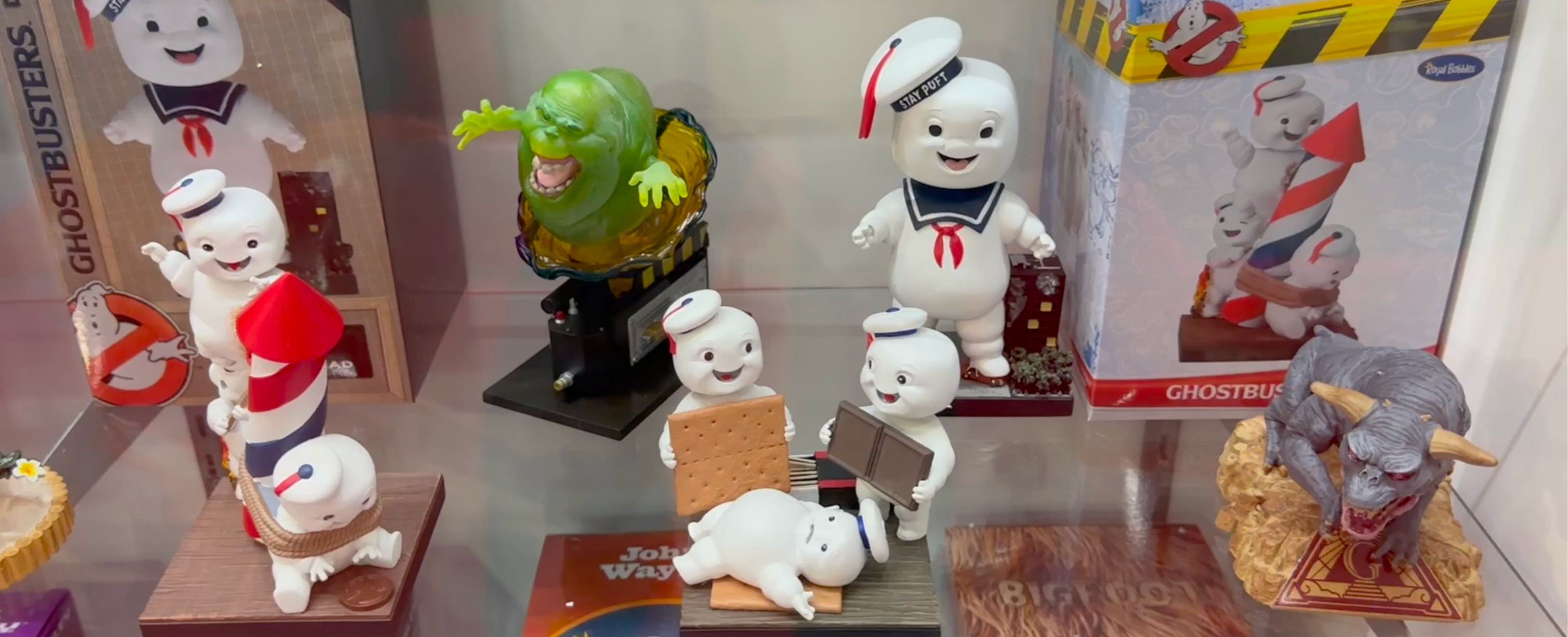 Royal Bobbles
This was a new discovery for us, although we have seen some of these here and there. Royal Bobbles has some truly amazing products that go beyond your typical bobble head. We're sure you will see something you love.
See the Royal Bobbles Booth here.

Jazwares
Jazwares always has some fun new items including the popular interactive Pikachu and a brand new Hello Kitty and Friends line.
See the Jazwares Booth here.

Good Smile
We have not covered Good Smile in a while, so we are excited to show off their product line on display of Nendroids and Figma characters. Check out what's available from this company whose products make you....well smile.
See the Good Smile Booth here.

Bandai
Always loving seeing the many, many products form Bandai. Anime, Godzilla, and much more on display at Toy Fair. We apologize for the sound here, it was loud and we were having mic issues.
See the Bandai Booth here.

Diamond Select Toys
We always love stopping by to see what's new from our friends at Diamond Select Toys. They delivered! There are some first time appearances of products along with no glass, allowing us to get up close and personal with the products.
See the Diamond Select Toys Booth here.
Super Impulse
Super Impulse always surprises and amazes with what they can do at a really small scale. Action figures, board games, Nerf guns, electronics, and more. They certainly seem to have it all. Apologies again for the audio, we did what we could to salvage but it was a condensed area.
See the Super Impulse Booth here.

FUNctional First Collectibles
We are amazed by how much this company has grown since 2018, where they had two guys and some controllers holders at a booth. Now they have an entire pavilion filled with controller holders and more. Check out what could be a must have for you.
See the FUNctional First Collectibles Booth here.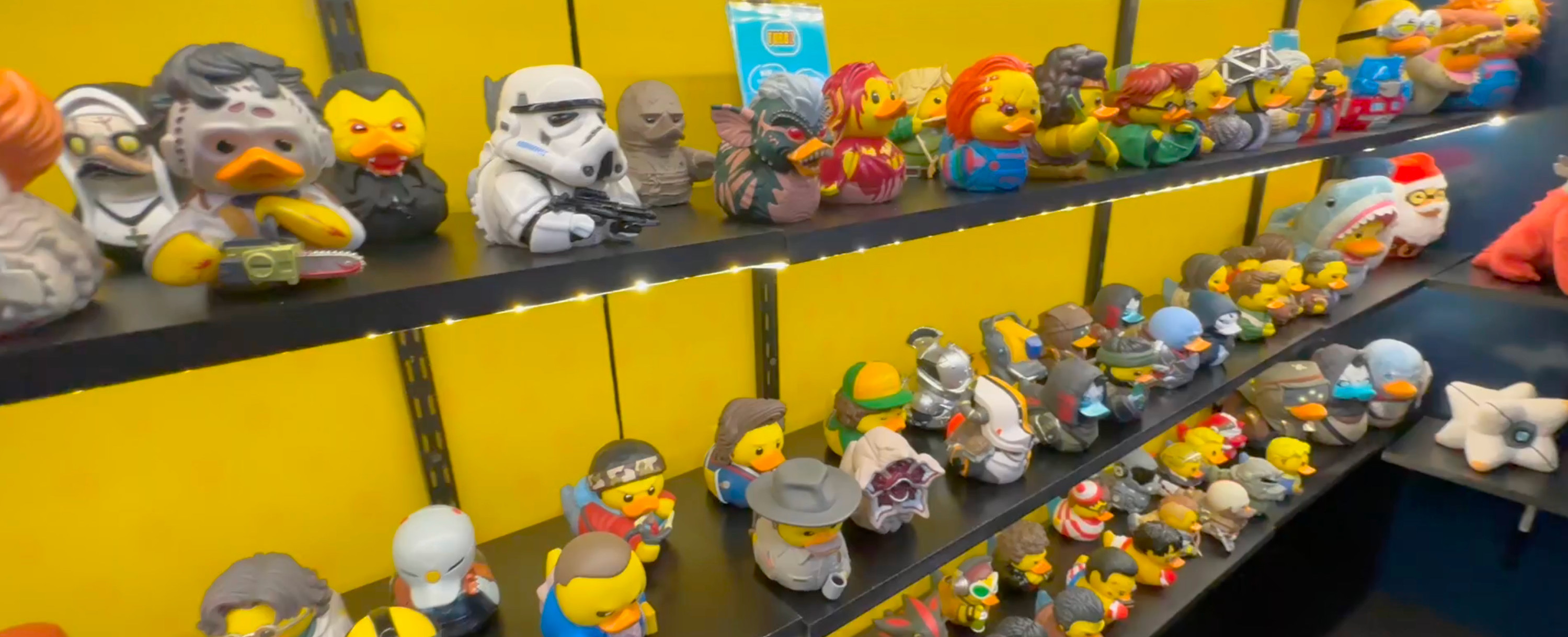 Numskull
This is our first time checking out the Numskull Booth and we were pleasantly surprised by the breadth of their product offering. See Tubbz, desk lamps, Countdown Characters, and more in this walkthrough.
See the Numskull Booth here.

Funko
We enter the Funkoverse, a never ending assortment of product lines in a giant super structure. Not satisfied with just a booth, Funko aims to take over the convention hall.....and eventually the world!
See the Funko Booth here.

The Loyal Subjects
Rounding out our coverage with the Loyal Subjects. We typically associate this manufacturer with the BST AXN line however they are branching out into reviving some vintage lines as well. We still got some great TMNT coverage with a few surprises, so stay tuned to the end.
See The Loyal Subjects Booth here.