Posted by: Nick on
June 27, 2022 at 06:36 PM CST
VIEW THE GALLERY HERE.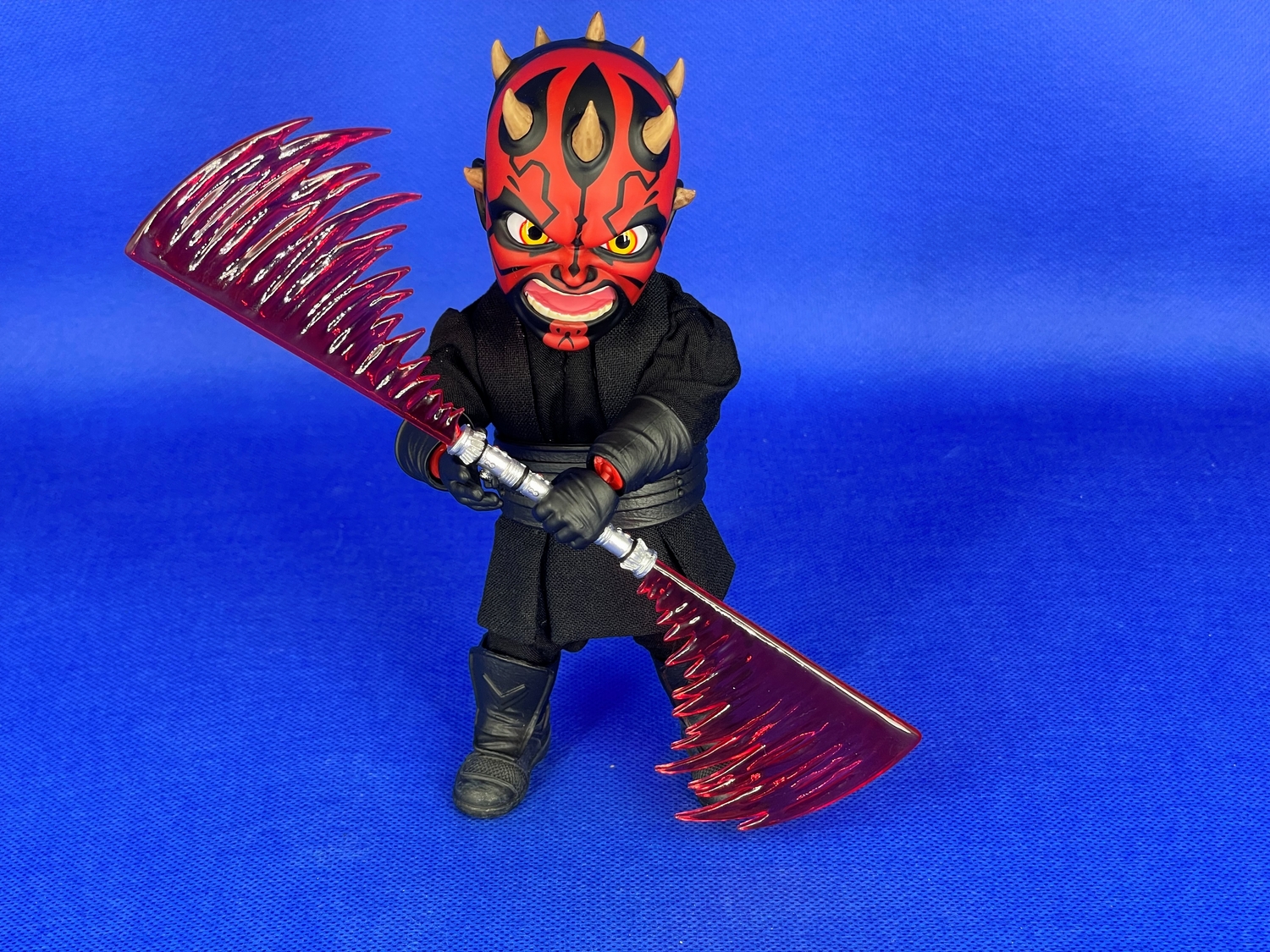 Finally, after three previous cancellations (Chirutt Imwe, Baze Malbus, and Luke Jedi Knight) we finally get a character from Beast Kingdom without a helmet in the Star Wars line. It seemed like they were avoiding faces, despite the fact that the prototypes looked pretty good. We are happy they started off with such an iconic character, who brought a whole bunch of new accessories to the Star Wars universe and changed our mindset on the design of a lightsaber. With some time giving us perspective and the resurgence of prequel lore in the Disney+ series, now seems like the perfect time for us to revisit these now classic Star Wars characters.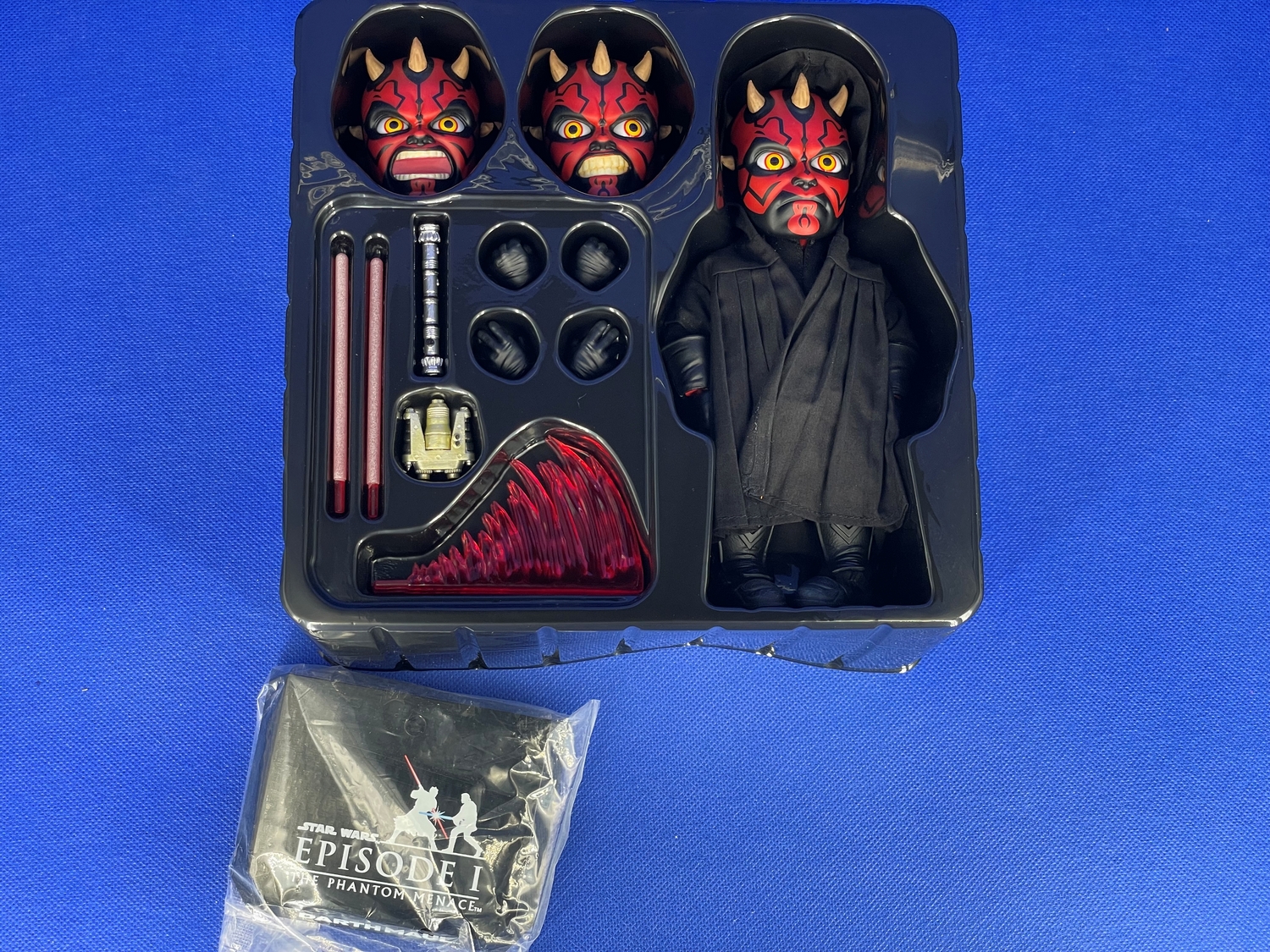 Despite being only a standard release, with a price point to support that assertion, Darth Maul feels like a deluxe release with the sheer number of accessories. Not only does he feature the standard assortment of hands most Beast Kingdom figures get but he comes with two set of blades (standard and action), his binoculars, a cloak, a customized stand, and three (yes three) swappable heads. Now you can have stoic Maul, angry Maul, and intense Maul! Additionally, we have to note that the heads are incredibly easy to swap out, a major divergence from alternative accessories in the past. Also as with the Boba Fett ROTJ figure, these hands were incredibly easy to change as well. It seems with each release, Beast Kingdom has improved the mechanics of their design to allow for easier end-user customization.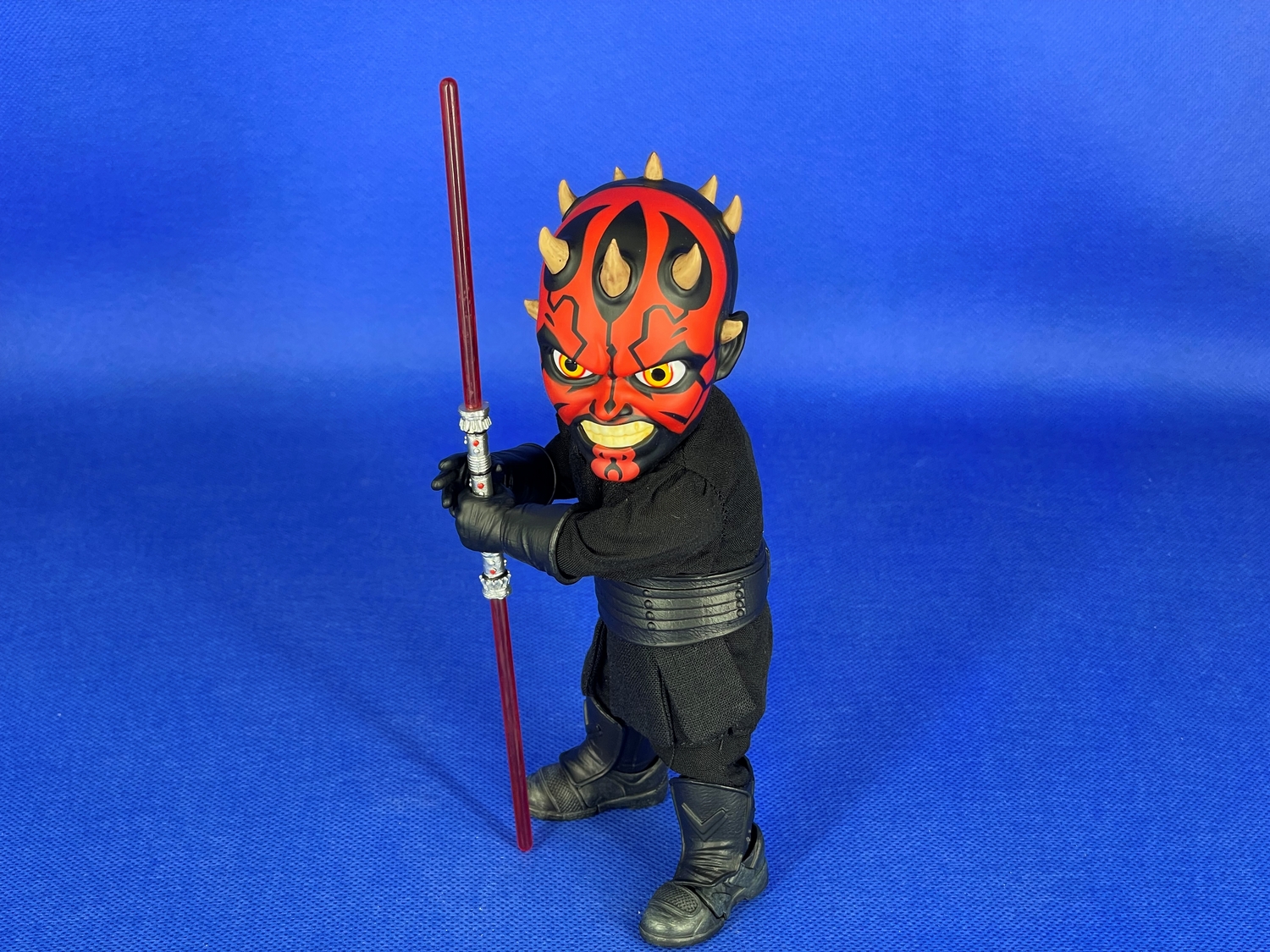 Whereas ROTJ Fett had double jointed shoulders, Maul has triple or even quadruple jointed shoulders. These things can move and really allow for a greater range of poses. It also makes it really easy to maneuver his arms to take the cloak on and off, however we still needed to remove the hands. Maul, and actor Ray Park, was known for his move set and this little guy can achieve them all, with some work. You can really manipulate the double bladed saber here and find a full range of movement with this guy. With the included stand, you can even get some of those flip kicks in as well.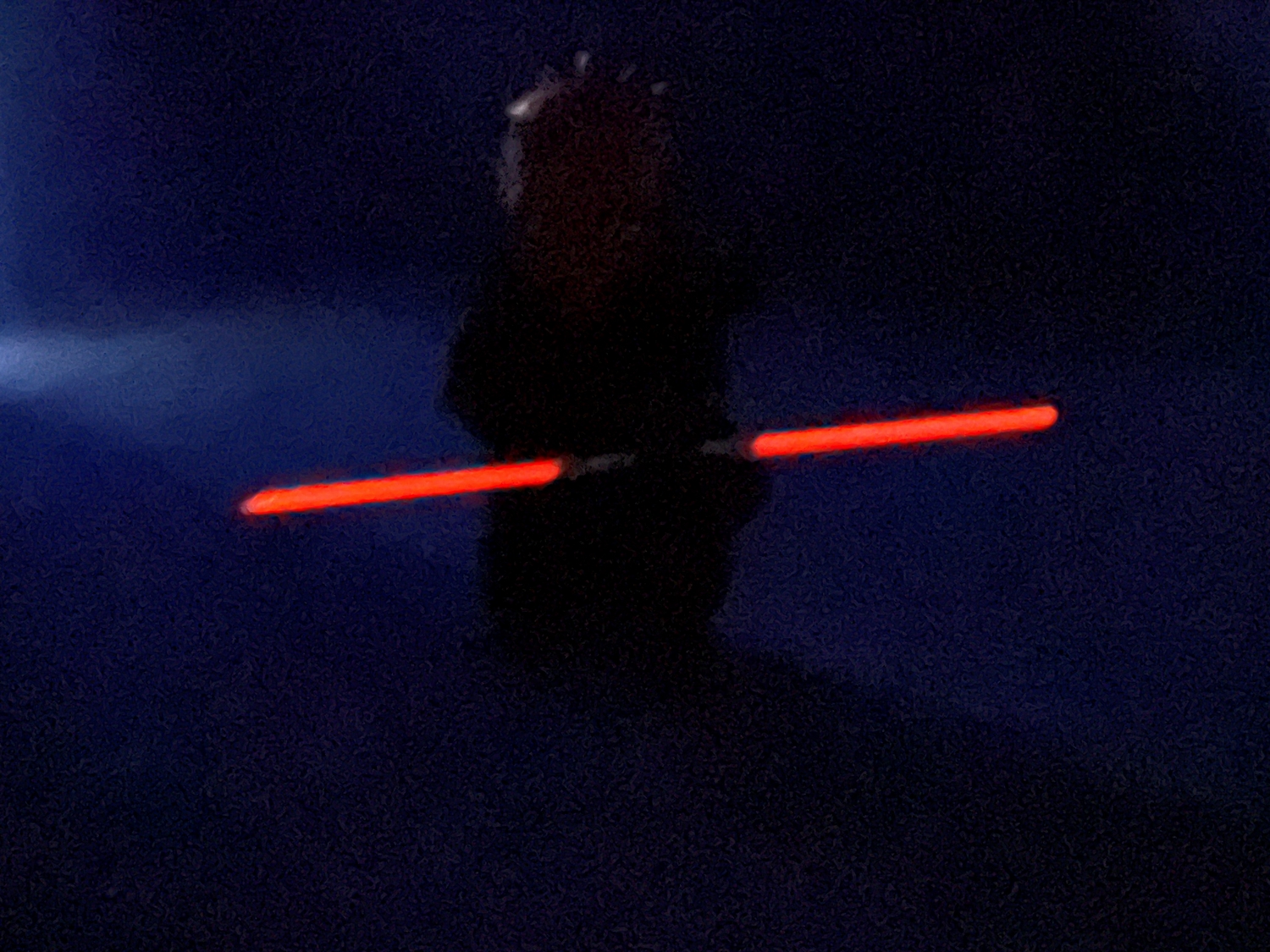 Ok, our favorite part of any Beast Kingdom figure, the special features! This one does not disappoint. The big feature is the glow in the dark dual saber blades, and they really pop. We figured just a little glow but we got a nice bright red, and a real menacing look for the figure. We would have appreciated a battery powered light up saber as we have seen in past released of Vader, but those tiny batteries are tough to get and pricey and this actually works really well for a more economic option. Other features include the belt hook for the lightsaber, the detailed and removable cloak, and the intricately designed cloth inner robe. This guy was designed well, all the way down to the shin guards. Again, we have to mention the swappable faces here as it is a first in the Star Wars line. If we had one criticism, the face does look a little cartoonish but in a line that emphasizes big heads, characters are bound to come across a little animated.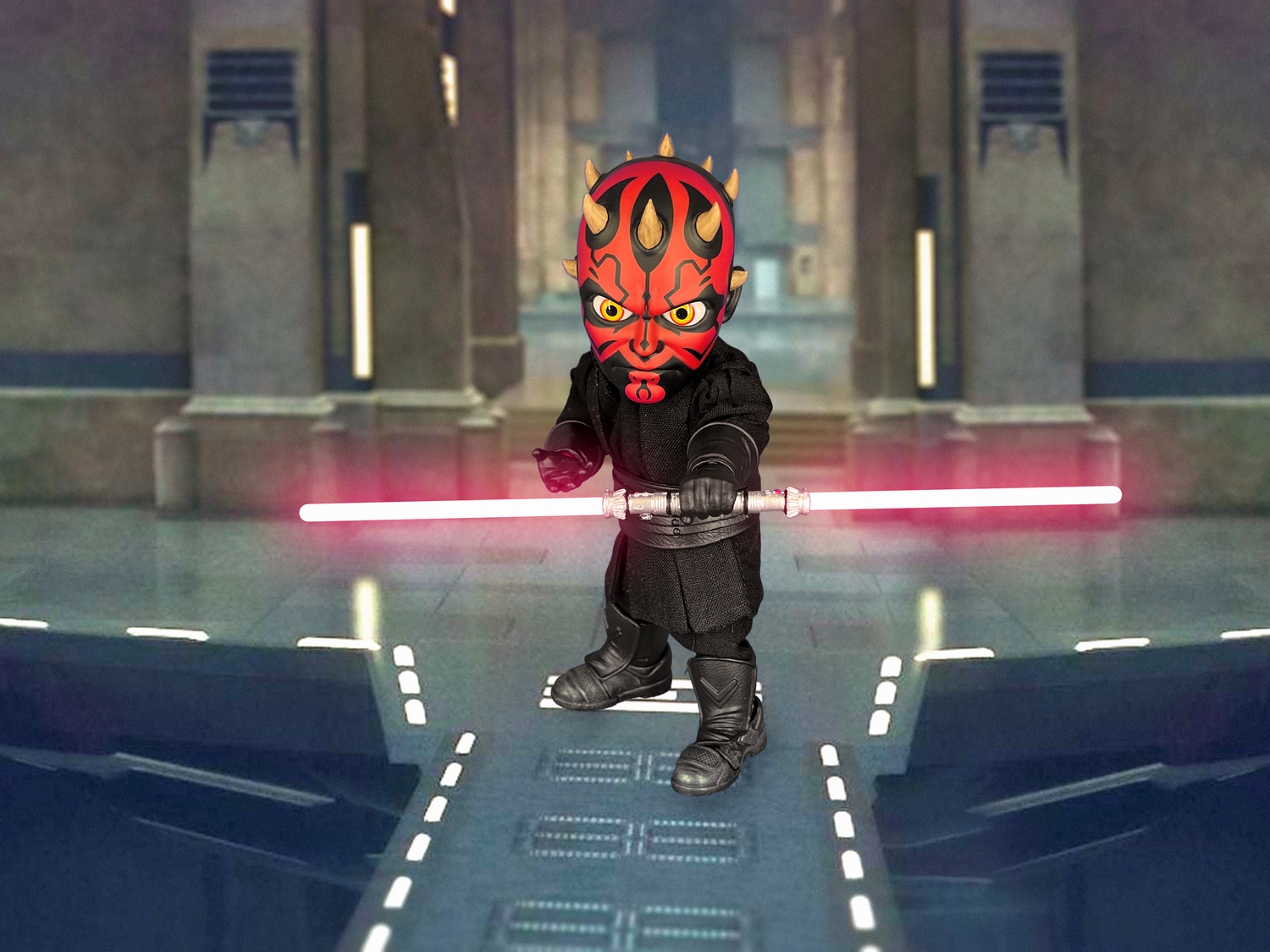 Beast Kingdom definitely has some momentum with its return to its Star Wars line. Bringing in more fan favorite characters, introducing new features, and providing more accessories and value for fans without cutting any of the quality that is expected of these great products. This is sure to be a hit with fans and will likely command a premium on the secondary market after its production run. The only shame here is that we have to wait nearly a year for the next new figure. We can only hope for a special variant release in the meantime. Check out our other Beast Kingdom reviews, including our upcoming retro reviews that feature older products from the Star Wars Beast Kingdom line.
Order your Maul from Entertainment Earth now!