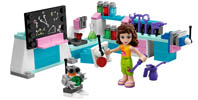 New LEGO Friends Collection Aimed At Girls
Posted by: D. Martin on
December 21, 2011 at 03:17 PM CST
---
LEGO Group to deliver meaningful play experiences to girls with new LEGO FRIENDS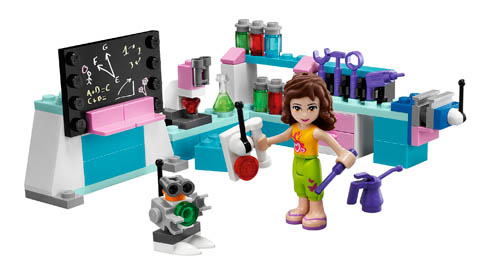 The LEGO Group brings classic construction play to the girls' aisle with first-of- its-kind LEGO mini-doll figure, three new brick colors and detailed interiors that reflect four years of research in play needs of girls.
The LEGO Group, the world's leading construction toy brand, today announced LEGO Friends, a new play theme that tailors the iconic LEGO construction experience especially to girls ages five and up. LEGO Friends delivers on a girl's desire for realistic role-play, creativity, and a highly-detailed, character-based world with the core values of LEGO building.
"We felt it was time to test assumptions that girls aren't interested in building and to breathe fresh air into a toy category filled mostly with pre-fabricated play experiences for girls," said Jørgen Vig Knudstorp, CEO, LEGO Group.
"We focused on creating a play experience centered on the joy of creation, while heeding the way girls naturally build and play. We are incredibly proud of the solution we deliver with LEGO Friends, and are resolved to build this platform for years to come."
LEGO Friends is the first 100 percent LEGO building experience fully optimized to girls' tastes and interests. Thousands of girls and their mothers worldwide participated in intensive research that validated the desire for more beauty, realistic details, accessories and interior building and role play opportunities in a LEGO offering.
Introducing the LEGO mini-doll figure
Anchored by the introduction of a new mini-doll figure, LEGO Friends introduces a new LEGO minifigure platform tailored to girls' requests for a more realistic, relatable and stylized figure.
Designed to the same scale of the classic LEGO minifigure, the mini-doll figure stands roughly 5 millimeters taller than its minifigure sibling, yet features similar constructability, shares the iconic "claw" hand to hold the same accessories, can wear the same hair and headpieces, and is compatible with all LEGO building sets. A total of 29 different mini-doll figures will be introduced in 2012.
"LEGO Friends is one of the most researched LEGO projects ever and is a culmination of years of anthropological research with girls around the world to understand what they expect from a construction toy," said Nanna Ulrich Gudum, senior creative director, LEGO Group. "In talking with girls and their moms, we understand that girls really want a LEGO offering that mirrors what the boys experience, but in a way that fulfills their unique desire for remodeling and redesign, combined with realistic themes in community and friendship."
"Unlike previous LEGO toys for girls, LEGO Friends, at its core, does not apologize for being a construction toy and delivers, for the first time, a building experience in the same scale as our classic offerings," Nanna Ulrich Gudum continued. "What LEGO Friends does differently is deliver the beauty, details, accessories, real world themes and need for strong interior play that the research revealed would make all the difference for girls ages 5 and up."
Welcome to Heartlake City
The LEGO Friends story centers on the everyday lives and personalities of five girls in a fictional hometown called Heartlake City. Each of the friends—Olivia, Mia, Andrea, Stephanie and Emma—has a distinct personality and interests, such as animals, performing arts, invention and design, that are reflected in the models. Building sets reflect different parts of town where the girls' adventures take place—downtown, suburbs, beach, camping grounds and mountains.
---
Related Stories:
---