Posted by: Jeremy on
April 9, 2020 at 06:44 PM CST
---
When a teaser Tweet appeared on the LEGO Twitter account on March 10th (aka Mar10 Day) it left LEGO fans scratching their heads and Nintendo fans nodding knowlingly. The strangely proprtioned non-minifig Mario with a TV screen for a chest was too much to comprehend and fans - as directed - stayed tuned.


When the clarification finally came on nearly a month later it was through Nintendo's own community, with
Nintendo Everthing
spilling the beans. LEGO caught up the next day with
a wordy press release
that expanded on the new
71360 Adventures with Mario Starter Course
that heralded the first of a range of LEGO Super Mario expansion sets.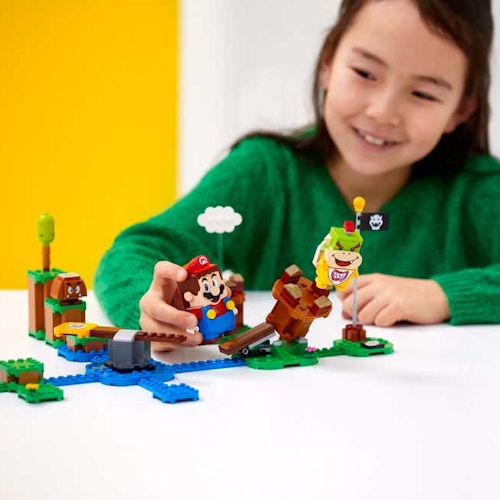 Surprisingly this new theme was not the traditional LEGO brick-based set that everyone had come to expect, but a distinctly unique cross-over that encorporated the basic elements (if you'll pardon the pun) of the original Super Mario game that first came out in 1985, with an essential LEGO contruction experience that brought the challenge of the video game into the physical world - allowing kids to play Super Mario with all their fingers and not just their thumbs!
"I have always liked LEGO products and how they help children use their imagination to play", said Takashi Tezuka, Executive Officer and Game Producer of Nintendo Co., Ltd. "The new product we created together with the LEGO Group seeks to combine two different styles of play – one where you freely build the world of Mario and the other where you play with Mario in the very world that you have created."
The creation of the new theme - lead by Jonathan Bennink (Digital Design Manager) - has been a long and well thought-out project. Working closely with Nintendo, the concept started with the interactive Mario minifigure and evolved through a series of play-testing sessions that lead the LEGO/Nintendo focus group towards a series of modular sets that built up iconic Super Mario video game levels.
While the chest screen comes across as a gimmick, it actually forms part of an essential aspect of this interactive roleplay experience which centres on scanning bar-coded bricks. Depending on what Mario interacts with, the screen will:
displays a timer showing how much time the player has left to complete the level
displays the coins earned when an enemy is defeated
spins a roulette wheel to determine what the result of hitting a P Switch is
displays damage points when encountering lava
displays an extra life when interacting with Yoshi
lowering the Goal Pole when competing the level
Sharp-eyed viewers will have already noted that the back of the Mario psuedo-minifig has a Bluetooth paiting button it it - a function that LEGO has yet to reveal. What is known that it doesn't tie into any video game console or otehr hardware; LEGO is clear to reinforce that the new LEGO Super Mario theme is not a digital video game but a real world simulation of one.
Coming in hot on the heels of the official marketing reveal was the pre-order release of the first set -
a wordy press release
that expanded on the new
71360 Adventures with Mario Starter Course
- which sold out of it's pre-order allotment within hours.
"Due to your overwhelming excitement for LEGO® Super Mario™, we are no longer taking pre-orders at this time. Please check back soon!"
The wait for a stock refresh won't be long though, because the set which retails at $59.99 is due out on August 1st. Until then LEGO and Nintendo fans can enjoy this new and exciting product's full offerings.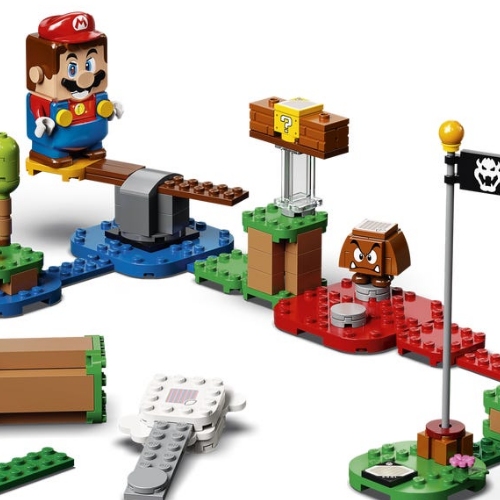 Kids can team up with their favorite character in the real world with this LEGO® Super Mario™ Adventures with Mario Starter Course (71360). The set features a LEGO Mario™ figure that gives instant expressive responses via the LCD screens and speaker. Players earn virtual coins moving LEGO Mario from the Start Pipe to the Goal Pole via spinning and cloud platforms, the ? Block, and super battles with the Goomba and Bowser Jr. toy figures. Rearrange the bricks to create new levels to master.
Enhanced play
A free LEGO Super Mario app is available for enhanced play with this gift toy for kids. It has zoom and rotate viewing tools to make building easier, suggests other creative ways to build and play, and is a safe forum to share ideas with friends.
Mario unlimited!
Great for solo play or group competitions, LEGO Super Mario sets bring a family-favorite character into the real world. This Starter Course and the Expansion Sets offer unlimited challenges and nurture problem-solving skills.
Fans can begin exploring the fun-packed LEGO® Super Mario™ universe with this Adventures with Mario Starter Course (71360), featuring 7 action bricks for different interactions with the LEGO Mario™ figure.


LEGO® Mario™ has color sensors, plus LCD screens in his eyes, mouth and belly to display over 100 different instant reactions to movement. Also included is a speaker that plays iconic sounds and music from the video game.


In this super toy playset, LEGO® Mario™ collects virtual coins as he runs and jumps from the Start Pipe to the Goal Pole via LEGO bricks, cloud platforms, the ? Block and clashes with the Goomba figure and Bowser Jr.


This 231-piece, collectible LEGO® toy playset makes a cool birthday or holiday gift for kids aged 6+ who can build and play their own way and learn to solve problems while having lots of creative fun.


Rearrange the Starter Course and combine with LEGO® Super Mario™ Expansion Sets to create more challenging levels and games to play with and against friends.


The LEGO® Mario™ figure is powered by 2 x AAA batteries (not included), delivering a highly interactive in-game experience where players get instant feedback and rewards for creativity.


Kids will love the free LEGO® Super Mario™ app, which has building instructions, inspiration for fun, creative ways to play, and more. For a list of compatible Android and iOS devices, visit LEGO.com/devicecheck.
The first product's description hints at Mario's future Bluetooth functionality, with an iOS and Android app (which will be made available on August 1st) that will provide "players" with extra intructions (like wardrobe changes for the titular character) and a sandboxed community which will presumably tie-in with LEGO ID membership for child protection purposes.
There is evidence that, in keeping with a new product's launch, LEGO will also make a polybag available to select retailers. This 30385 Super Mushroom Surprise is currentlyonly available through
Zavvi
in the UK, and comes free with pre-orders.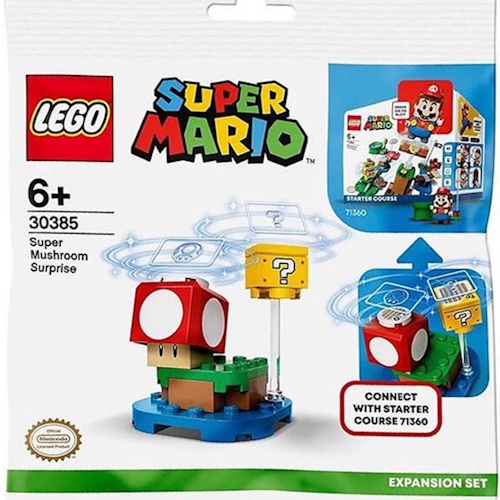 Excitingly the ability to extend and expand these gaming sets wasn't one that fans had to sit and wait to learn more about, because those lucky enough to get in on the pre-order had an exclusive gift with purchase added to their basket.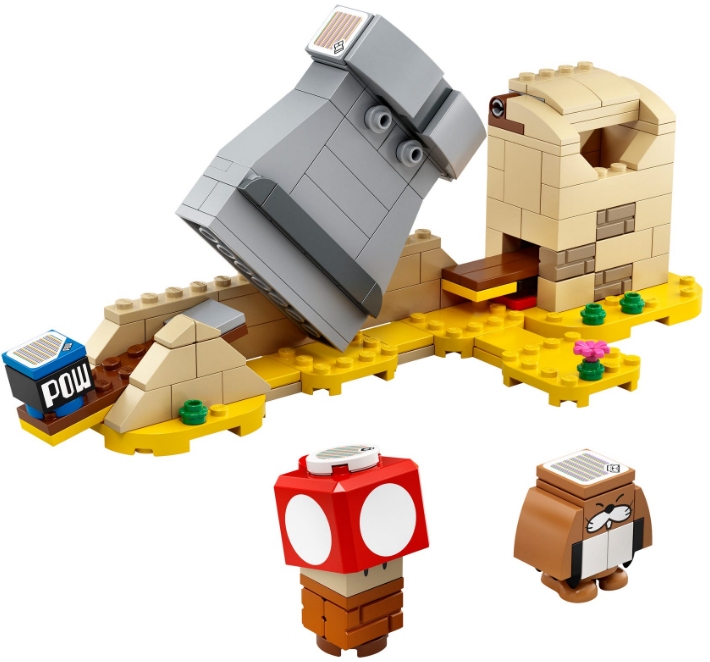 First in and best dressed, this free
40414 Monty Mole & Super Mushroom Expansion Set
is based on Valley of the Face Rocks and introduces the monolithic Stone-Eye, Monty Mole and a Super Mushroom, each with an interactive barcodes.
Fans can fall with this LEGO Super Mario Monty Mole & Super Mushroom expansion set, throw Monty Mole in the air and create new challenges at the same time.

The Mario Starter Course (71360) with the LEGO Mario figure is a prerequisite for playing with this expansion set.
In keeping with the game's frenetic pace, info on the theme kept coming, with LEGO revealing the first two commerically available expansion packs to the LEGO SuperMario theme.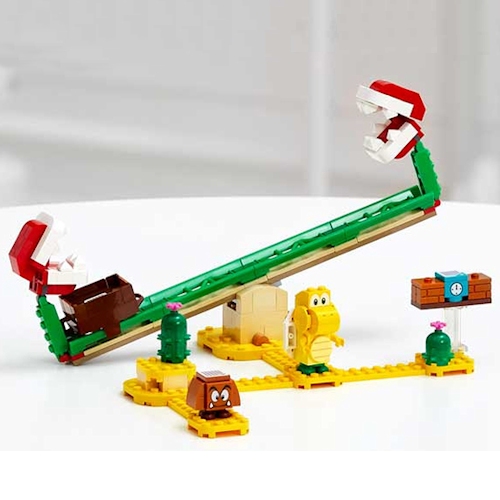 Retailing at $29.99 is
71366 Piranha Plant Power Slide Expansion Set
, which will be available with the theme's official product launch on August 1st. The set features a Goomba, two piranha plants set on a see-saw with a barcoded crate on a rail, a barcoded p-switch and a brick-built Koopa Troopa.
The biggest of all the currently known LEGO Super Mario theme sets is
71369 Bowser's Castle Boss Battle Expansion Set
, and it comes with a hefty $99.99 price tag.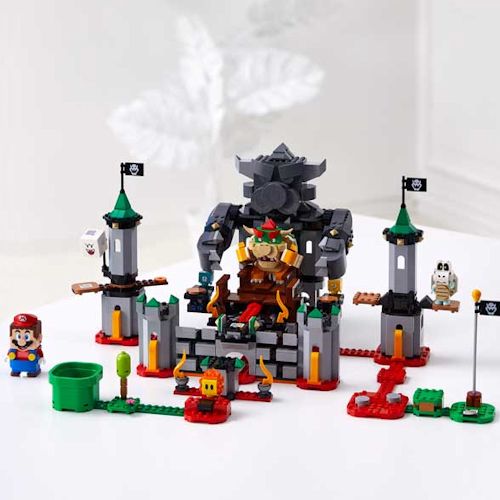 Touted as a boss level, this set features a brick-builtBowser, a P-Switch, a Question Block, Boo, Lava Bubble and Dry Bones - all with barcodes - populate this volcanically situated base of the Koops army.
The formal launch of these five sets -which
Super Mario Wiki
predicts will total 13 sets - is August 1st, and by purchasing them at
LEGO.com
you can help support Cool Toy Review's ongoing effort to bring you the latest collectible toy news.
---
Related Stories:
LEGO: LEGO Nintendo Entertainment System Set (71374) Review

---