LEGO: LEGO Nintendo Entertainment System Set (71374) Review
Posted by: Nick on
September 3, 2020 at 08:50 AM CST
---
LEGO has been knocking it out of the part lately with unique collector's set aimed at beloved franchises of our youth. This new LEGO NES set might be the most impressive set LEGO has ever made. Not only is it a faithful and extremely detail oriented reproduction of the classic NES system, it has a function display allowing you to live the iconic moment when firing up Super Mario Bros. for the first time on your CRT tv.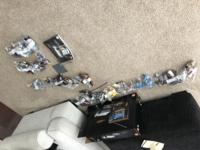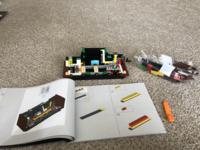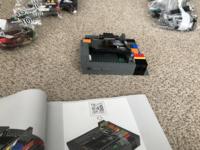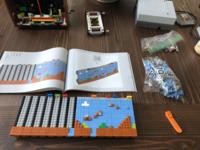 Assembly
At over 2600 pieces, this one is going to take up a good chunk of your day. I think it took us somewhere around 5ish hours to complete, but we had some interruptions and took a couple of short breaks. There are two thick instruction booklets, so you know you are in for the long haul. Just pace yourself and have fun, around three or four bags in, stuff really starts to take shape. As always, LEGO provides clear illustrated instructions, just make sure your get all of the bricks in the step. We missed one that turned out to be a crucial support and had to backtrack, which is always annoying. So again, recommend you don't try to beat a world assembly record during construction.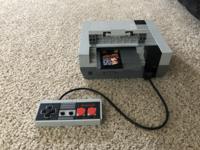 Features
Like we said, this is a truly faithful reproduction of the NES, down to the ejectable Super Mario Bros. cartridge. LEGO got everything from the ports, to the vents, to the controller and even roughly the size down to the original look. It is really amazing and from a short distance you can confuse it for the original.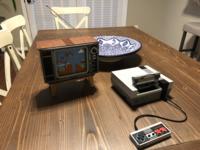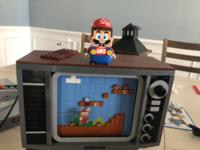 What truly blew us away, and the biggest reason for getting it, is the moveable screen. Once assembled a crank style mechanism can help Mario move along the level jumping on bad guys, collecting power ups and coins, and clearing obstacles. Truly amazing how LEGO worked this in and a great touch to bringing that magic to life. Paired with the Mario figure from the Super Mario Starter Course (71360), you can create the sounds and music from the level. As he rests on top after activating the bar code, colored sequenced blocks allow him to recognize power ups, bad guys, coins, and other obstacles. They randomize for effect, so once in a while you will get that Star Power! Lastly, when you stop moving, he plays the level exit and summary music.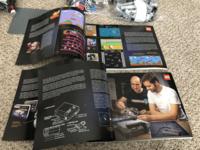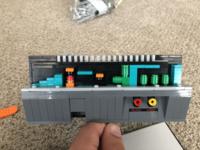 Surprises
In addition to providing some great instructions, the two books also have some great info on the history of Nintendo and the creation of this LEGO set. So the books themselves are bonus parts of the set. There is also a fun little easter egg built into the side of the NES unit, a mini representation of level 1-2 complete with a mini peg Mario and the warp pipes! You end up covering this with a panel but it is built that you can easily remove to check it out later. This was an awesome little touch, and kept us on our toes for more, but we didn't see anything else.
Final Thoughts
LEGO really knocked it out of the park here and made an amazing display piece with a solid nostalgia kick. LEGO has had a string of really impressive collectors sets lately but this is truly a marvel not just for its faithful reproduction of the NES but the engineering on the function display. We can only hope to see more and perhaps even a gaming series with other entries (ahem, Zelda).
---
Related Stories:
LEGO Shazam! Minifigure Pack-In Announced
Its-a me, LEGO Mario!
LEGO Muscles In With Dom's Dodge Charger
LEGO Minions: Sets Revealed
LEGO Release Old Trafford (10272) Set
LEGO Announces New Franchise Tie-In
LEGO Overwatch Make & Take
LEGO September Wave Includes Exclusives
LEGO Disney Train Arrives
LEGO: Minions, Terima Kasi!
LEGO Reveals Iconic Park Landmark
LEGO: SDCC 2019 Booth
LEGO Celebrates Fans At San Diego Comic-Con
Final LEGO Life-Size Reveal For San Diego Comic-Con
LEGO Reveals Life-Size Iron Man
Barnes & Noble: LEGO Harry Potter Make & Take Instructions
San Diego Comic-Con 2019 LEGO Barb Minfigure
San Diego Comic-Con 2019 LEGO Batman Minifig
LEGO: Jurassic Genius
LEGO: Exclusive Stranger Things Poster
LEGO: 80103 Dragon Boat Race Finally Available
San Diego Comic-Con 2019 LEGO Spiderman Minifig
LEGO: 76144 Avengers Hulk Helicopter Drop
LEGO: New Overwatch Set Images Out
Barnes & Noble: LEGO Harry Potter Make & Take
LEGO: Avengers Tower Available Again
LEGO: Second SCCC 19 Exclusive
LEGO: 75936 Jurassic Park Available For VIPs
San Diego Comic-Con 2019 LEGO Exclusive Revealed

---