Arcade1Up: Marvel Super Heroes Limited Edition Cabinet Review
Posted by: Nick on
November 11, 2019 at 07:55 AM CST
---
This is the third generation of cabinets by Tastemakers under the brand Arcade1Up, which have been in production since 2018. We are seeing significant enhancements over previous units including stereo sound, light-up marquees, custom risers, improved LCD screens, and much better packaging.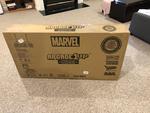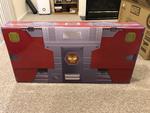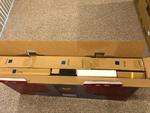 Packaging
This limited edition unit comes very well packaged. It shipped in an outer box as opposed to just the product packaging. The inside box was a very nice replica of an Iron Man armor case with the Marvel logo on it. Inside the box there is additional foam padding within each separate box to prevent damage. Our unit arrived in pristine condition with no cosmetic issues. The screen also comes bagged to avoid any dust or debris getting underneath it. This is a huge improvement over the first generation designs.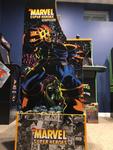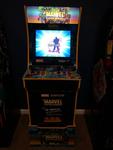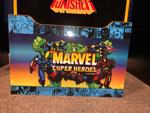 Design
This unit is just top notch in aesthetics. It has a custom graphical riser, light-up marquee, and the pin stripping. The only thing that continues to bug us about Arcade1Up units in general is the industrial look of the exposed screws. It is not a deal breaker and easy to fix with some screw caps and paint. You can see above how we used these to give a more natural finish to the unit. You can get some
black
or
white
screw caps from Home Depot via these links or any other hardware store. To blend with any of the other colors, we recommend Testers enamel paint from Michaels. You can just pick a close match, light blue, yellow, and gray seemed to work fine here. Also you are going to want some mounting putty to get the screw caps to stay. You can get that at Target, Walmart, Office Max, Walgreens, etc.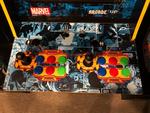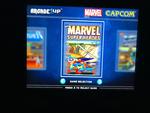 Controls, Sound, and Menu
The Sanwa controls are super responsive. I found Punisher jumping or punching with the slightest pressure on the button. Same with the joysticks, the high jump in Marvel Super Heroes is really natural. My only critique here is that Arcade1Up went with square gates instead of octagonal. The square restrictors do not ruin the experience but if you are a true arcade buff and are used to playing the corners, it might be worth it to grab a pair from Amazon or somewhere and upgrade.
The sound is ok. This third-generation unit features variable adjustment, as opposed to the previous models' off, loud, super loud settings. It is in stereo which it should be, but the speakers are very basic and underwhelming. We wanted to mod them like we did with the Star Wars and TMNT units, however, the design of this cabinet with the light up marquee leaves you no room to fit larger speakers. Unless you can find a very thin three inch speaker, you are stuck with the stock speakers. They are not bad but if you want some bass and a little more depth to the sound, we suggest you look for an alternative.
The menus are a step up from the original. Instead of just the title, you can see a screen shot of the game. The next screen goes over the basic controls prior to beginning the game.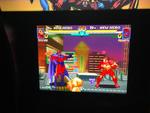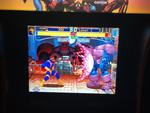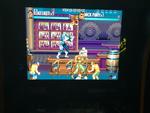 Gameplay
These are just as fun as we remember, although the Punisher seems a lot more violent then we recall as kids. It may just be the context in when these came out, it was the '90's after all and those themes were much more prevalent in video games. All together the emulation is real solid and we did not see any issues with the game play.
Final Thoughts
This is another great edition to he lineup and we are very pleased with the third generation design over previous models. We hope to see more light up marquees and stereo sound in future units. We would love to see the integration of other genres including shooting games and driving games.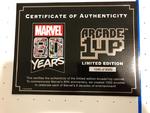 When it comes to value, we find this cabinet definitely has it over the base unit or the unit with custom riser. This unit sells for $399 and is only available on the Arcade1Up website. The basic model goes for $299 and the model with riser sells for $379. For about $20 more in addition to the riser you get a light-up marquee, which sells for $50 or more from unlicensed manufactures, Sanwa controls, and a Marvel certificate of authenticity. It clearly has the value over the deluxe unit and the basic model. If you are a Marvel fan or an arcade fighting game enthusiast, this is clearly the unit for you.
Click
here
to order yours from Arcade1Up now. Check back soon for our TMNT cabinet review and click
here
to check out our Star Wars Cabinet review on Rebelscum.com.
---
Related Stories:
Arcade1Up: Marvel Pinball Back In Stock at GameStop

---