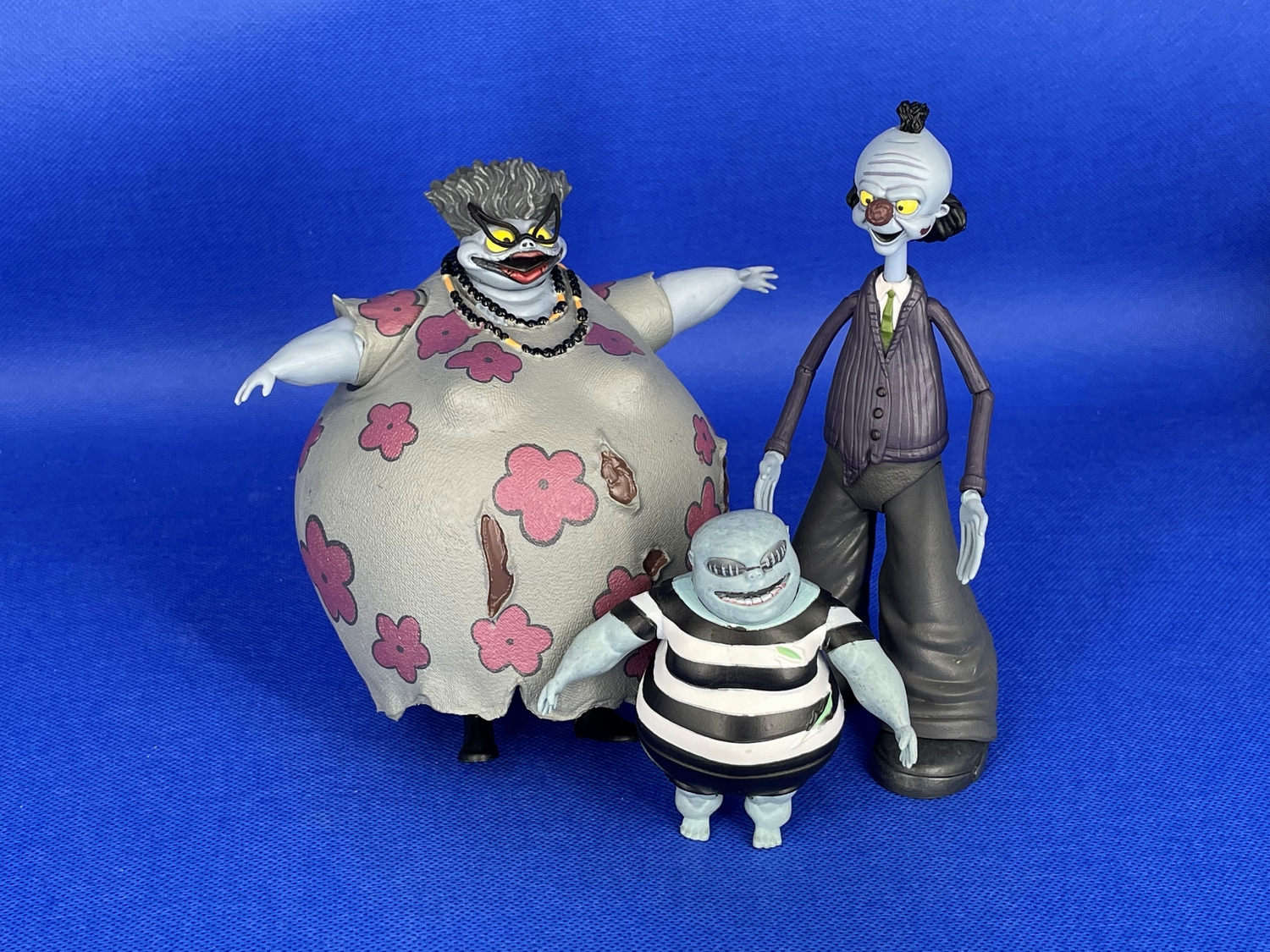 Diamond Select Toys: NBX Wave 10 Review
Posted by: Nick on
October 1, 2021 at 12:00 AM CST
---
After a cancellation for various reasons during 2020, Diamond Select has finally released wave 10 for the astounding Nightmare Before Christmas series. Featuring Corpse Mom, Corpse Dad, Mr Hyde, and Mrs. Claus, this wave delivers essential deep cut figures to help round out your lineup. Thank you to our friends at Diamond Select Toys for providing us with samples for this review.

Order yours from BigBadToyStore.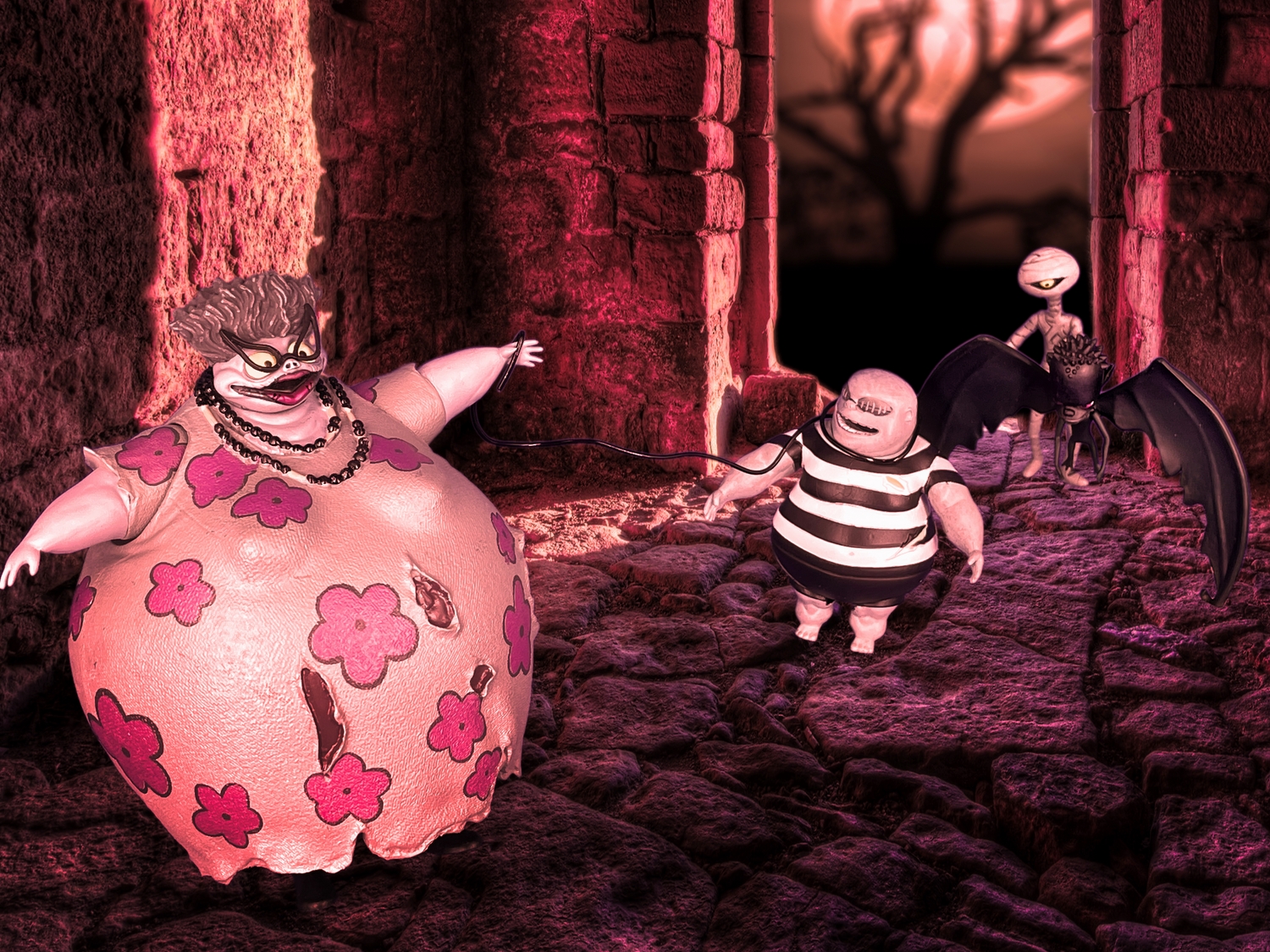 CORPSE MOM
VIEW THE CORPSE MOM GALLERY HERE.
Corpse Mom, or Bertha, is a great addition to the line helping to wrap up the Corpse Family. While she only had a few scenes in the film, she is a fan favorite and an essential character if she was mostly featured in the background. Regarding the sculpt, it is amazing. Highly detailed and incredibly close to the on-screen appearance. Given the characters girth, it is a bit difficult to balance her unless on a flat surface. We found it easy enough to keep her upright though given the design of the dress acting like a bit of a stand for the figure. We are really glad to see this finally make it to the line and we're sure you will be equally as excited to add her and the accessories to your collection.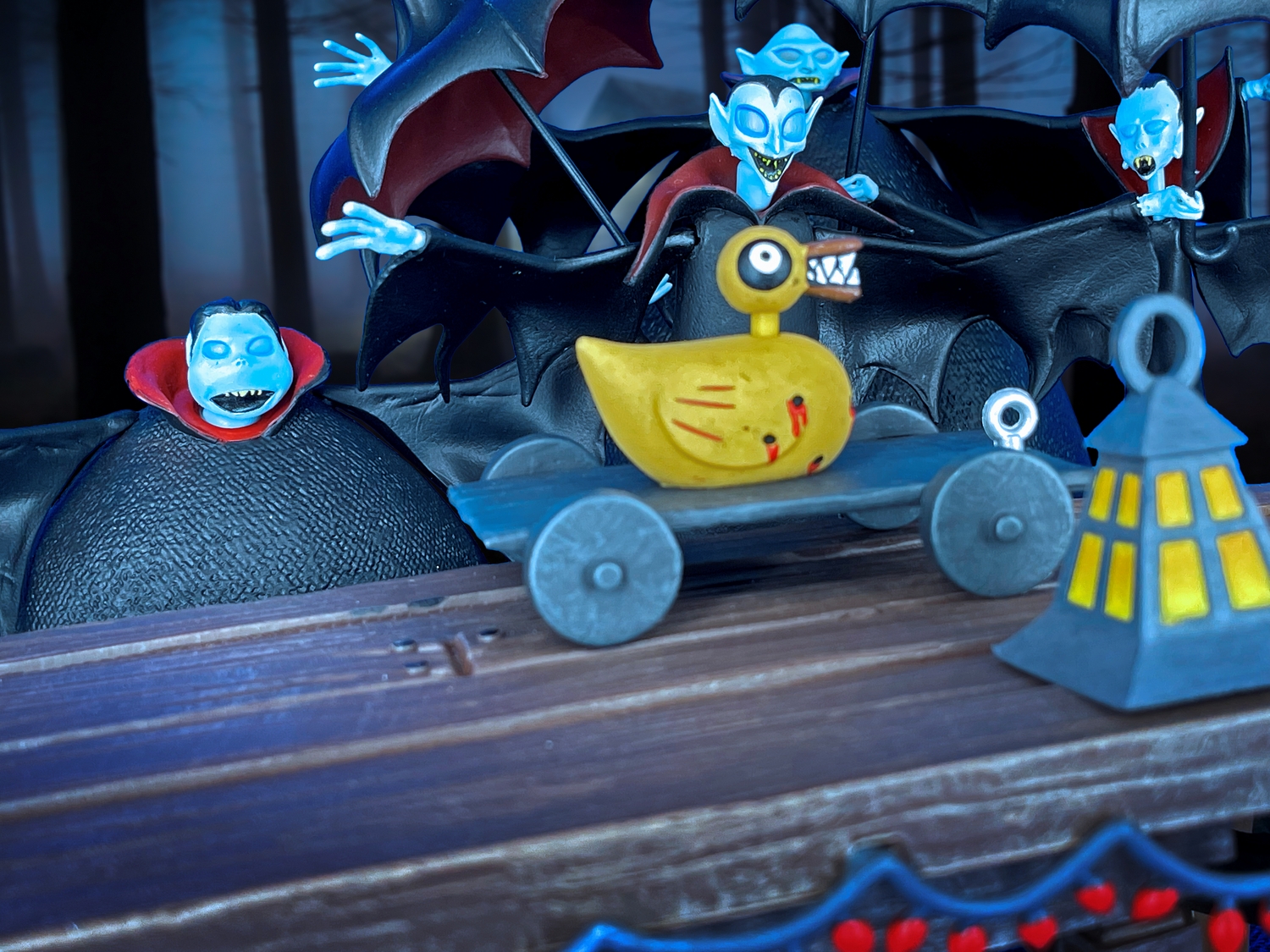 The figure features an iconic missing item, the duck gift and box. This should have been included with the vampire brothers from previous waves but it is really nice to see this finally included in the line. What we would have liked to see included instead is the harness (child tether) she uses in the movie with the Corpse Boy. We were able to fashion our own out of some black wire we picked up from Michaels.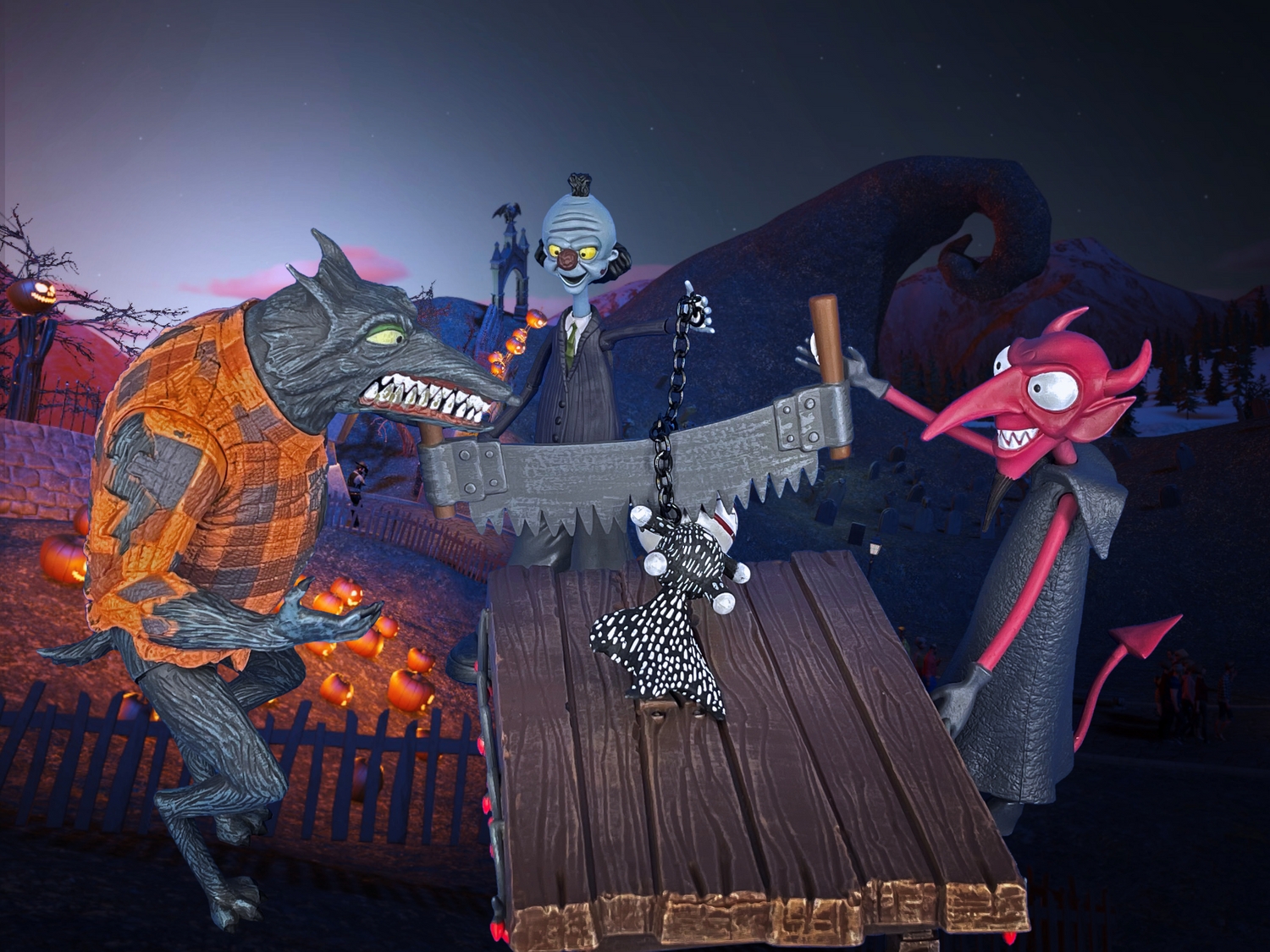 CORPSE DAD AND MR. HYDE
VIEW THE CORPSE DAD AND MR. HYDE GALLERY HERE.
Completing the Corpse Family, we finally have Corpse Dad (aka Ned)! Another great sculpt hitting close to his film appearance with the odd proportions of the torso and appendages. Corpse Dad is much easier to stand and has a greater range of motion than Corpse Mom, thanks to his leaner proportions. Our only issue is his lack of accessories. While he was not featured with much in the film, he could have come packed with his chain whip from the movie during the "Making Christmas" scene. We substituted a small black chain from Michaels for our photo shoot.
Mr. Hyde is another fan favorite but the figure is missing what makes him so cool. Unfortunately, his hat does not come off and featuring smaller versions of himself underneath. It would have really elevated the character if he had to other smaller versions of himself as accessories, or an alternate head cult featuring increasingly smaller versions of himself stacked under the hat. We recall the earlier rendering of Mr. Hyde showed the two characters stacked under his hat, but that seems to have not made the final cut. Hopefully a future version of Hyde, perhaps a convention exclusive, will feature these missing accessories and alternate rendering, one can only hope. The sculpt captures his odd, lifeless demeanor, but he should show more leg compared to his onscreen counterpart.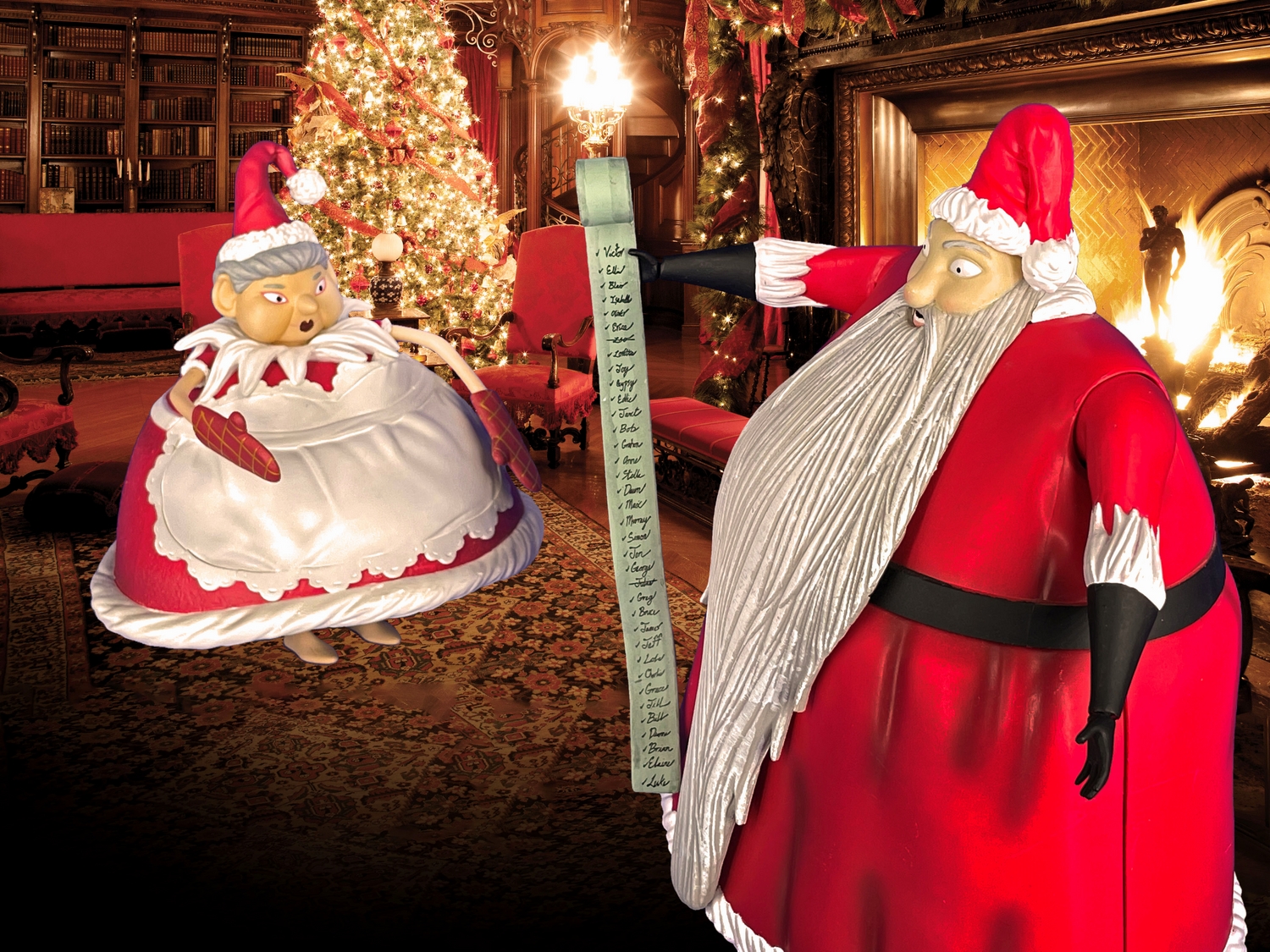 MRS. CLAUS
VIEW THE MRS. CLAUS GALLERY HERE.
A solid deep cut addition to the line, out of the characters in Wave 10, Mrs. Claus has the least amount of screen time, appearing in only one scene for about five seconds. Additionally, you don't even get to see her entire body in the frame. DST nonetheless captured her perfectly in her element with the sculpt, including the gloves for her big moment of transferring a pie from the oven to what we assume was Santa's lunch box. The pie cannot be held as her arms are a bit too wide apart and do not flex.
Regarding the other accessories, we don't really recall a scene with a penguin on a pie, but its nice to see more penguins in the line since the only other one debuted with the Snowman Jack figure. The choir elf is a nice touch to expand on the elf introduced to this point but he really does not hold the sheet music without assistance, some poster tack in our case. We would love to see an elf pack in the future to give us more choir and helper elves.
FINAL THOUGHTS
This was clearly one of our favorite waves and very essential to round out the set. While not featured in this review, please also check out the Cyclops and Creature Under the Stairs, originally meant as a Walgreens Exclusive now a PX Exclusive. With the figures in this wave, NBX enthusiast can finally finish their displays. While this completes the mainline of figures, DST has said they are interested in doing more, if the demand exists. There has been talk about the Gatekeeper and other deep cuts from the town meetings and maybe Christmas town. We are hoping a few human children make it into the mix as well. We can look forward to Cheese Rat, a few new haunted presents, and the return of the Hanging Tree when the convention exclusive box set arrives. Until then, head over to
BBTS
for a special price and grab your wave 10 today.
---
Related Stories:
Diamond Select Toys: NBX Series 10 in Stores Now!
Super7: The Nightmare Before Christmas Wave 1 Reaction Figures Now Available
Diamond Select Toys: SDCC 2020 The Nightmare Before Christmas Boxed Set Review

---