Arcade1Up: Teenage Mutant Ninja Turtles Cabinet Review
Posted by: Nick on
November 23, 2019 at 10:02 AM CST
---
This is the third generation of cabinets by Tastemakers under the brand Arcade1Up, which have been in production since 2018. We are seeing significant enhancements over previous units including stereo sound, light-up marquees, custom risers, improved LCD screens, and much better packaging.

Packaging

This latest wave of cabinets comes very well packaged. Inside the box there is additional foam padding within each separate box to prevent damage. Our unit arrived in pristine condition with no cosmetic issues. The screen also comes bagged to avoid any dust or debris getting underneath it. This is a huge improvement over the first generation designs.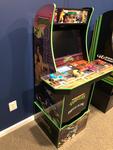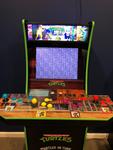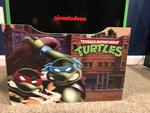 Design
This unit looks great. It has a custom graphical riser, larger control deck, and the pin stripping. The only thing that continues to bug us about Arcade1Up units in general is the industrial look of the exposed screws. It is not a deal breaker and easy to fix with some screw caps and paint. You can see above how we used these to give a more natural finish to the unit. You can get some
black
or
white
screw caps from Home Depot via these links or any other hardware store. To blend with any of the other colors, we recommend Testers enamel paint from Michaels. You can just pick a close match. You can see how we handled the riser and blended really well. Also you are going to want some mounting putty to get the screw caps to stay. You can get that at Target, Walmart, Office Max, Walgreens, etc.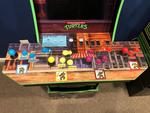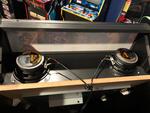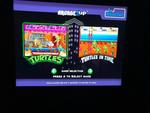 Controls, Sound, and Menu
The control deck is great. You can easily fit four adults at this unit. Unlock the squished game play for three-player rampage, this unit has an extra wide control deck. There is also a great feature to allow you to skip or replay levels while in game. So if you cannot finish but do not want to replay through the whole experience, it is a great way to pick up where you left off.
The sound is ok. This third-generation unit features variable adjustment, as opposed to the previous models' off, loud, super loud settings. It is in stereo which it should be, but the speakers are very basic and underwhelming. We chose to mod them with a relatively cheap upgrade. We used the existing wire and just soldered some connectors on the ends. You can also just get some disconnects and crimp them on if you are not handy with a soldering iron. (AutoZone has a good selection of disconnects and crimpers). It made a big difference, although the stock should be just ok. If you want to 1Up your game, these speaker are about $12 on
Amazon
with Prime delivery (depending on who stocks them).
The menus are a step up from the original. Instead of just the title, you can see a screen shot of the game. The next screen goes over the basic controls prior to beginning the game.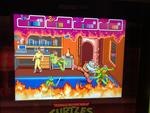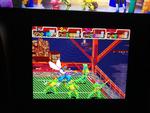 Gameplay
These are just as fun as we remember. Feels like we are back in the late '80's, early '90's playing these at the arcade and living out the cartoons. All together the emulation is real solid and we did not see any issues with the game play. Hearing "cowabunga" overtime we put in a virtual quarter does not get old. This is the real advantage of having an at home arcade machine, unlimited gameplay in a beat-em-up style machine.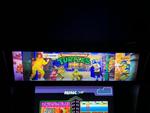 Final Thoughts
This is another great edition to he lineup and we are very pleased with the third generation design over previous models. We would have loved it if this unit included a light up marquee. It would easily have been worth the money. We purchased the latest generation light box from
thearcadegamefactory.com
and it definitely gave the unit the finished look it deserves. We find that this company makes a solid quality product, however there are long lead times. Expect it to take around a month between when you order and when you receive the product, in some cases it could take longer.
When it comes to value, we find this cabinet definitely has it over the base unit or the unit with custom riser. This unit sells for $399 and is only available at Walmart. Basic models go for $299 and the models with risers sell for $379. This model has a wider deck though, so we can understand the $21 up charge. If you are a TMNT fan or a beat-em-up arcade enthusiast, then this is the unit for you.
Click
here
to order yours from Walmart now. Also click
here
to check out our Star Wars Cabinet review on Rebelscum.com.
---
Related Stories:
Arcade1Up: Marvel Pinball Back In Stock at GameStop

---