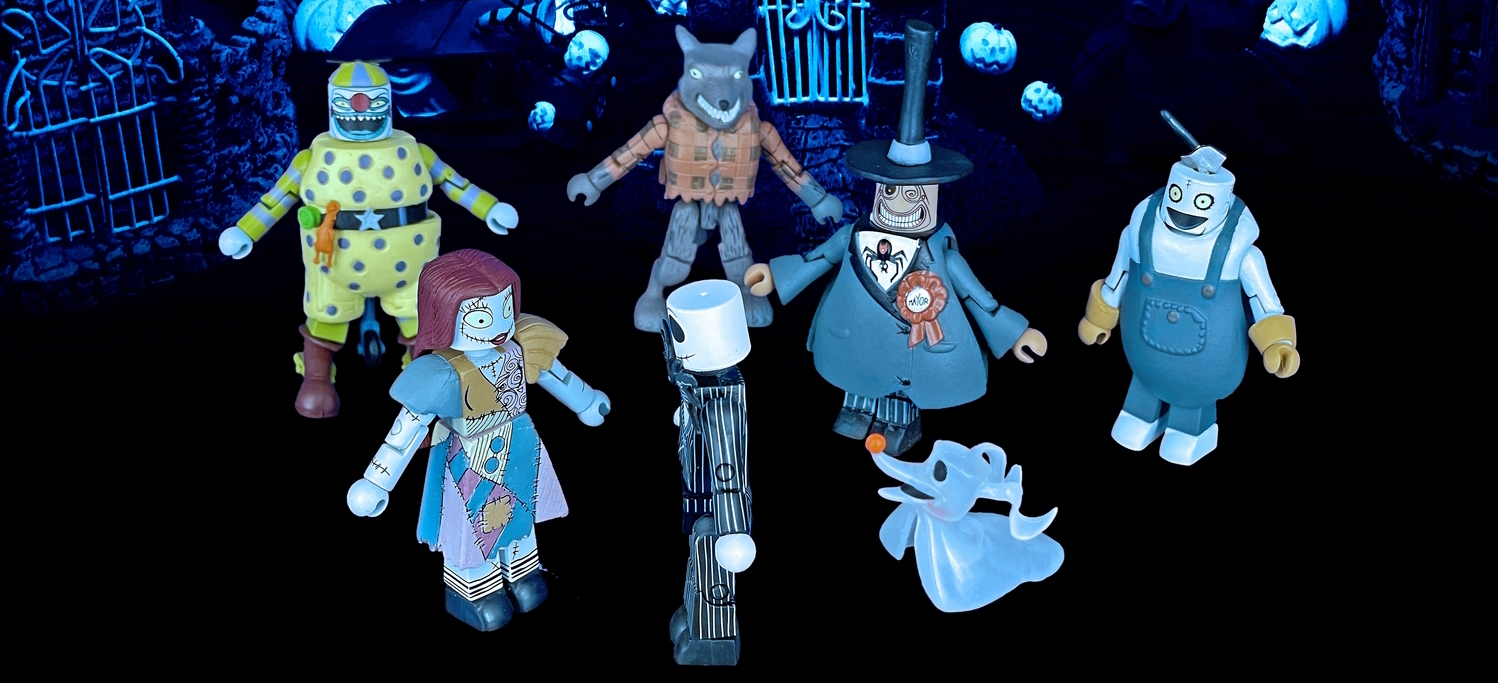 Diamond Select Toys: NBX Minimates SDCC 2021 Set Review
Posted by: Nick on
March 25, 2022 at 10:01 PM CST
---

Thank you to our friends at Diamond Select Toys for providing us with this wonderful review sample.

We are huge fans of The Nightmare Before Christmas here at Cool Toy Review and absolutely relish an opportunity we get to get some hands on time with NBX products. Our first experience with the Minimates line was last year during our holiday gift guide when we got to check out the first wave of the Transformers line, which was pretty cool. Compact in both size and detail, these little guys still pack a punch at a pretty good price point. Some future additional accessories to swap out heard or hands for additional features or look. Perfect for at home or at work, the line has gotten so expansive over the year that you are certain to find a character you love.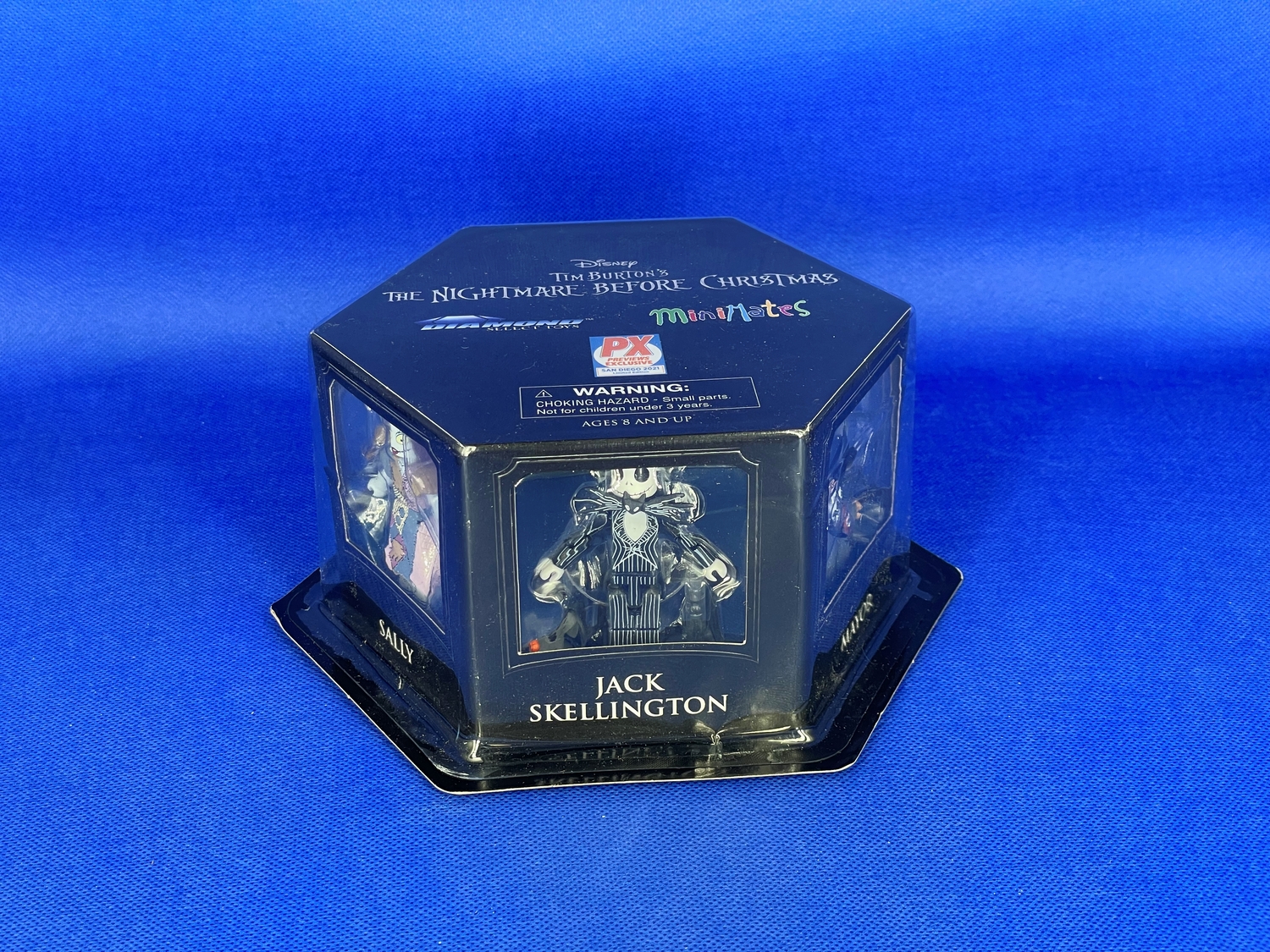 This NBX Minimates set was a SDCC 2021 exclusive. Although it did not happen as planned, fans still got the opportunity to purchase the set from the Diamond Select site or from fan channels like
Entertainment Earth
. As you can see it comes in a six-sided box, giving display space to each character in their own window. You could display it simply like this but you really should open the set. That being said, we were able to easily return it to its original packaged status.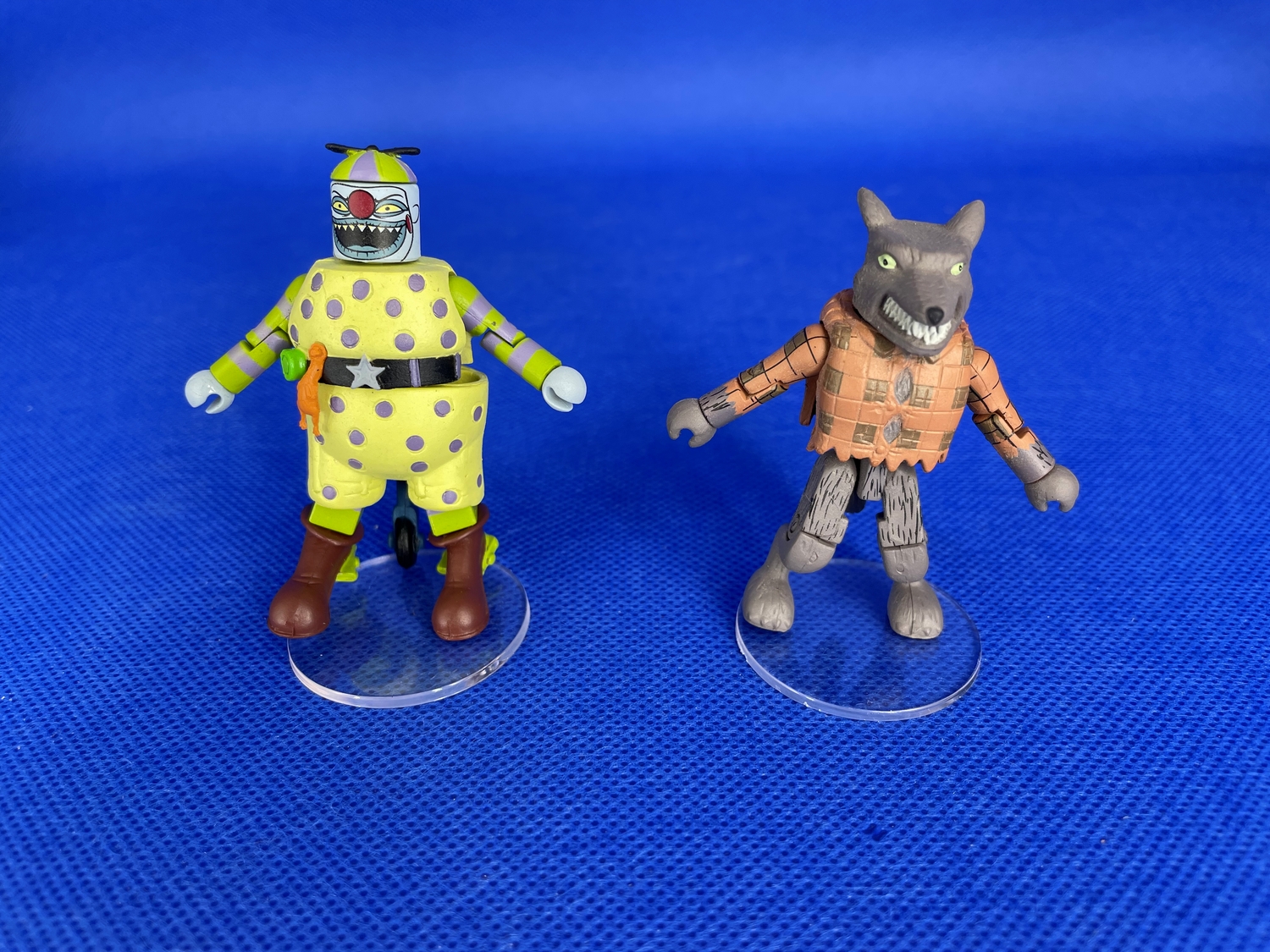 Wolfman and the Clown with the Tear-Away Face

We love how DST captured the Clown's complete title, I guess it is his name after all. We wondered why it was necessary because he is the only clown in the movie, so... Regardless these two Minimates are quite nice and full of some great detail. The Wolfman has a nice long snout (the better to smell you with) and a nice ratty shirt to give that freshly transformed look. He also has some detailing on the legs and arms along with his tail to underscore his furry features.

The Clown has his signature propeller hat and some fun pop out details like a rubber chicken and yo-yo. What really stands out is his unicycle that he rides during his introduction scene and makes us really miss that it is not included with the Selects version of the character. While the face does not tear away, you can see the outline clearly of where it would.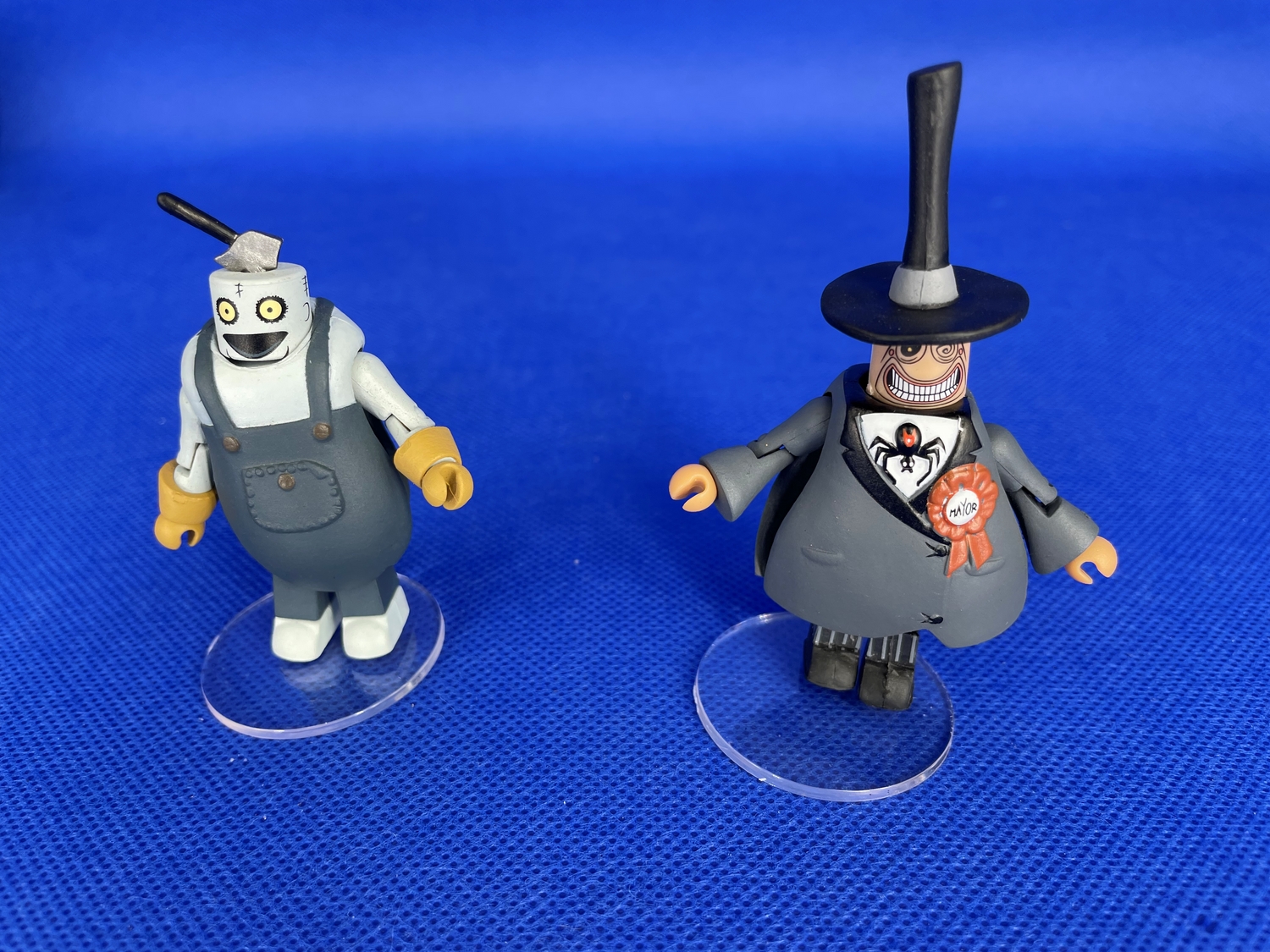 Behemoth and the Mayor

Another great set of supporting casts mates, the lovable and slow Behemoth and the dutiful elected official. The Behemoth of course features his signature axe in the head and award winning grin. There is great detail on the overalls featuring stick work and the buttons.

The Mayor to us was the true prize in the set. So much detail on this little guy and a lot of it is spent on the facial expression. Featuring his long hat, spider bow tie, and ribbon the Mayor really stands out. If you were wondering if the head spins....yes it does and it also has some great detailing on the face. We found it easier to quickly pop off the hat and spin the head then reattach.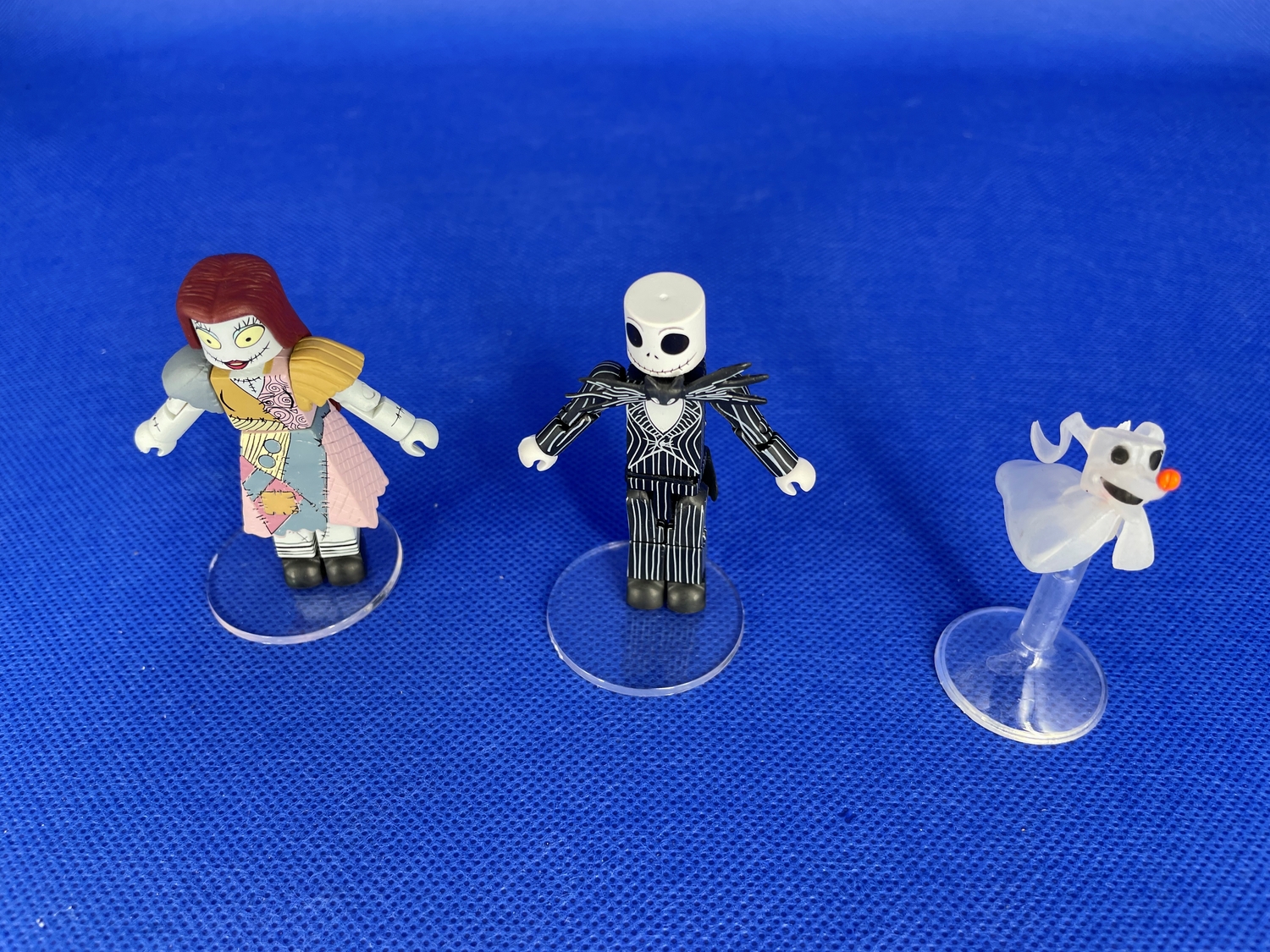 Jack Skellington and Sally

Of course no set would be complete without Jack and Sally. Jack really stands out with his bat bow tie and gangly skeletal features captured perfectly in this miniature. Best of all he features the best accessory, Zero! Zero comes with a transparent stand to give the illusion of flight.The semi-translucent nature of his body also perfectly captures the character right down to the detailing on his jack-o-lantern nose.

Sally features the intricate stitch work across her body, giving that look of being pieced together. There is a lot of great coloring on the figure, symbolic of her character that contrasts with all the neutrals and grays in Halloweentown, which we figure stands for her optimism.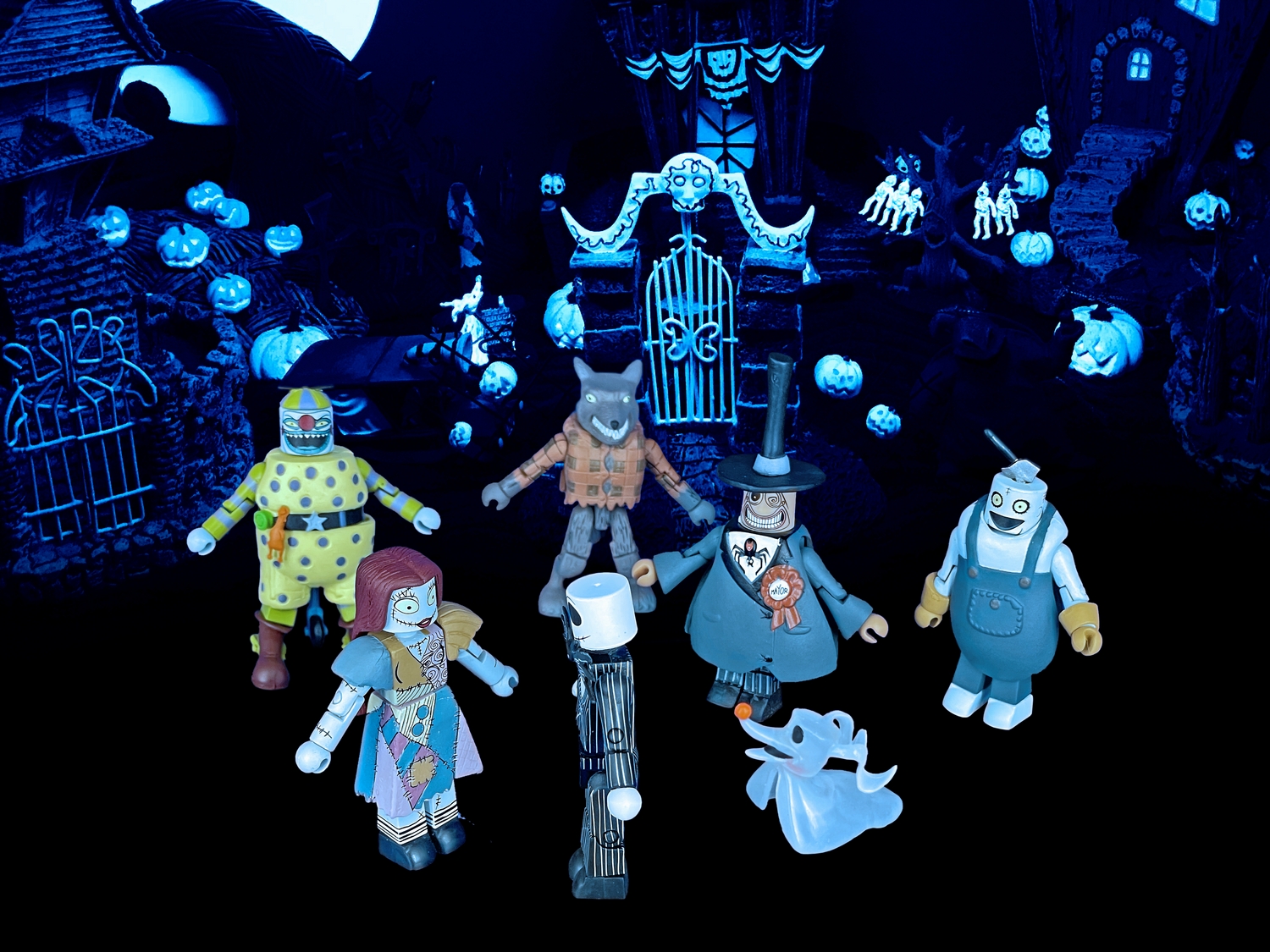 Closing Thoughts

A great set and sure to be beloved by any NBX fan. We were impressed with the large amount of detail in this small packages and were pleased with the little surprises we had not anticipated about details the characters feature which help their personalities shine through. If you have not collected any minimizes to date, then this is a great way to exposure yourself to the line but be forewarned you are going to want to get more.

---
Related Stories:
---