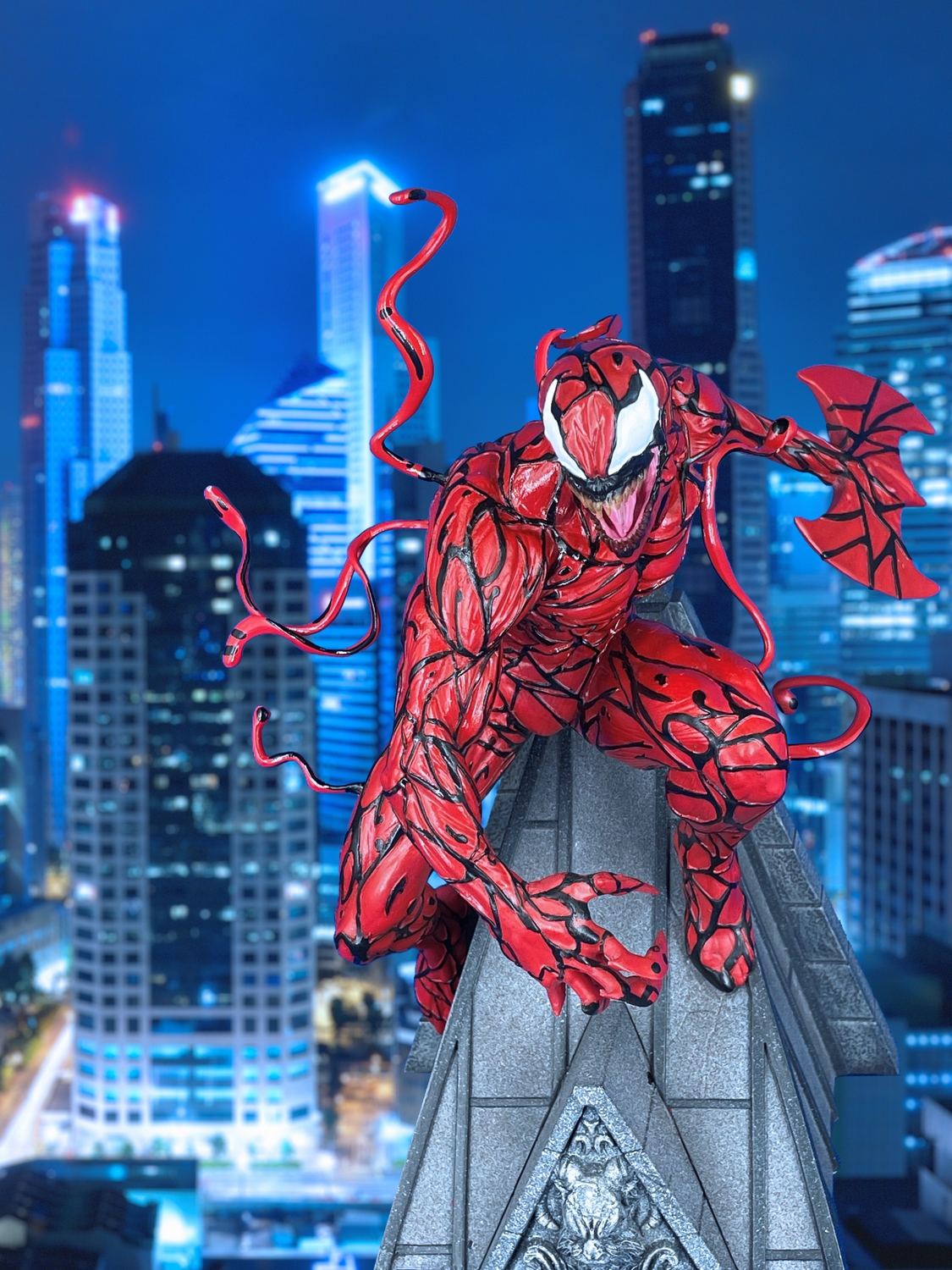 Diamond Select Toys: Premier Collection Carnage Statue Review
Posted by: Nick on
August 17, 2021 at 08:26 PM CST
---
VIEW OUR GALLERY HERE.

Thanks to our friends at Diamond Select Toys for providing us with a sample for this review.



Packaging

The Premier Collection series is a large step up from its Gallery Diorama counterparts. As such the packaging is more sturdy and there is no viewing window. These items are solid, much heavy and require more secure packaging. There is a custom fitted styrofoam insert to hold this dense item to prevent damage. Included with every statue is a numbered certificate of authenticity.

Design

Carnage is poised on top of the pinnacle of a building with his arm formed into an axe, menacing surveying the city. Tendrils extend from his body at several points bringing life an movement to the symbiote. If we had a criticism here it is that there are no instructions for the tendrils and it was very difficult to figure out where they went. There are only so many spaces they could fit in and are not the easiest thing to install. A quick guide with a paint-by-numbers approach would do wonders for this item. Otherwise it is a solid piece that again makes great use of the base to help tell a story.

Details

As we have come to expect with the Premier Collection line, details are not missed here. Carnage looks great in his symbiote suit and every little detail in the composition of red and black is captured in a highly detailed muscular structure. The tendrils are a nice touch that make the suit seem alive. Of course the best details lie within his visage. The open mouth with the demo translucent teeth almost lets you hear the scream he's letting out and makes the teeth pop as if drool is coming off of them.
The detail in the building almost makes it seem like it's made of concrete. The surface is speckled and weathered, giving the appearance of a long-existent building. Using the top of a skyscraper as the base really sets the scene for an apex predator surveying a city where he is ready to thrust into chaos.

Final Thoughts

This is a really impressive piece and a must for any Marvel or Spider-Man fan. There is definitely a lot of meat to this thing, sturdy and highly detailed. If you are looking for a high end collectible that won't disappoint, this is sure to be it. You can still acquire one from
BigBadToyStore
.
---
Related Stories:
---