Funko Games: Back to the Future: Back in Time Review
Posted by: Nick on
June 1, 2020 at 07:06 PM CST
---
First a big thank you to our friends at Funko Games for the review sample. This is a new experience for us as our first game produced by Funko was part of the Funkoverse collection, and this is a major departure from the Pop! figure driven strategic play.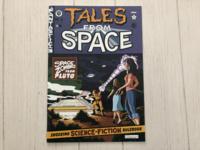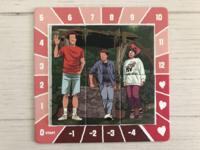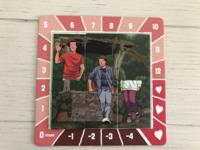 For the Fans
Prospero Hall clearly designed this game with fans in mind. It is immediately apparent with the first item you are exposed to, the rule book. A nice replica of the
Tales From Space
comic that Marty has in the movie, the one that proves inspiration for his interaction with George as a space alien named after a certain character from a galaxy far, far away. Next is the game board, a decent representation of the town and in cooperation with the opportunity card and other game elements, helps recreate the word of Hill Valley circa 1955. Best of all the game ends at 10:04pm precisely, a point often stressed in the instructions.
The interactive components really elevate the cool factor though. The iconic Polaroid of Marty's siblings plays crucial role in the game and the photo tiles could flip over during play representing the time paradox that could phase Marty out of existence. There is also the DeLorean that must be fixed and moved into position. Finally, there is even a 3-D clock tower that serves to role the dice. These are all nice touches that bring the game beyond its flat proportion and help set the atmosphere to bring you into the adventure.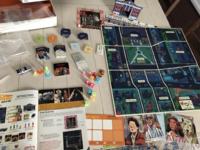 Gameplay
A bit of a diversion from the standard competitive board game, you must work together to win. Twist! The object of the game is two fold get Lorraine and George (Marty's parents) to fall in love and fix the DeLorean and position in for departure. This must be done before lightning strikes the clock tower at precisely 10:04pm! Sounds easy? Well, it is a little challenging because you have Biff working against you to break up Marty's parents and possibly even detour the DeLorean. The fun begins with characters choices, allowing players to be Marty, Doc, Jennifer, and Einstein (the dog). Each have their own special abilities to help you out. There is also figurines for George, Lorraine, and Biff to help illustrate their movements and positions around the board, something that is constantly changing and challenging the player team.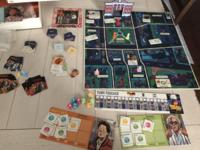 The game operates on a strategic turn based-system, similar to Funkoverse titles. However, there are a set number of turns before the game expires and mandatory moves for the non-playable characters and challenge scenarios that occur at the start of each round. Players begin with a set number of tiles that allow them to move, roll dice to win challenges (more on that in a minute), or escort George and Lorraine to other spaces to get them to meet or simply away from Biff.
Your two primary goals are to get the parts to fix the DeLorean then move it near the clock tower and to get Marty's parents to fall in love. Both require going to set spaces and rolling certain dice to win parts, move the DeLorean, or advance a love meter. This is where the game gets challenging. Rolling a Biff picture, which happened way more than we wanted, ends up advancing Biff towards Lorraine or George and if he gets there, additional Biff rolls can diminish the love meter. This was actually the bane of our existence in our play through. We focused on getting the DeLorean together and moving into position, which was no easy feat, meanwhile Biff kept killing our love meter. Our tip would be to invest in this early on because as the rounds advance, your tiles from the Polaroid could flip if the meter is not high enough, causing a game failure if you don't get it under control.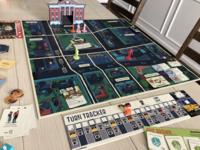 Here is where the fun and the strategy comes into play. There are other choices outside of the main focus, let's call them side quests. Opportunity cards rotate onto the board and give you the chance to roll to earn additional movement tiles or special items (iconic items from the movie) that give you abilities. You can also fight Biff to knock him out and prevent his movement, and meddling. Lastly, you can be challenged by "Trouble" cards, which restrict movement or have implications for your Love Meter or DeLorean movement. Do not ignore these, as they can turn into a real problem as the game continues.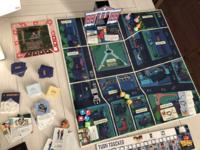 One thing we didn't really do until the end, is teamwork. Yes you work to get all the objectives done, but you can work on things at the same time. We forgot until the end that other players in the same space can assist in the challenges, a move that saved us at the buzzer. It's easy to start tackling objectives as individuals but sometimes it pays to end up in the same space to complete those challenges together.
The game's turn mechanic also really keeps the pressure on and makes you feel like you're flying through game play at 88 mph. You need to think about your turns as you only have so many until the game ends, so keep an eye on your "time." While it does seem a bit complicated at first, especially with several pages of gameplay dynamics, it is easy to grasp the concepts and Funko Games even includes a link to a game play video, which at the time of this review is not yet functioning. However, we have found their videos on Funkoverse games extremely helpful, so we anticipate this video to be just as useful and highly recommend players to check it out when the link starts to work.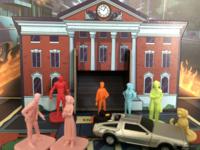 Final Thoughts
The game is simply a must have for any fan of the Back to the Future series. It faithfully recreates the moments from the first movie and really nails the ambience of Hill Valley. It is amazing that a board game can be so immersive. It is quite risky to tackle such an iconic film in a board game and leave the player with the same experience but Funko Games really pulled it off with flying hover boards! This game was clearly a labor of love and when a game is this good, "that's the power of love!" (Good luck getting that song out of your head now.)
The game launches this month, so click to order yours now from
Amazon
.
---
Related Stories:
Funko Games: Last Defense Review
Funko Games: Last Defense Launching Soon

---