Super Impulse: World's Smallest GI Joe Micro Figures Review
Posted by: Nick on
June 12, 2020 at 12:57 PM CST
---
First we would like to thank Super Impulse with providing us with review samples. This is our first experience with their micro figure line and we were presently surprised. Licensed through Hasbro these GI Joe figures attempt to faithfully recreate the original 1983/1984 releases of these figures, except in 1.25-inch scale.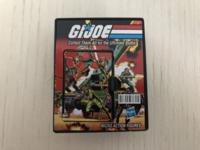 The first great feature we noticed is the reusable clam shell. These mimic the old style of packaging with the vintage artwork, however there is a hinged door on the back that lets you reuse the package for display. This essentially makes the package itself an accessory, which action figure enthusiasts will appreciate.
The figures in this wave include Duke, Roadblock, and Snake Eyes. No Cobra yet but these are a great start. Each has an assortment of scaled accessories that replicate the original accessories this figures came with, including the proper color scheme. They also all contain a stand because there is no way to make these figures stand on their own, which was also the case for the 3.75 inch releases.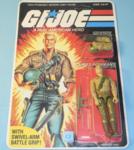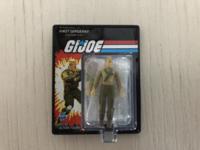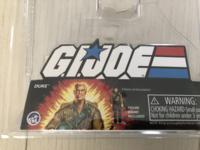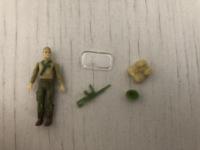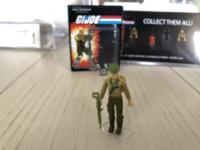 Duke
We are hardcore nerds here at Cool Toy Review, so we noticed some issues with the Duke figure. First the artwork is wrong, it does not match the original release, even odder the artwork is correct on the exterior packaging but not on the clam shell. He is also missing one of his accessories, the binoculars, although oddly enough these were mistakenly included with Snake Eyes. So if you get the whole set, which we recommend, it all evens out. Aside from that, we found the figure to be a well-detailed replica of the original release, including the proper colored accessories. It is amazing that they made pieces that fit properly and he can hold. He is a true functional 3 point of articulation action figure.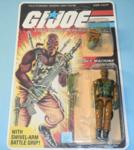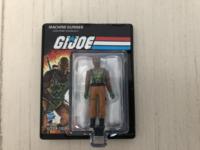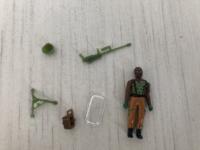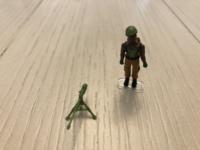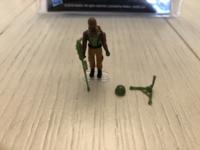 Roadblock
Roadblock's packaging artwork and accessories were spot on! He even holds the gun when you remove the tripod. Also it's awesome that the tripod is include and functions. The only criticism we had is at least on our sample, we could not get the helmet to fit properly. It would just balance on top, this may just be a variation from sample to sample as the helmet on Duke fit perfectly.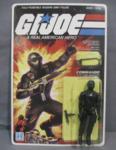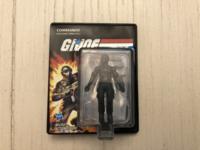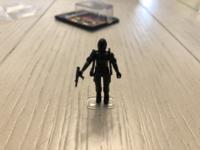 Snake Eyes
A clear favorite, he has the proper artwork and all of his accessories. The only issue here was the bonus accessory, the binoculars, which belong to Duke. He is well articulated and can easily hold his uzi. Now we just need Storm Shadow.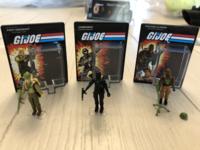 All together this is a very impressive set for being only 1.25 inches. The amount of detail in the characters and the effort to replicate the original release is quite amazing. Any GI Joe fan or 80's kid would absolutely love these. They are small enough to display at work, home office, man cave, or just carry around in your pocket. We can only hope the line expands to include some Cobra characters, so we can all have some micro battles wherever we go. Now you know, and knowing is half the battle!
We found these on
Amazon
currently for $5.99 each. However, the figure you get is selected at random. We fully expect these to be available at retail stores like Target and Walmart, however they are not available for order on their websites.
---
Related Stories:
---