Super Impulse: Boardwalk Arcade TMNT Electronic Pinball Review
Posted by: Nick on
October 19, 2019 at 05:01 PM CST
---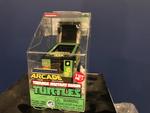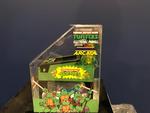 Retailing around $19.99, you get a lot in this little package. Speaking of which, the packaging is a great feature in itself. It contours to the shape of the machine and feature artwork reminiscent of the original cartoon.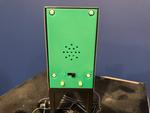 Controls
The unit itself is fully functional including the flippers and the plunger. The plunger is a push button instead of a pull stick, but it is intuitive to figure out that the longer you hold it, the bigger the plunge. We found the flippers to be as responsive as they would in a real pinball game, and there is even an accompanying sound effect. The addition of alternative flipper buttons in the back was great, especially for people with big mitts like us.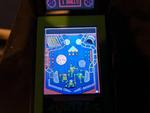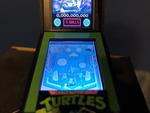 Display
The screen is a nice sharp LCD display on both the table and the top. Both are interactive and will move, keep score, and show images. We found the screen easily viewable from multiple angles in both high and low light environments. The sound effects were also a great addition.
Durability
We always try to do two tests on things, the adult test and the surprisingly more stringent kid test. This easy held up to an adult handling it. We did not feel like we would crush this tiny pinball machine. We let some kids have a back at it and it held up pretty well. No damage to the screen, no broken legs or buttons, and no other noticeable issues. One note, some parents were not happy with the sound effects after a while, but that is to be expected with any electronic that kids play with for a long time.
Negatives
The primary thing that stood out to us was the weird animation of the ball when it is near the flippers. When it appeared as if it was rolling it almost looked like it was jutting around, like a game would when it was running low on memory. In fairness, this is a tiny screen and does not detract from the experience too much. We would have appreciated a little more interaction and variety but for the price point, we felt that this met expectations sufficiently.
Final Thoughts
We have been impressed with this series of game from Super Impulse since we saw them at Toy Fair this year. This is a great thing to have on a road trip, as a stocking stuffer, or something different for electronically inclined individuals will little space or a knack for nostalgia on a budget. Or if you are like us, you can make a statement while killing time between classes or waiting for a meeting to start by busting out one of these mini arcade games instead of a boring old smart phone.
---
Related Stories:
Arcade1Up: Marvel Pinball Back In Stock at GameStop

---