Arcade1Up: Marvel Pinball Machine Review
Posted by: Nick on
September 6, 2021 at 10:13 AM CST
---
VIEW THE GALLERY HERE.

Like the Star Wars Pinball Machine, we also first saw the Marvel Virtual Pinball Machine at Arcade1up's New York Toy Fair booth last year following its reveal at CES 2020. Partnering with Zen Studios, Arcade1Up was able to assemble an impressive array of titles and a nice scaled model for an affordable price. We were really pleased to see the lineup of this cabinet featuring many fan favorite characters and some great games.

Packaging

Arcade1Up continues to securely package the materials, safeguarding the body from damage will keeping styrofoam from interweaving with the screen via individually wrapped monitors. The unit is heavy so a dense sturdy box is required to prevent damage and keep the unit from falling through the box. We did however experience some damage on one of our side panels when it arrived. Arcade1Up's customer service was quick to respond, the issue was parts didn't exist yet since this unit just came out, so it took about a month to get the panel but everything worked out great and we were quite pleased with the experience.

Again, this is a heavy unit. While a person can lift and carry the central part of the unit to its desired location, we strongly recommend assembly be a two person activity. At minimum you want to have a second person help you flip the unit over after assembly to avoid putting all the weight on one side.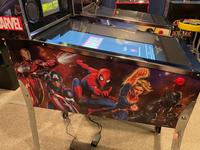 Design
The artwork looks great on this thing. A blend of many Marvel greats can be seen on the sides including the Avengers, the X-Men, and the Fantastic Four. Further, you also get that great lit marquee, with a nice assortment of popular Marvel characters on it. The chrome trim really makes the unit pop as well. There is also a little non-functional coin return on the front, creating a little more depth to the unit.
As always,we are not fans of the industrial looking exposed screws but it is an easy enough fix. A little bit of mounting putty and screw caps were all we needed to create the smooth look you see in the gallery. We had to do some custom painting to match the colors since black would have stood out. You can get some great Testors model paint in a variety of colors from Michaels and you can acquire the screw caps from Home Depot or any other hardware store in white, ready for painting.
The other issue we had was with the plexiglass. On the upright cabinets it is not much of an issue but with pinball, you are more likely to rest objects on the glass or people are likely to touch it. The issue with that is plexiglass scratches pretty easily and that will be permanent. This can easily be remedied as well as you can switch out the glass. You can get a custom cut piece of glass at a home improvement retailer like Lowes (who does free cuts) for about $10 or you can get a custom made piece of tempered glass for around $50 delivered to your door. The tempered glass is much more durable and will not shatter if broken, so if you have kids or a heavy hand, this is the way to go. It also looks great and has that real pinball feel and sound when you knock on it.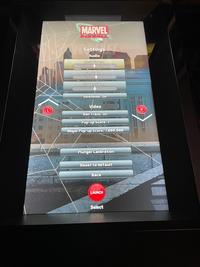 Controls, Sound, and Menu
The control deck captures provides the feel of a real pinball machine with the haptic-feedback flippers and the realistic-feel plunger. The controls are responsive without lag and the haptic feedback occurs in both the front and rear of the unit. We did find that altering the sensors on the front of the unit can provide a better feel to the flippers by simply relocating them under the spacer at the front, which is under where your hands are resting during gameplay vice where they come located in the factory setting. There are videos on youtube with how to do this if you desire, but we found it makes a large difference and is an easy fix.
The sound is more than sufficient and can be quite loud in an enclosed space such as a game room. Fortunately you can adjust the volume with multiple settings by sliding the control left or right.
There are multiple settings on this unit allowing you to adjust everything from the volume of various components, to ball trails, solenoids, and much much more. There is even a way to change the language if you so desire. This settings menu can be accessed in the root menu or within each of the pinball game selections.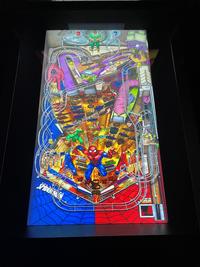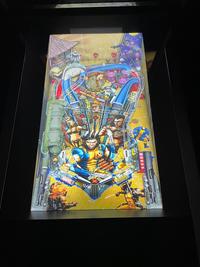 Gameplay
We found the gameplay incredibly smooth with no lag on the ball or the flippers. Everything lined up perfectly. The unit features a great selection of games including Spider-Man, Civil War, Wolverine, X-Men, Thor, A-Force, Ghost Rider, Venom, Fantastic Four, and Fear Itself. Each with their own unique play field and interactive board. The LCD score screen adds to the dynamic, displaying your scores and some animations as they would appear on a classic pinball game.
The games are great, and some even provide a little story ,enhanced by the back and forth dialogue exchanges between the characters as you play. We love how characters appear to interact with your gameplay or how the play field can change to reflect where you are in the story for that game. You will definitely find some great comic moments, along with iconic dialogue, battles, and characters making appearances. Although you can just push a button, we only used the plunger to give the gameplay that sense of realness, and it was a beautiful touch to include it in the design, as it really adds to the playability.
The playfield is on a 720p monitor and is generally crisp but you can get some blockiness occasionally. We wish it would have been on a 1080p monitor to provide greater detail and it would have permitted a larger playfield or made it easier for anyone to upgrade. You could swap in a larger monitor by connecting the existing board, however, it would appear much blockier on a larger size and require a PC to run the software in a higher resolution. While it would be great if future units played on a higher resolution and monitor size, we were content with the factory defaults, which still make this a really enjoyable unit.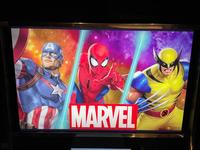 Final Thoughts
For Marvel Comics fans and pinball enthusiasts, this unit is a great addition to your collection. A nice aesthetic, fun, and loads of games queued up, there is a lot of value here. It is also really easy to assemble and move around. The downside being that, while originally $549, the shortage of semiconductors global has nearly doubled the price to $849 or higher at retailers. It is unclear if the price will come back down or if this is just what it will cost now. The best deal can be found a Target, where you can save five percent if you have a RedCard.
If you want to get a piece of custom glass the dimensions are as follows (as well as options for tempered glass):
Width: 16 1/4"
Height: 23 1/4"
Shape: Square/Rectanlge
Thickness: 1/4"
Tint: Clear
Edge work: Seamed Edge
We purchased our tempered glass from a site called
One Day Glass
. Shipping was free and it took about a week to arrive. We used the above dimensions and it was perfect. Recommend a strip on electrical tape or black duck tape for the bottom 5/8" of the glass to cover up an unsightly component visually. This is about the same as the black strip on the bottom of the stock plexiglass.
---
Related Stories:
Arcade1Up: X-Men Cabinet Review
Arcade1Up: Star Wars Virtual Pinball Machine Review

---