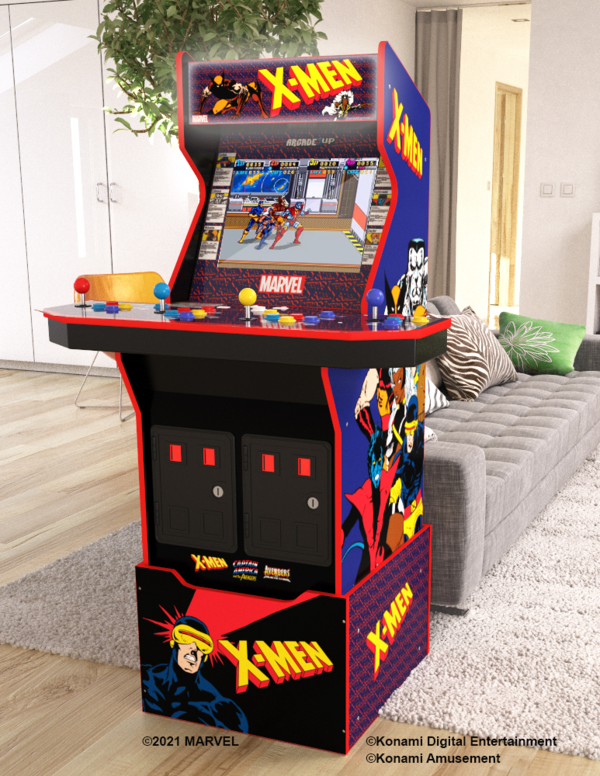 Arcade1Up: X-Men Cabinet Review
Posted by: Nick on
November 9, 2021 at 06:45 PM CST
---
VIEW THE GALLERY HERE.

In the fourth generation of cabinets Arcade1Up has refined its craft and made a unit that is even closer to its full scale counterparts. Features that were once part of a deluxe model such as risers, light-up marquees, and stools are now offered with pretty much every unit. While some people would prefer a more economical model, the price of electronic components has pushed these once $450 cabinets to $700 or more, so the additional features or accessories actually make that new price tag more palatable.

Packaging

Typically we find some minor abrasions on our units or some other cosmetic issue that results from shipping, however this unit was received in pristine condition. Components are separated into individual boxes, contain foam on the corners, and are securely packed. Some of the wood parts were individually wrapped in plastic to prevent rubbing on each other. There was also a significant reduction in styrofoam, which created less issues with fragments getting under the screen or in other parts.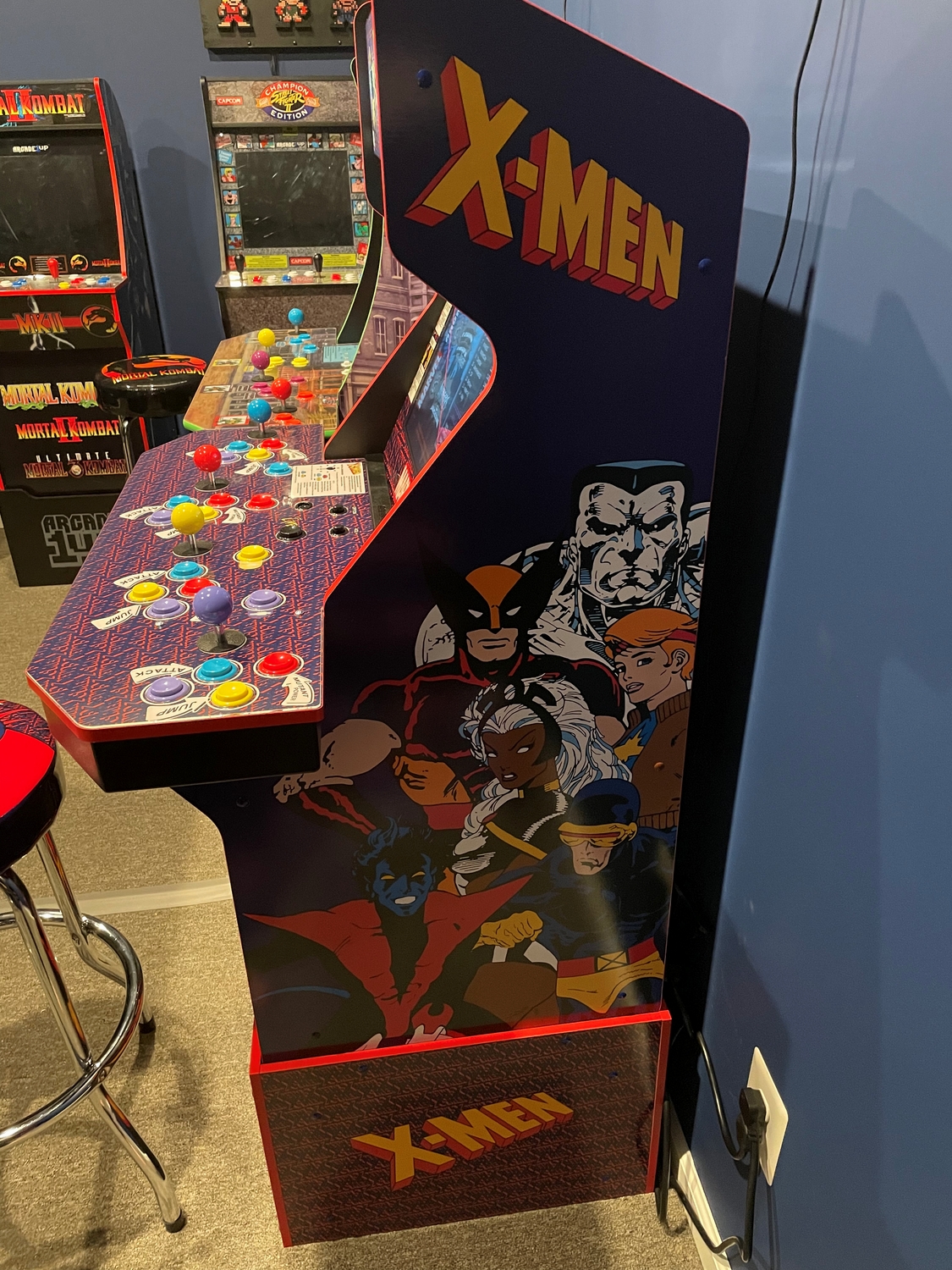 Design

The cabinet looks great featuring a unique style mimicking the original arcade cabinet. On these fourth generation cabinets there is a molded coin door, bolstering the aesthetic closer to their full-scale counterparts. The riser and stool featuring some nice artwork inspired from the original cabinet. Again though the screw are left exposed breaking up the beautiful artwork on the side cabinet. It is not a deal breaker and easy to fix with some screw caps and paint. You can see above how we used these to give a more natural finish to the unit. You can get some black or white screw caps from Home Depot via these links or any other hardware store. To blend with any of the other colors, we recommend Testers enamel paint from Michaels. You can just pick a close match. You can see how we handled the riser and blended really well. Also you are going to want some mounting putty to get the screw caps to stay. You can get that at Target, Walmart, Office Max, Walgreens, etc.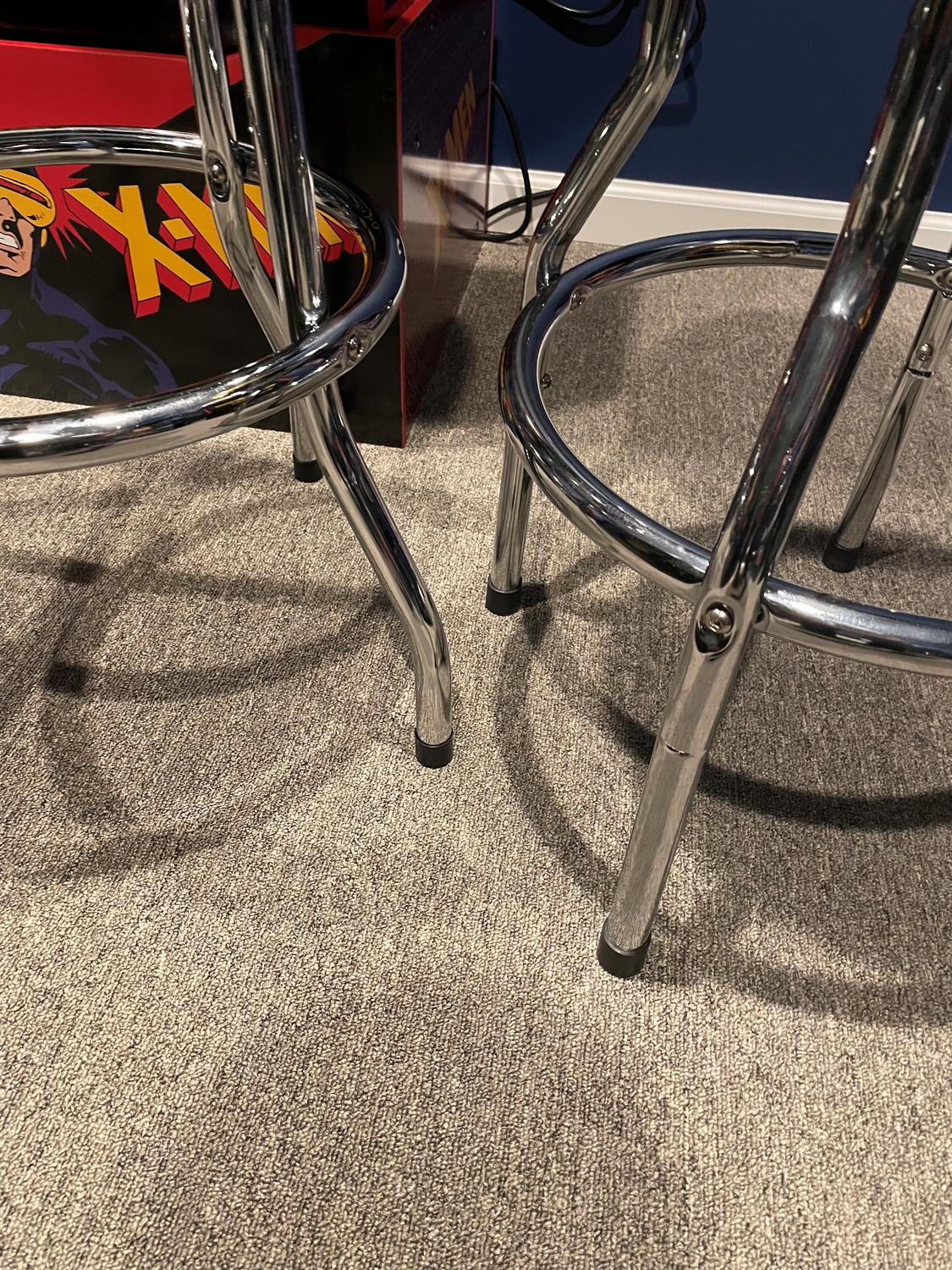 Another change we noticed in the fourth generation units is the redesign of the stool. Originally featuring removable legs allowing you to adjust the height of the stool, the stool in now a fixed size but it's also sturdier with less components.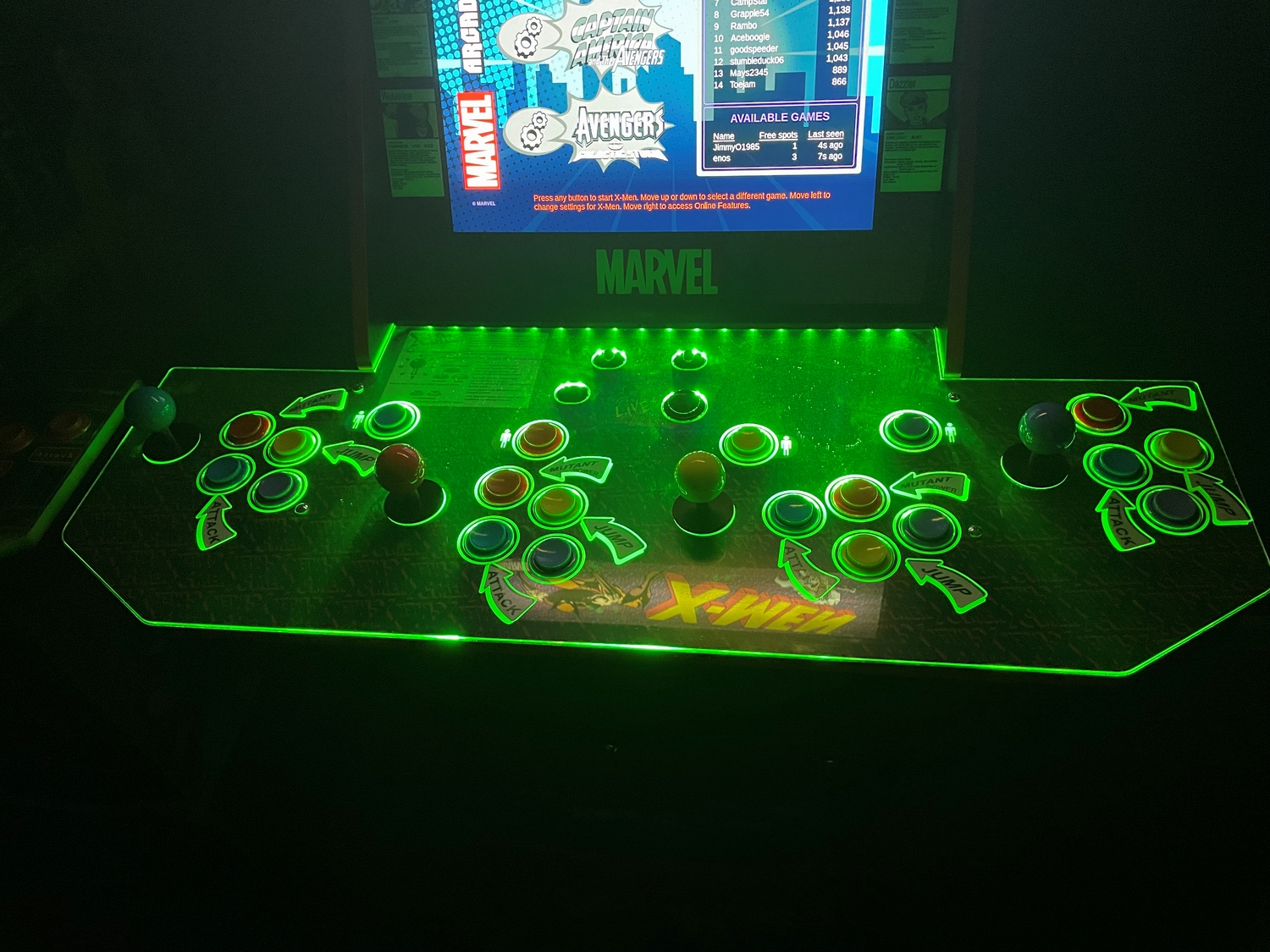 Controls, Sound, and Menu

The control deck is what stands out in these new fourth generation models. The light up feature is great and you can select from a variety of colors, leave it on a circulating feature, or turn it off if you don't like it. You can easily fit four adults at this unit. The extra wide deck work similar to the TMNT cabinet, and has some extra buttons on it for the Galactic Storm game.

The sound is more than adequate for the unit. Like the predecessor units, it also features variable volume adjustment. It got more than loud enough, especially for a mid-size room.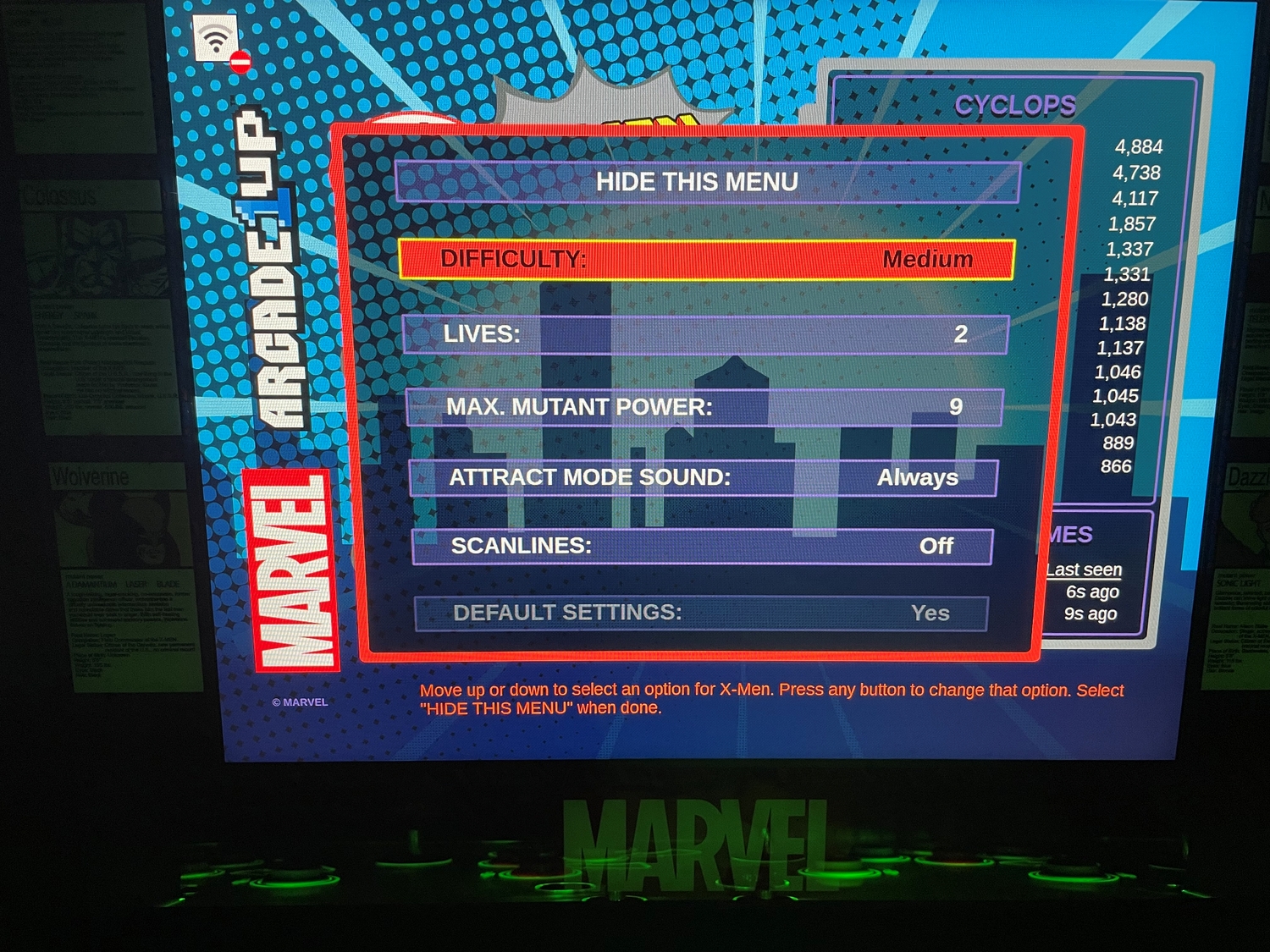 There are a ton of menus. Unlike the second generation machines where you could use some codes to get at a debug menu and adjust some of the settings, this round of machines allow you to adjust settings right from the game selection screen. In addition there is a separate menu for the Wi-Fi settings and social play.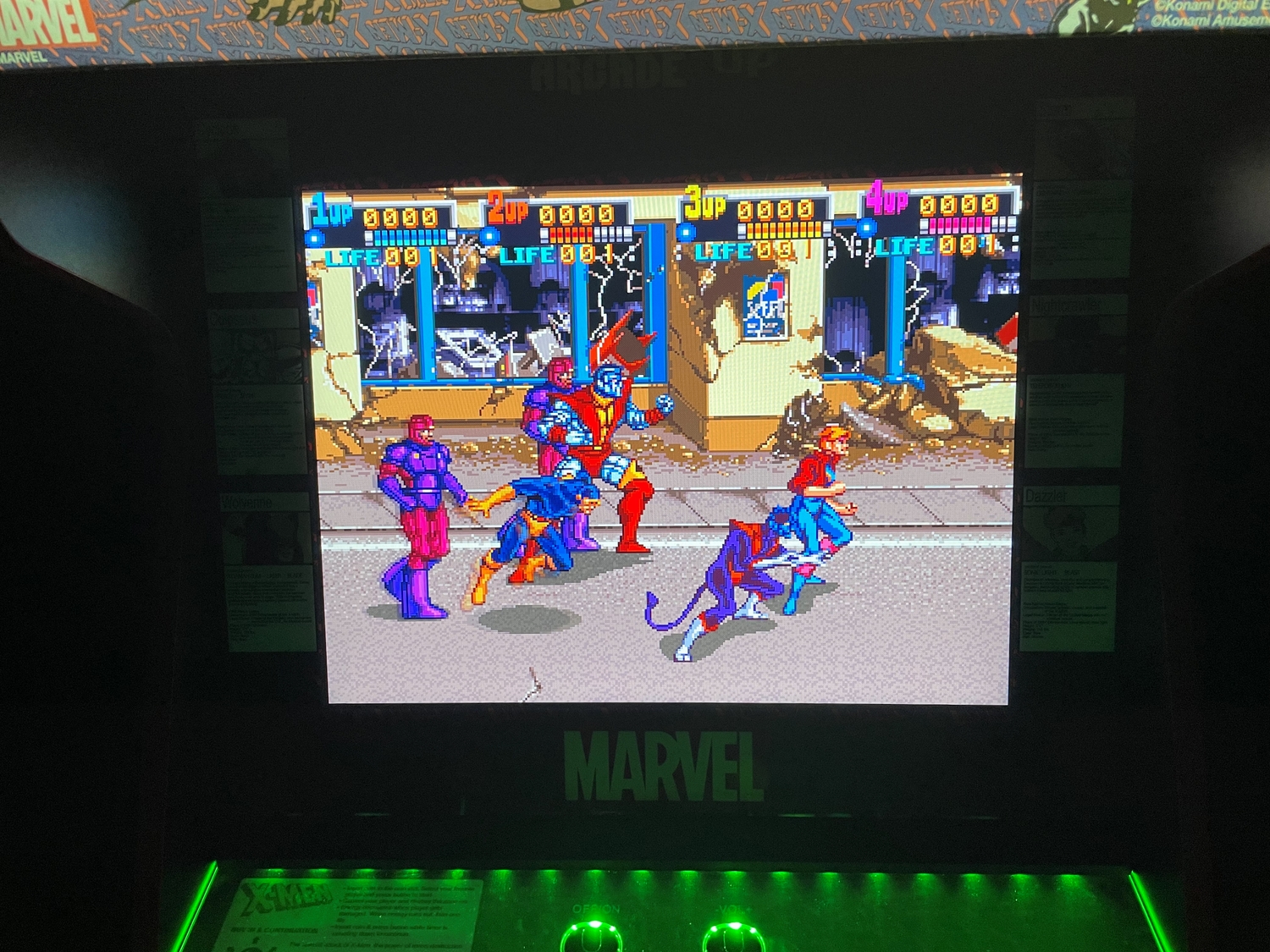 Gameplay

Solid '90s! Love the soundtrack and the games, brings us right back to those days in the arcade playing this while humming the cartoon song in our head. This game is definitely more fun with friends, and if you don't have any around you can utilize the live play option and connect with other players around the world.

While entertaining we were not as big of a fan of the Data East Avengers titles. During the second generation of cabinets we were all hoping for a Konami cabinet featuring TMNT, X-Men, and Simpsons, which would have been insane featuring the most iconic beat 'em ups of '90's arcades. Despite this the other titles still provide an entertaining play and even the Galactic Storm fighting game features a story mode.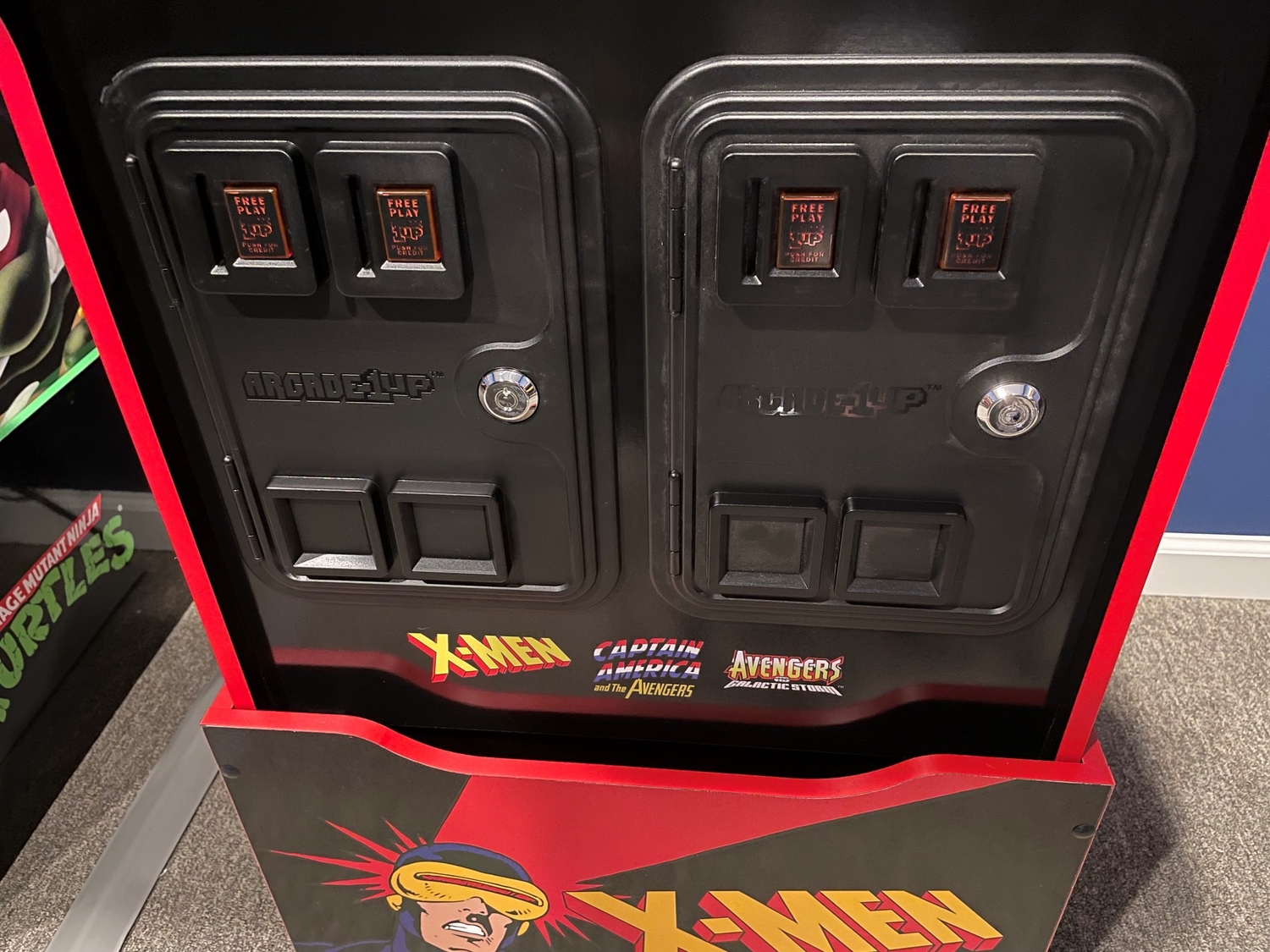 Final Thoughts

It's a bummer that the shortage of electronic components has driven up the prices of these units to almost double what they used to cost. While we love this unit and definitely think its worth having, the $750 price point is kind of a turn off. Despite that it has sold out on both Arcade1Up for direct sales and Target at the $700 price point. Another wave is coming from Best Buy and Walmart at a slightly higher price point, and given the popularity of X-Men and how great this piece looks, it wouldn't surprise us if it is a hot commodity this holiday season. If you are waiting for a discount it probably won't happen this year given shortages of products and the insane demand for just about everything. With the emergence of Big Buck Hunter and now T2, we are hoping next year to see more light gun games and even get out hands on a Time Crisis or House of the Dead trilogy cabinets.
---
Related Stories:
Arcade1Up: Marvel Pinball Machine Review
Arcade1Up: Star Wars Virtual Pinball Machine Review

---