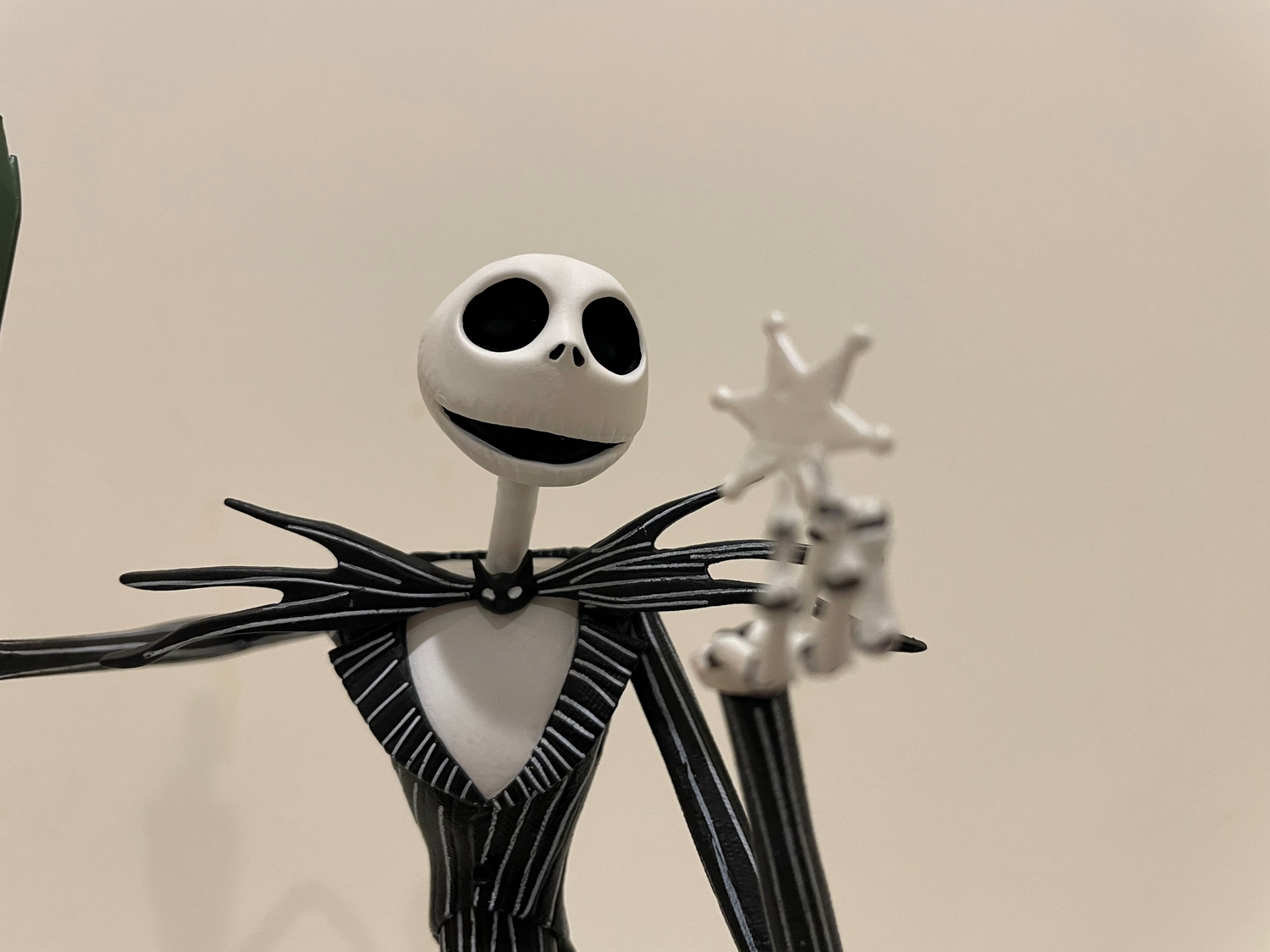 Diamond Select Toys: Jack Skellington (What's This?) Gallery Diorama Review
Posted by: Nick on
August 9, 2021 at 05:45 PM CST
---
VIEW OUR GALLERY HERE.

Thanks to our friends at Diamond Select Toys for providing us with a sample for this review.



Packaging

It is our opinion that toys are meant to be opened to be enjoyed but it is always nice when the packaging can play a compliment to a display shelf. The box tappers out a little bit at the top, preventing right angles, which is a perfect compliment to Tim Burton's beloved classic that avoided right angles in all of the set pieces. Whether intentional or not it was a nice touch. Jack is displayed with a light blue background reminiscent of the dusk setting in Christmas Town during his famous musical number. The other addition to the package is the awesome product catalog that shows off the other great NBX products from DST (which we'll have to start reviewing the back catalog in the future to show you how great those figures are).

Design

The outlay of the diorama perfectly captures Jack's whimsical moment from the film where he comes across Christmas Town and is enthralled with this new world. The pose features him starring in bewilderment at a snow flake while clasping his umbrella taken from a nearby snow man. The design cleverly models the support base after one of the elf houses that Jack stood atop.

Details

It's always the little things that make a piece pop and despite its simplicity, there are a lot of little details here worth mentioning. Again, you'll notice the lack of straight lines on Jack's suit and the umbrella. There is a ton of detail put into Jack's suit all the way to his bat bow tie. However, the real stand out is the facial sculpt. The perfect level of depth and darkness for the eyes and mouth and the subtlety of Jack's grin make this look like it jumped out of the screen. We particularly appreciated the lack of any mold lines on the skull.

Final Thoughts

We've been fans of DST's NBX line for years and we have yet to find something we don't like. A great shelf display or something to help set the mood around the holidays, this is another great addition to the NBX line. The perfect gift for the NBX fan in your life or something to help exhibit your own sense of child like whimsy. You can still order your at DST today.
Click here
to head over to their site and grab yours.
---
Related Stories:
Diamond Select Toys: Poison Ivy Gallery Diorama Review
Diamond Select Toys: The Nun Gallery Diorama Review
Diamond Select Toys: King Ghidorah (1991) Gallery Diorama Review
Diamond Select Toys: NBX Series 10 in Stores Now!
Diamond Select Toys: Predator Gallery Diorama Review

---