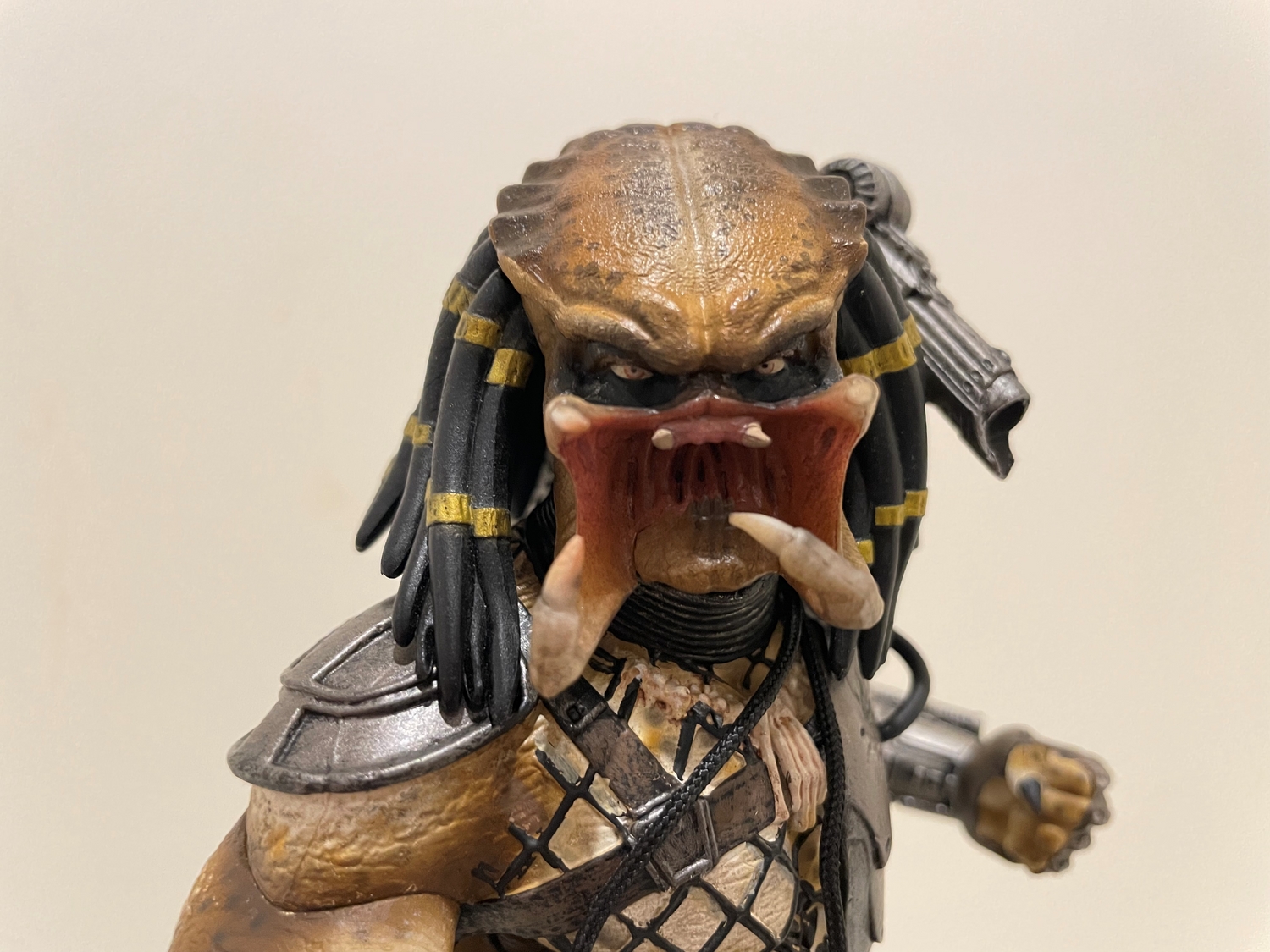 Diamond Select Toys: Predator Gallery Diorama Review
Posted by: Nick on
August 10, 2021 at 06:35 PM CST
---
VIEW OUR GALLERY HERE.

Thanks to our friends at Diamond Select Toys for providing us with a sample for this review.



Packaging

Should you decide to keep this in the box, which would be a shame, it would make a decent display piece owing to the creative use of the box space. The print on the box captures the jungle scheme of the movie, made better by the heat filter on the jungle on the inside of the box with a targeting reticle reminiscent of the Predator stalking his prey. Also taking advantage of the font on the front of the box to almost make it look like a movie poster.

Design

The chosen depiction for this diorama is that of the Predator without his mask. The Predator is depicted here sporting his iconic shoulder cannon and dual retractable claws in the attack position. The base captures jungle elements perfectly and reminds us of the final area of the film in his one on one with Arnold. What surprised us with this diorama was the use of mixed mediums. The Predator's trophies use a cord, not plastic, to give the look of actual rope, which is a really nice touch in our opinion.

Details

The casting perfectly captures that mug everyone loves, with exquisite detail down to the hair and mouth talons. His body is detailed all the way down to his marvelous toes, which could use a good clipping. The weapons and armor have a lot of detail capturing battle scouring and you can even make out the buttons on his gauntlets. As mentioned the real rope cord holding the skulls together adds another dimension to this diorama, making it pop.
Not wasting an opportunity, the base features a lot of layering as well to bring it to life and help immerse the diorama in the moment. You'll notice the mix of stone, tree, and vines to capture the jungle floor look. The base is just as much a part of the story here as the Predator himself.

Final Thoughts

A great addition to the shelf of any sci-fi or horror fan and of course Predator fans. This diorama really captures the essence of what made Predator great to begin with and change our conceptions of what a monster could be by adding a lot of human elements including the ability to reason and problem solve. Not just a crazed beast but well-tuned killing machine, whose tools, experience, and fury are captured in these well-detailed diorama. You can still find this Previews Exclusive unmasked version at
BBTS
.
---
Related Stories:
Diamond Select Toys: Poison Ivy Gallery Diorama Review
Diamond Select Toys: The Nun Gallery Diorama Review
Diamond Select Toys: King Ghidorah (1991) Gallery Diorama Review
Diamond Select Toys: Jack Skellington (What's This?) Gallery Diorama Review

---