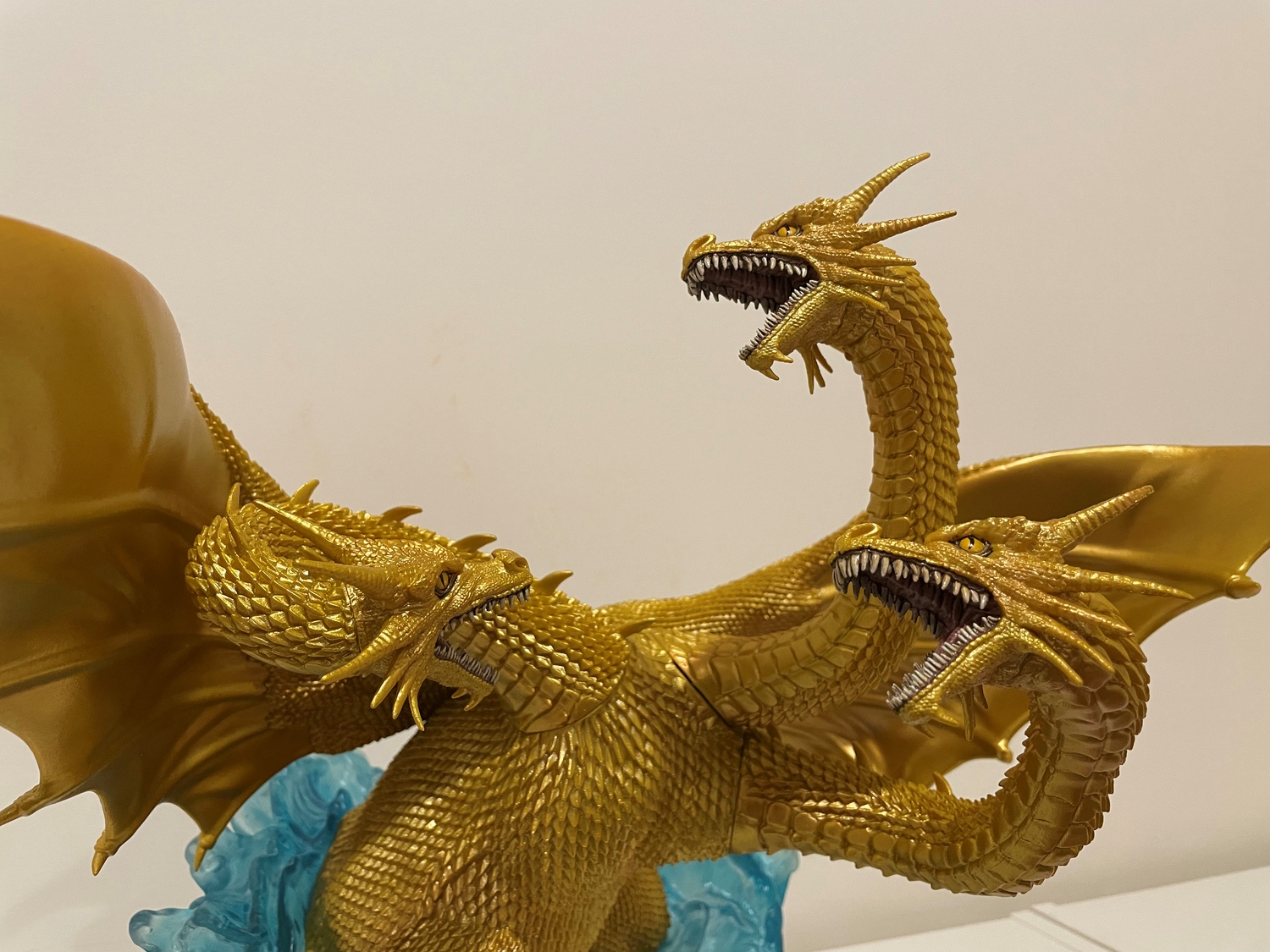 Diamond Select Toys: King Ghidorah (1991) Gallery Diorama Review
Posted by: Nick on
August 11, 2021 at 09:34 PM CST
---
VIEW OUR GALLERY HERE.

Thanks to our friends at Diamond Select Toys for providing us with a sample for this review.



Packaging

This set is quite a beast, both literally and figuratively. The box of course is quite large and weighty with the diorama in it. Not much to the aesthetic to hold its own as a package display but this thing is so amazing you will not want to leave it in the package. The packaging does favor transparency, which is good as it lets you see Ghidorah from more angles, and there is a lot to see.

Design

The chosen pose of Ghidorah among the waves captures his epic clash with Godzilla. This is a two part diorama that pairs with the Godzilla counterpart to capture the moment, but it also looks great by itself. Unlike the Gallery Dioramas we reviewed before, this one has limited articulation in that two of the heads can pitch upward or downward allowing you to focus Ghidorah's gaze however you desire. The base is also beautifully crafted and naturally displays Ghidorah complementing the scene.

Details

There is a ton of detail packed into this large size display. Every scale on Ghidorah is sharply crafted. His wings have naturally creases in them, giving the appearance that he's ready to take flight or strike at his enemy. Each head is equally terrifying and ferocious in its gaze and shrilling features down to the individually sculpted teeth. The sculpt really uses these details to make the diorama come to life and capture the terror that is King Ghidorah.
The base makes excellent use of layering to portray movement and impact amid the waves. The use of white caps or lightening of the blue hue helps to showcase this as well.

Final Thoughts

This is a must for Godzilla fans. It is one of the best depictions we have seen of King Ghidorah and is quite a beautiful piece to pair with Godzilla for a great scene. Like we noted it is on the large side, even by itself, so be sure to clear some shelf space as this is definitely not a desk item. You can get yours direct from Diamond Select
here
.
---
Related Stories:
Diamond Select Toys: Poison Ivy Gallery Diorama Review
Diamond Select Toys: The Nun Gallery Diorama Review
Diamond Select Toys: Predator Gallery Diorama Review
Diamond Select Toys: Jack Skellington (What's This?) Gallery Diorama Review

---