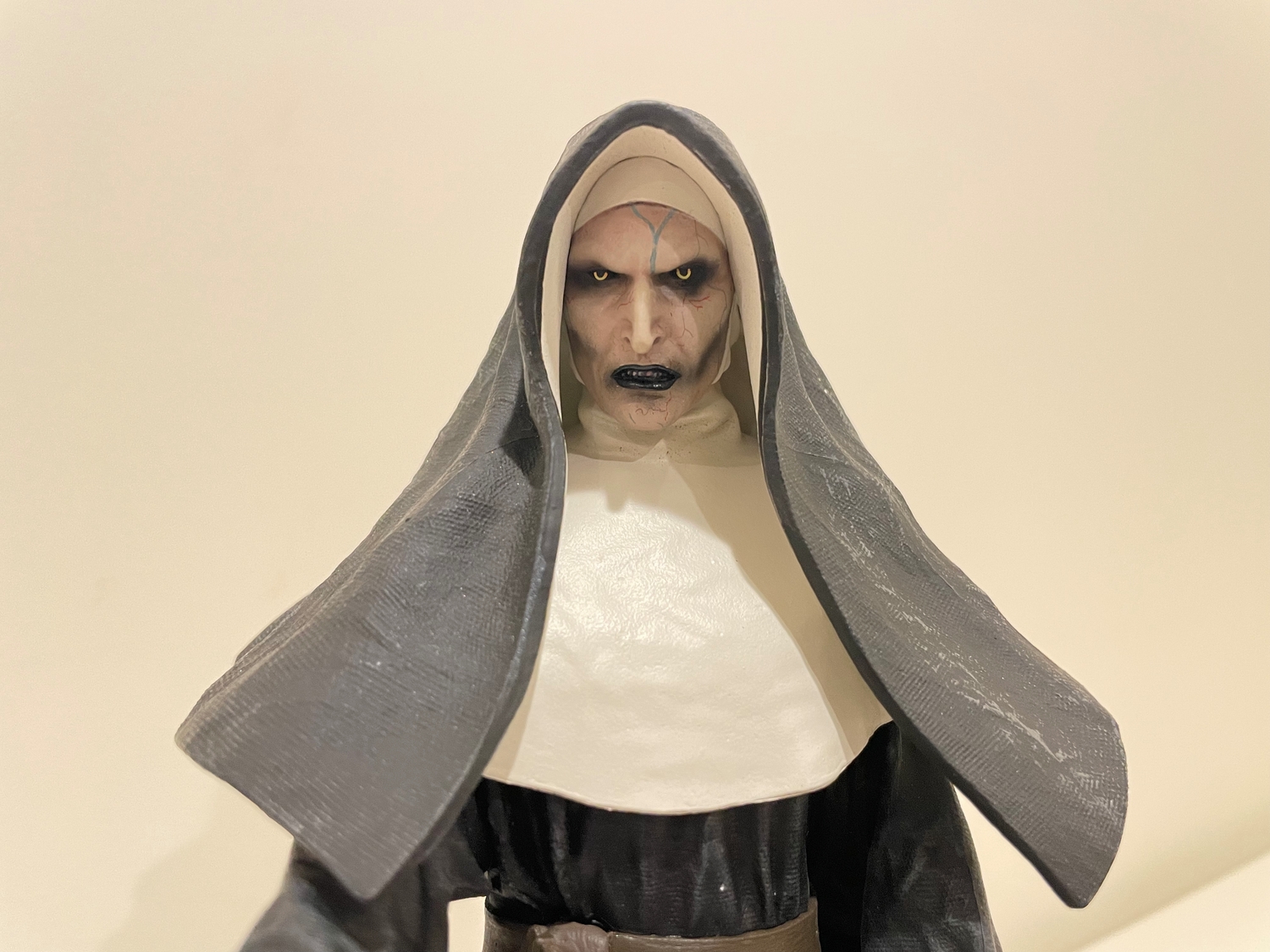 Diamond Select Toys: The Nun Gallery Diorama Review
Posted by: Nick on
August 12, 2021 at 10:12 PM CST
---
VIEW OUR GALLERY HERE.

Thanks to our friends at Diamond Select Toys for providing us with a sample for this review.



Packaging

Dark, ominous, and simply terrifying, the package really sets the stage for what you can expect with this diorama. The graphic mimics the walls of the old monetary from the film, giving it an eerie, life-like depiction. The shadowy visage was a nice touch too, creating that extra sense of dread.

Design

The pose chosen for the diorama is from the climax of the film where the hero characters confront the demon amongst a small pool of water. The decision appears to at least in part motivated by the need to find an organic base that also add to the scene, and it definitely works in this case. Not to mention that this was one of the more terrifying scenes from the film.

Details

Despite there not being much to the costume, there is defiantly a lot of attention to detail on this piece. First, there is some layering going on as the diorama is not from one solid mold, rather there are several piece of the robe that are layered on top of the main unit, adding some dimension to the piece and making it stand out. The robes themselves have very natural creases and fold making it look like the character is in mid-movement.
When it comes to the more human features, terrifying is the key word. The color scheme and use of veins make it clear that this is not a human. The lunging pose with the bony hands sets the tone for this ominous scene. Is it just us or are the eyes glowing? And the expression on the face, not blank rather soulless and piercing. Our only suggestion here would have been an alternate/swappable head with a screaming pose.

Final Thoughts

This thing is terrifying, which is awesome for you horror lovers out there. Honestly, it would also make a great Halloween decoration or a fun way to creep out your spouse. Diamond Select still has some in stock if you'd like to order direct, just
click here
to go to the site.
---
Related Stories:
Diamond Select Toys: Poison Ivy Gallery Diorama Review
Diamond Select Toys: King Ghidorah (1991) Gallery Diorama Review
Diamond Select Toys: Predator Gallery Diorama Review
Diamond Select Toys: Jack Skellington (What's This?) Gallery Diorama Review

---