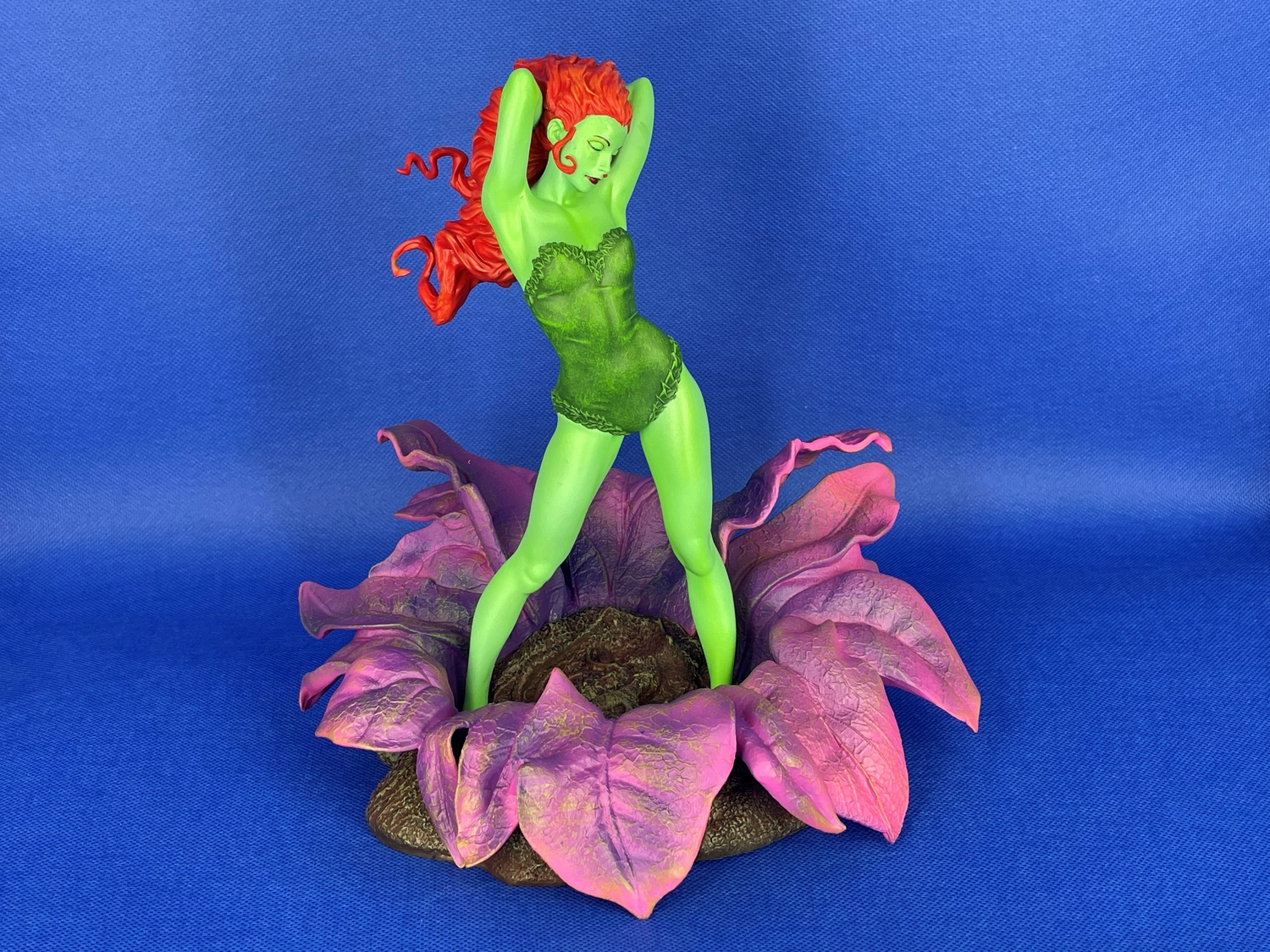 Diamond Select Toys: Poison Ivy Gallery Diorama Review
Posted by: Nick on
August 16, 2021 at 07:13 PM CST
---
VIEW OUR GALLERY HERE.

Thanks to our friends at Diamond Select Toys for providing us with a sample for this review.



Packaging

The packaging has a kind of pop art, vintage feel to it both with its color palette and icons. The art work on the back is more of a contemporary look for the character. There is limited viewing space here with a single portal on the front. This is best displayed outside of the box.

Design

The pose for the diorama conveys the characters emergence from a flowering plant. Stretching and possibly awaking from rest. Keeping with her character, she looks both beautiful and non-threatening, which we know like a venus fly trap is how she lures her prey into her grasp.

Details

The color scheme of her skin captures that plant-like hue we have seen in many iterations of this character. Not much to her person other than a detailed one-piece suit, the diorama places a lot of detail into the molding of her signature red hair. It is reminiscent of fire both in its styling and movement.
The base is gorgeous and highly detailed. You can clearly see the veins in the petals and additional details in the base of the plant. As with most of the bases we have seen in gallery dioramas, the base is essential to the story this piece is trying to tell. Poison Ivy is emerging from one of her plant pods, awakening after rejuvenating herself and ready to wreak havoc.

Final Thoughts

Clearly a must own for DC Comics and specifically Batman fans. This is a beautifully crafter piece that makes great use of its space to deliver a compelling scene in keeping with this character. Unfortunately this particular diorama is no longer available, but it does provide a clear example of just how DST can capture some amazing details and scenes into the medium.
---
Related Stories:
Diamond Select Toys: The Nun Gallery Diorama Review
Diamond Select Toys: King Ghidorah (1991) Gallery Diorama Review
Diamond Select Toys: Predator Gallery Diorama Review
Diamond Select Toys: Jack Skellington (What's This?) Gallery Diorama Review

---