Cool Toy Review's Holiday Gift Guide 2020
Posted by: Nick on
November 11, 2020 at 09:11 PM CST
---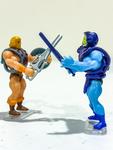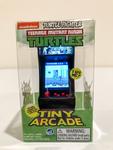 Super Impulse Assortments
Stocking real estate has gotten really slim lately. It seems everyone is vying for space in this market but the packaging generally is way to big. That's why we are huge fans of Super Impulse for stocking stuffers, not just because of the portability of their micro size items but the minimalist packaging as well. The product line runs deep with everything from Micro Action Figures, to Tiny Arcade Games, to World's Smallest games and toys, to Hot Wheels Cars, and more. The best part is they are all fully functional, not just display pieces. There really is something for everyone in these lines. Action figure enthusiasts will love the micro figure line. Gamers will love the portable Tiny Arcades and Micro Arcades. Pop culture fans will love the classic World's Smallest games and toys line.
You can find them at major retail stores like Target and Hobby Lobby or online from BigBadToyStore and Amazon. New this season are the amazing Masters of the Universe micro figures, Turtle Fighter Arcade, and the immortal classic Oregon Trail. Check out our reviews below and see more photos and thoughts of these lines.
Transformers Micro Figures
GI Joe Micro Figures
Power Rangers Micro Figures
Masters of the Universe Micro Figures
Tiny Arcade Turtle Fighter
and
World's Smallest Magic The Gathering Duel Decks
Micro Arcade Oregon Trail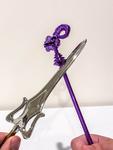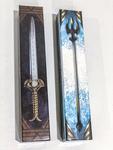 Factory Entertainment Scaled Replicas
Last year we featured the Kuzos line in our holiday guide, this year we got the chance to check out the amazing scaled prop replicas line. To say we were blown away is an understatement. These are phenomenal. The detail, the composition using real metal, and the price point make these an easy selection for anyone loving iconic weapons from pop culture. Best of all, they come in very narrow boxes, easily fitting into a stocking and still leaving plenty of room for anything else. Check out the reviews below for more photos and details on these amazing products. You can also
click here
to go to Factory Entertainment's scaled prop replica page to get yours.
Masters of the Universe Scaled Prop Replicas
DC Scaled Prop Replicas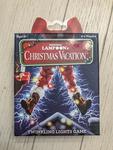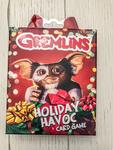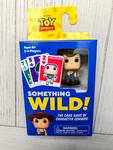 Funko Games! Holiday Box Games And Something Wild
Funko Games continues to impress us with their ability to faithfully recreate experiences from iconic pop culture films. Their holiday box games this year are no different. We had the privilege to sample the Christmas Vacation and Gremlins sets, two of just a few, and we were quite impressed. Both easy and addictive, these will be great at your next holiday gathering and best of all, they come essentially holiday wrapped with a little bow. Check out our reviews for more images and thoughts, and check stores near you or online to grab your own. Not pictured here are the Christmas Story, Frosty the Snowman, and Elf boxed game sets.
Gremlins Holiday Havoc
Christmas Vacation Twinkling Lights
We also got a look at the Something Wild game, which draws from Disney properties. We found this to be a super powered version of Phase 10 incorporating everyone's favorite Pop! figures. Check out our review for more images and thoughts and pick these up at retail stores and online retailers.
Something Wild Toy Story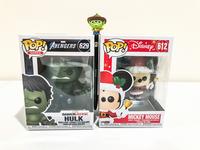 Funko Pop!
No one captures pop culture icons better than Funko. They have probably the most extensive library of characters on the planet. Spanning every major and cult franchise, you are sure to find something for a fan of anything in your life. There are just too many to list but we hope the below holiday gift guide from Funko can give you some ideas.
Check out Funko's Holiday Gift Guide
Check out some shots we took of some product samples.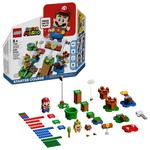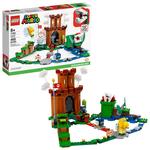 Mario LEGO Sets
We knew these were going to be awesome but we had no idea they would be this awesome. We spent sometime playing with these this year and were simply blown away. Not only by the simple construction that allows users to reconfigure courses like they are playing Super Mario Maker, but the interactivity with the Mario figure. He recognizes an assortment of terrain, collects coins, fights foes, plays music, all while keeping track of time. LEGO started big with a great assortment of foes and locations from the Mario series and included character builder packs to allow you to expand on those foes and really build out levels. There is a lot to choose from and there are sales right now at Target and Amazon on several sets. We can only hope LEGO continues the line with more villains and possibly some heroes (Player 2 anyone?).
See our original LEGO Mario coverage here.
Check out our review of the Limited Edition NES LEGO Set.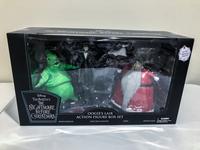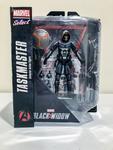 Diamond Select Toys Selects Line
Whether it be Marvel or other pop culture characters, the Selects Line has a little something for everyone. Extreme possibility, a variety of accessories, and alternate hands and head sculpts, the Selects Line caters to collectors who take pride in their displays. The Marvel figures are excellent but there are some franchises that you can't really get any place else like
Kingdom Hearts
or our favorite
The Nightmare Before Christmas
. You can score these at online retailers like Amazon or BigBadToyStore or in stores such as Hot Topic and GameStop. You can get the amazing
The Nightmare Before Christmas
Box Set now by
clicking here
. DST also began rereleasing early waves of
The Nightmare Before Christmas
, so you can start ordering yours now for Q1 2021 release. Check out our hands on time with an assortment of these below.
See The Nightmare Before Christmas Box Set here.
See the Taskmaster Select figure here.
See the Bruce Lee Select figure here.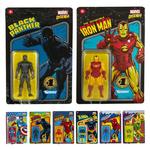 Hasbro Marvel Retro Line
Hasbro has done a lot this year with its fantastic Marvel Legends line but the new retro line coming out in time for Christmas really drew our attention. We are forever fans of anything vintage or retro and this line really nailed it. While light on villains at this point, this line really captures that '80's and '90's look of classic action figures. Head over to
Hasbro Pulse
to preorder each set or the whole collection.
Click here to see more details and a photo gallery.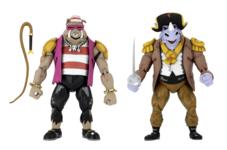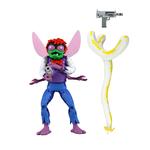 NECA Turtles Animated Line
NECA always leaves fans happy and they have done some amazing work with the Teenage Mutant Ninja Turtles license this year. There are so many products within this line to choose from but we were especially fond of the video game line this year including Turtles in Time figures. While these sell out ridiculously quick we are hoping you can find them in retail stores or from online retailers.
Check out some recent NECA TMNT Turtles in Time coverage.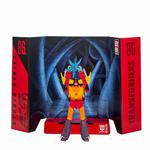 Hasbro Transformers Studio Series
The only thing we love more than Transformers are Transformers from the classic Animated film. Hasbro's Studio Series lines now includes characters from this immortal classic. Check out our expansive gallery that also includes some other additions forthcoming to the various Transformers lines. While these won't be in stores in time for the holiday season, you can still secure one for the fan in your life.
See our coverage of the October Transformer's fan event here.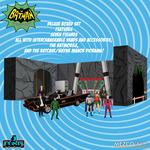 Mezco Toyz 5 Points (Batman '66)
Again, we love vintage or retro style figures and the 5 Points series is no exception. First introduced in New York at Toy Fair this year, this line is really taking off. The Batman '66 is simply superb though and should easily please any Batman fan or retro toy fan. The amount of detail in this set is stunning, featuring an assortment of accessories, alternative heads, and display space. This is probably one of the best retro sets we have ever seen. Again, while not shipping this year, the fan in your life will be ecstatic knowing one of these is reserved for them. Mezco tends to sell out fairly quick and fortunately they are still taking preorders on this set at the time of publishing, so
click here
and get yours now. It will surely make them exclaim "Holy retro figure set Batman!"
Check out images and the details on this set here.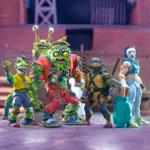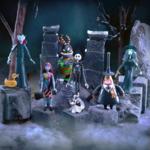 Super7
Super7 has had a big year. New additions to the
Teenage Mutant Ninja Turtles
and
Thundercats
Ultimate lines, which recreate the toys from our youth with enhancements for a modern era, and the ever expanding ReAction figure line which now includes
The Nightmare Before Christmas
! Look for these at Target, Amazon, BigBadToyStore, and of course the
Super7
website. See the coverage below of some recent product announcements and preorders.
Check out the new The Nightmare Before Christmas figures here.
Check out the latest TMNT wave here.
See the latest Thundercats wave here.

The Loyal Subjects BST AXN
This year The Loyal Subjects debuted their new "BST AXN" (Best Action) line. This diverse and exciting line consists of 5-inch figures with 22 points of articulation and fun accessories. We're impressed by the attention to detail and the wide variety of licenses. Founder Jonathan Cathey says
"[We're] trying to be flexible with BST AXN, not trying to create a bunch of rules...if it's successful we'll keep adding; i.e. rest of the Storms, LoPan, etc....where the opportunity takes us."
Check out our Gandalf photo gallery here.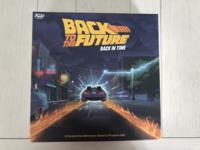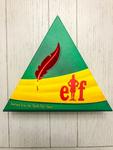 Funko Games
When it comes to games, Funko Games is really in a category of its own. Partnering with Prospero Hall, they have put out some truly wonderful titles this year that go beyond a board game providing players with an experience. Either faithfully recreating moments from classic film franchises, incorporating historical events, or using mixed medium, each game provides way more than your standard roll and move experience. Additionally, these games are easy to get into and highly addictable. We cannot imagine someone not enjoying one of these titles after playing it once or twice. For the season, we think they newest entry
Elf: Journey From The North Pole
, would fit well at the next family gathering but there are an assortment of other titles for the fan in your life. Check out our reviews below along with images and details to find what suits you the most. Look for these online and in retail stores like Target. We honestly loved all of the below but we think
Back to the Future: Back in Time
and
Godzilla: Tokyo Clash
are masterpieces (please see why in our reviews below).
Elf: Journey From The North Pole
Last Defense
Godzilla: Tokyo Clash
Pan Am: The Game
Back to the Future: Back in Time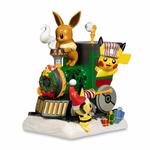 The Pokemon Company
Every year we can expect The Pokemon Company to deliver some wonderful holiday themed merchandise, and deliver they did. There is a large assortment of decorations, ornaments, figures, plush, clothing, and more holiday fanfare available on the
pokemoncenter.com
. We are confident you will find something wonderful for that Pokemon fan in your life. Check out our coverage of this year's assortment in the below link.
See 2020 Pokemon Company holiday merchandise here.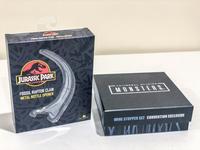 Factory Entertainment Barware
Looking for a gift for the cocktail enthusiast in your life or just want to stand out at the next holiday party? Well then, Factory Entertainment has just the thing for you. Drawing from franchises like
Back to the Future
,
Jurassic Park
,
Star Trek
,
Game of Thrones
, and more, Factory Entertainment has a wonderful selection of prop replica bottle openers and wine stoppers that are sure to make a statement. We are partial to the
Jurassic Park
Raptor Claw
bottle opener that faithfully recreates the prop from the movie, easily opening your beverages and rounding out a cosplay effort. As Universal Monsters fans, we were delighted and impressed by the
SDCC exclusive wine stopper set
. Shop those and the rest of Factory Entertainment's kitchen and barware accessories by
clicking here
. Also check out our gallery below from our hands on time with the aforementioned products.
See our Factory Entertainment barware gallery here.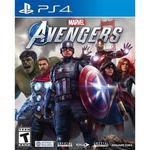 Avengers Game
Among other things it has been a Marvel-less year, with all the films delayed until 2021. However, the Avengers game is the perfect way to fill the void. The game has all the action, adventure, and heart of one of the feature films and will keep you engaged well beyond the length of any movie. Truly a remarkable feat in story telling and engaging the player, we see this as the perfect gift for any Marvel or superhero fan. It is available on a variety of systems and many stores are running Black Friday specials on this game. Please see our full review below to see why we think this game is worth your time.
See our Avengers game review here.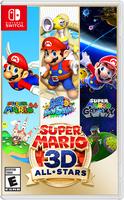 Super Mario 3D All Stars
Here we go! Again, we cannot stress how we love all things vintage and retro and that extends well beyond toys. It was simply amazing to get back into those titles we loved some much as kids. This set faithfully preserves the original classics of Super Mario 64, Super Mario Sunshine (Gamecube), and Super Mario Galaxy (Wii), frustrating controls and all. While some may wish for enhancements or added gameplay features, we were pleased to see Nintendo capture these games in the original versions that rely more on pure skill and cunning than some kind of game enhancement dynamic. Gamers will love reliving their glory days or being able to introduce a whole new generation to the Mario we grew up with. There are still some physical copies of the game available but it is a limited run. Also the digital copies will only be sold until next spring, so if you want one, you may want to get it soon!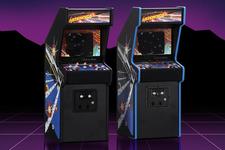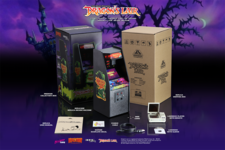 New Wave Toys RepliCades
Arcade enthusiasts will love New Wave Toys miniature arcade replicas or RepliCades. These are highly detailed and faithful recreations of the games we grew up with in the arcade. Everything down to the controls and the quarters are captured in detail on these amazing little machines. Just in time for the holidays, New Wave Toys has a
Asteroids X RepliCade
and a
Dragon's Lair X RepliCade
. Click the links to shop yours and check out our coverage of these new releases.
See the Asteroids X RepliCade here.
See the Dragon's Lair X RepliCade here.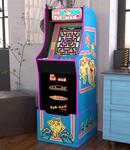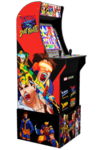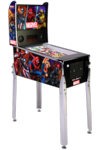 Arcade1Up Pinball And 3/4 Cabinets
We can never stress enough how much we love the Arcade1Up product line. Again all things vintage and retro, seeing a pattern here? This year, there were some new innovations including shooting games, racing games, and pinball! There are some great titles including Ms. Pac-Man, X-Men vs Street Fighter, Marvel vs Capcom, Big Buck Hunter, Marvel Pinball, and many more. You will have to shop around as you can get them from Best Buy, Walmart, Gamestop and others with some exclusivity on titles. While they may sell out early, we anticipate stores like Walmart to have them on or near Black Friday as part of their promotions. Check out our coverage of new and upcoming releases below.
See our coverage of Arcade1Up fall releases here.
See our coverage of Marvel Pinball here.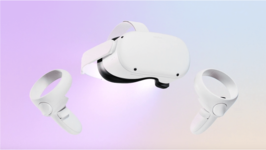 Oculus Quest 2
We are late to the independent VR headset game, but we are glad we waited. We recently picked up the Oculus Quest 2 and were blown away by VR that doesn't require a computer or gaming system.
Our first experience was with Vader: Immortal, and it was amazing. There is a great selection of other games we are excited to try including the upcoming Jurassic World and Star Wars: Galaxy's Edge titles. In addition to great VR titles, there are some free VR experiences, music videos, and other entertainment options. The new price point of $300 really puts the system on par with other game systems out there and creates a great gift as a family multimedia device. This is bound to delight and entertain this holiday season or at the very least create some fun moments of watching relatives become enthralled in a virtual world.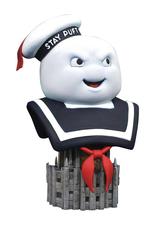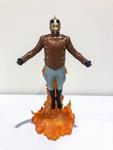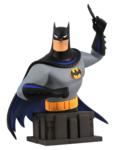 Diamond Select Toys And Gentle Giant Ltd. Busts And Statues
When it comes to getting something for the discerning collector, no one else rocks the busts and statues category like Diamond Select Toys and Gentle Giant. There are a wide array of products including PVC dioramas, mini busts, half-scale busts, and premium statues. There is something for all fans as statues and busts feature characters from Marvel, DC, Ghostbusters, Kingdom Hearts, The Nightmare Before Christmas, and many more. Looking for something for your office desk, a nice budget friendly PVC diorama can give you the aesthetic you're looking for without all the weight or concern of breaking something expensive. Want a great piece for your collection room or shelf, mini busts are full of immense detail and amazing quality. Looking for something that makes a statement or shows off your love of a franchise, the Legends in 3D series of half-scale busts or Premier Collection Statue line are perfect for the hardcore fan. Try these links to check out what
Diamond Select Toys
and
Gentle Giant Ltd.
have to offer in this range. Also see our stories below covering some of their products to get a better idea of what you can expect from some of the lines.
Check out the Animated Batman Premier Collection Statue.
Check out the PVC Diorama Rocketeer here.
Check out the Legends in 3D Stay-Puft Bust here.

Final note, this list is by no means exhaustive and there are plenty of other amazing collectibles out there. We may update this list throughout the holiday season as more reveals happen or we stumble across something worth mentioning, so feel free to check back (we will pin it to the top of the site for the season). Also you may notice we did not mention anything Star Wars, how weird right? Actually, the reason for that is we handle all the Star Wars collectible news on our other site
Rebelscum.com
. We are in the midst of putting together the Star Wars holiday gift guide, so keep checking Rebelscum for that if you are interested. Stay safe everyone, happy holidays, and good hunting!
---
Related Stories:
Factory Entertainment: DC Cinematic Universe Scaled Weapons Review
Factory Entertainment: Masters of the Universe Scaled Replicas Review
Super Impulse: World's Smallest Magic The Gathering Duel Decks Review
Super Impulse: Micro Arcade Oregon Trail Review
Super Impulse: Tiny Arcade Turtle Fighter Review
Funko Games: Something Wild Toy Story Deck Review
Funko Games: Elf Journey From The North Pole Game Review
Super Impulse: World's Smallest Micro Masters of the Universe Figure Review
Funko Games: Gremlins Holiday Havoc Game Review
Diamond Select Toys: Animated Batman Justice League Premier Collection Statue Review
Funko Games: National Lampoon's Christmas Vacation Twinkling Lights Game Review
Diamond Select Toys: Bruce Lee Selects Figure Review
Square-Enix: Marvel Avengers Game Review
Diamond Select Toys: Taskmaster Marvel Select Review
Diamond Select Toys: Rocket Raccoon PVC Gallery Diorama Review
Diamond Select Toys: Rocketeer Gallery Diorama Review
Diamond Select Toys: Gentle Giant Litd Legends in 3D Mr. Stay-Puft Bust Review
Diamond Select Toys: SDCC 2020 The Nightmare Before Christmas Boxed Set Review

---